Tesla released a video showing the operation of the system auto-pilot in real-time.
The roller allows you to get the idea of what "seeing" a Tesla the motion without human intervention. Tesla autopilot in the work relies on numerous sensors and cameras. On-Board computer using special software, identificeret objects, calculates the likely trajectory of their movement and generates control commands for a steering wheel, accelerator and brakes.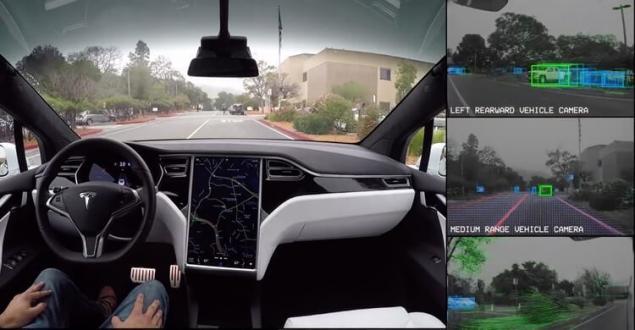 Posted video contains video from three onboard cameras. Shows how the system recognizes different objects, identificeret road signs, track marking, etc.
At the same time, sometimes the autopilot Tesla responds to the surrounding environment is not quite as do conventional drivers. For example, (see the video towards the end of the fourth minute) machine, moving close to the edge of the road, completely stopped, fixing two running along the side of the women. The person in this situation likely would have continued moving, taking slightly to the left.
Put LIKES and share with your FRIENDS! www.youtube.com/channel/UCXd71u0w04qcwk32c8kY2BA/videos  
P. S. And remember, only by changing their consumption — together we change the world! ©  
Source: www.3dnews.ru/943044