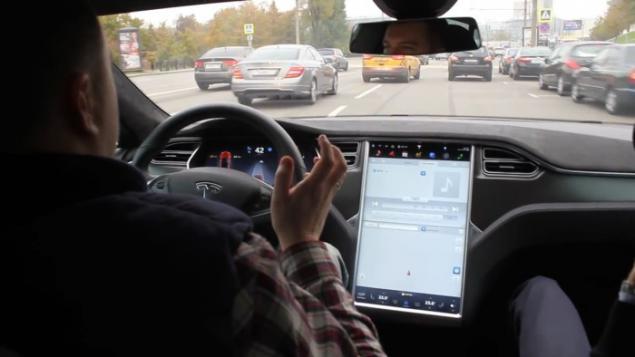 October 14, 2015 the company Tesla has released an update for automotive software with new functions Autopilot for US users, and on October 24 received permission to update the firmware of cars all over the world, except Japan. The upgrade is available for vehicles manufactured after September 2014.
The autopilot program uses the data from the cameras and radar in the front of the car, as well as GPS-module and 12 ultrasonic distance sensors on the perimeter of the body, supports the movement of the car in its lane, avoids obstacles, accelerates and brakes if necessary.
The ability to avoid obstacles came in handy when testing Autopilot on Moscow roads.
Первый Test
held in Moscow Moscow Club Tesla.
The video above shows how the autopilot Tesla dodging taxis, which undermined electric. He behaved very correctly: slightly slowed down and shifted to the next number to skip hastening the taxi driver. After the taxi driver has completed the maneuver, the autopilot has returned to its original place.
The site of the Club fans Tesla published a small review of the latest firmware Tesla v7.0 and review of the functions of the autopilot.
In the meantime, Tesla prepares update: Autopilot 1.01 version of the adaptation rate curve, "smoothness controller", with recognition stripes on bad roads and improved "learning on the fly».
Autopilot 1.01 coming soon: curve speed adaption, controller smoothness, better lane holding on poor roads, improved fleet learning! - Elon Musk (elonmusk) October 23, 2015 blockquote>

Source: geektimes.ru/post/264808/