Long and thick lashes
always make the eyes look more attractive and open. But what to do if nature has not endowed you with cilia up to heaven?
For several years a very popular eyelash extensions. But it does look attractive only a few days, and then your eyelashes are somewhat similar to slammed on the wall spider. Yes its very much spoiled, and after removing the extensions you need to spend a lot of time and nerves to recover.
The most famous and affordable way is
false eyelashes
. Edition
"Website"
will tell you how to pick up and easy to glue.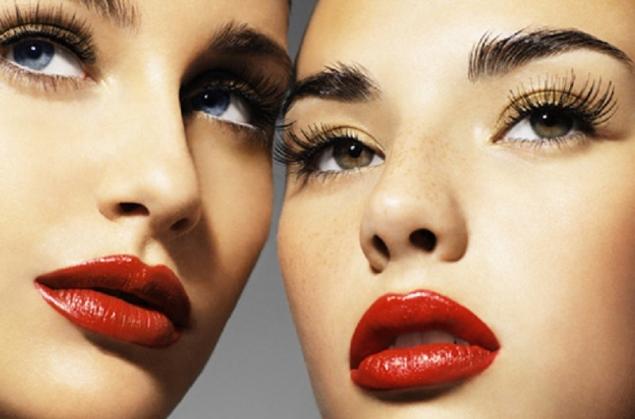 How to stick respecified how to use false eyelashes, you need to understand their types and learn which will suit you specifically.
Types of false eyelashes
Bundles
With these eyelashes you can ask his or her opinion any mood. Stick them in the corners of your eyes, it will give them almond-shaped, and can around the ciliary edge. In this case, pick up bundles of different lengths to maintain the natural effect.




Eyelashes on a continuous tape
They come in any thickness, length and shape. It is best to pick these lashes on a transparent and very elastic basis. After all, if they are hard, then glue them you'll be a very long and painful, and then you will feel discomfort and tingling. Those with the effect of natural lashes — all for daily use.



Those with a tangle of eyelashes criss-cross — almost invisible, but create volume and fluffiness. Look closely, your eyelashes, too, grow in different directions.



Eyelashes are V-shaped. They will give a view of expressiveness, but it won't look too artificial.



Superobama false lashes create an incredible effect, but alas, they are very noticeable. For these eyelashes need evening eye makeup.





Theatrical eyelashes
They come in any color, length and shape. Can mimic the wings of a butterfly or feathers. Perfect for photo shoots, stylized party or New year celebrations.



The rules of gluing false eyelashes
False eyelashes can be used repeatedly. So pay attention to their quality. It is better to choose those that are made of natural cloth, and if the funds are insufficient, then choose any, as long as they were thin and elastic.



Do not count on the glue that comes with lashes! Purchase the tube separately — it will last a long time and you will be confident in the quality. It is to the choice of glue should be approached very seriously, so at the most inopportune moment eyelashes began to fall or, worst of all, do not cause allergies.
If you're using solid eyelashes, be sure to first try and cut them to fit the eye. It is best to cut the lashes in half.



Before gluing obesity eyelid with powder or base under the shadows.
Squeeze the glue onto your hand or other object, and then using a brush, DAB on the base of false eyelashes. Wait a few seconds for it to absorb slightly and stick the eyelashes to the eyelid close to the natural. Don't tape my eyelashes on the mucosato avoid slezotechenii eyes.



Do it with your fingertips if tweezers you're uncomfortable or you're afraid to get hurt.
After use, gently take off fake lashes and get the glue from the eyelids. Put your lashes in the packaging.
The whole process will spend you 5-7 minutes, and if you are a novice — a maximum of 10-15. Can create any look! False eyelashes are a great option for those who want to abandon the carcass or a few to restore their eyelashes.
To consolidate what they read, we give you this wonderful video in which you will see the whole process of gluing practice.
Share information with friends, though they will also beauties with long eyelashes!
The author
Oksana Dudnik Loves painting, ready to admire the pictures all the time! Oksana knows a lot about perfumes, well versed in fashion trends and will give odds to many well-known beauty bloggers. Her love of sport supported by sports category in sailing! Xenia prefers meat dishes, can not imagine a day without them. Favorite book charming girls — "the Emperor" Niccolo Machiavelli.