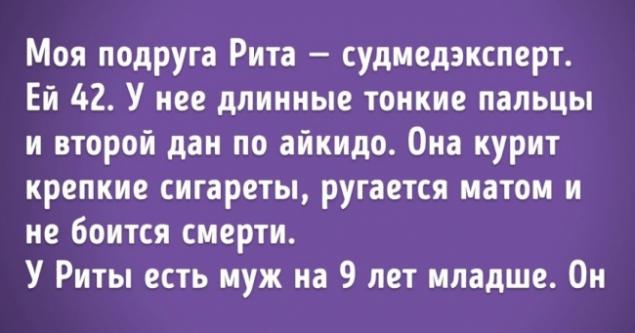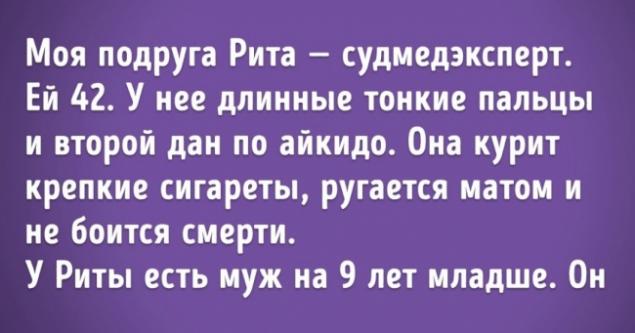 My friend Rita is the medical examiner. She's 42.
She has long thin fingers and a second Dan in Aikido. She smokes strong cigarettes, foul language and is not afraid of death. Rita has a husband 9 years younger. He is a leading architect in a very respectable construction firm. And very beautiful. Bake the most delicious cakes I've ever eaten in my life. And writes children's stories for year old twins. He puts them to bed, if Rita at work. And stands up to him at night because Rita is tired.
My other friend, Olga, is a psychologist in MOE.
Was in Beslan. Her first husband, a military surgeon, was killed 12 years ago. Last year she married a cameraman, who filmed a report about one of the rescue operations. First they were just friends, and then my friend had an accident, and he nursed her for six months. Took a leave from work, not to travel. Worked part time, shooting weddings. Friend, despite doctors ' forecasts, rose to his feet. Olin's son calls his father. And he was proud that the boy went to the Olympics for physics in Stockholm.
Masha is a Professor of philosophy.
Married man without higher education. But he builds her a house, preparing meals, loves children, and forbid to make a noise in the house, because Maria A. preparing for the lectures. Masha is obsessed with academic career and plans for the year to go for an internship in China. Husband is obsessed with Masha. He does not know who Hegel and the existentialists did not read. But he knows what Mary's Shoe size, and don't forget to change summer to winter tires on her car. And yet Mashinnogo husband's real business of manufacturing woodworking machines. Not an oligarch, but a millionaire.
When people start telling me what should be the ideal woman to be loved and called married, I really laugh out loud.
Because love is not perfect, and those who are looking.
With all its cracks and dents. Every pot will find its lid.
So do not be afraid to live as you want, and be whoever I want. That's all I wanted to tell you today. Hug.
Author Elena Pasternak
See also
For love there is no appearance — there is only nature
Why work on a relationship is useless
via www.adme.ru/svoboda-psihologiya/pochemu-rabotat-nad-otnosheniyami-bespolezno-1372815/