Propolis ointment cough at home preparing easily. Long and well kept. Quickly and reliably treats runny nose, cough, sore throat in adults and children. Can be used not only for treatment of acute respiratory infections and other diseases.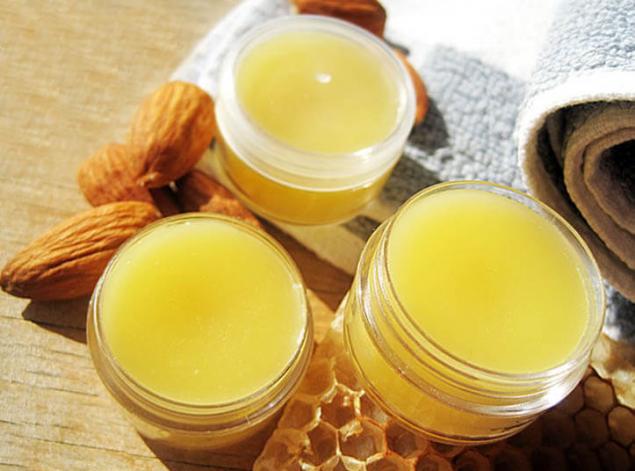 Recipe 1
50 grams of propolis
50 ml of sunflower oil.
How to prepare:
1. Propolis is put into the oil.
2. Melt in a water bath. Flushing while propolis are soft. This happens fairly quickly.
3. Strain, pour into a jar. Cool.
4. The result is as an ointment with a very tasty smell!
5. RUB the chest, back, legs 2 times a day for cough.
Store in a dark place.
Recipe 2 — for internal use
10-15 g of propolis;
100 g of butter.
How to prepare:
1. Propolis put on 1 hour in the freezer and grate (after freezing it really crushed)
2. In a water bath melt the butter, add propolis, stir and simmer the mixture for about 30 minutes, removing the foam
3. Strain the ointment through 2 layers of cheesecloth, to keep the propolis on the fabric for 2-3 minutes to cool and carefully squeeze. Hot strained healing oil will have a bright yellow color.
4. The hot mass is necessary to leave to cool at room temperature for a few hours (overnight). The result is the ointment of propolis against colds and coughs, to be used for the treatment of the whole family.
5. Store in the refrigerator.
For colds, cold and cough ointment of propolis used in this norm, while drinking hot milk 2-3 times a day 1-1,5 hours after a meal.
Children (if you are not allergic to bee products!):
2-3 years – one third of a teaspoon;
4-5 years – half a teaspoon
After 6 years – 1 teaspoon.
Adults: 1 teaspoon 3-4 times a day with hot milk or tea with ginger root for colds. For pain in the throat, sore throat and flu, you can melt the ointment in a glass of hot milk with honey and consumed in this form.
When the common cold in adults and children smear ointment nasal passages at night (it is convenient to use q-tips).
What else can you use ointment propolis:
with dry crusts on the lips (often in winter);
for bruises, scrapes, skin irritation and rashes – just spread it over the affected area several times a day;
strong colds in children a teaspoon of the ointment to melt, add half a teaspoon of drugstore tincture of propolis, stir to coat the chest, bypassing the heart area, to insulate. In addition, the ointment to give in on the scheme mentioned above. published
A simple technique for weight loss — in just 2 minutes a day!How to get rid of the ugly of the withers on the back
Source: detki-roditeli.ru/%D0%BC%D0%B0%D0%B7%D1%8C-%D0%BF%D1%80%D0%BE%D0%BF%D0%BE%D0%BB%D0%B8%D1%81%D0%B0-%D0%BF%D1%80%D0%B8%D0%BC%D0%B5%D0%BD%D0%B5%D0%BD%D0%B8%D0%B5-%D0%BF%D1%80%D0%B8-%D0%BA%D0%B0%D1%88%D0%BB%D0%B5-%D0%B8/