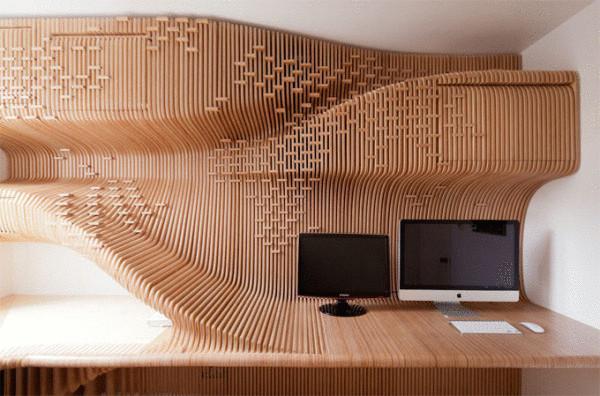 Home office – the theme, the relevance of which is growing every day. The design team from the American Studio Synthesis finished work on the project Workspace Chelsea, became a study for a private investment Advisor. Designers have taken into account budget constraints and the small dimensions of the areas and create a smooth organic structure of milled edges, made of birch plywood.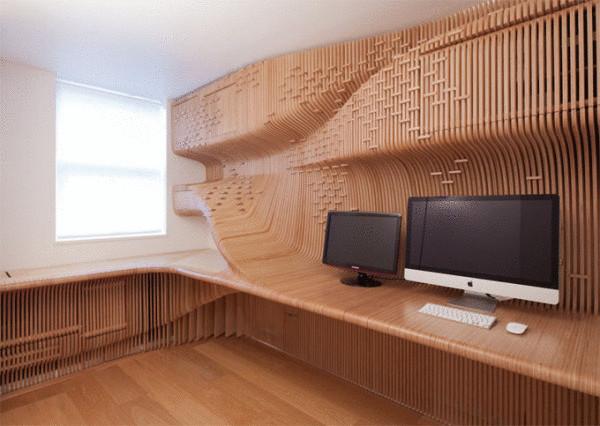 During the formation of this innovative study were taken into account all the essential functional requirements of any home work space: a Desk, storage tanks, office equipment, hidden path for wires and cables and recesses for hidden artificial lighting.
One small window emits enough natural light to illuminate the working area and a map of the world, which the designers symbolically identified on the surface sculptured ergonomic structure with small wooden bars. Conditional on this map, the owner of the office can mark the places of their travel.
The innovative design of the workplace is an effective solution for working at home, however, is devoid of the dull appearance of unified solutions. The relief surface of the plywood structure converted to visual and tactile perception, which provides a high level of performance.
Source: /users/78