Designer Jung Tak (Tak Jung) especially for Seoul have developed a system of bike sharing T-Bike, focused on the problem of lack of Parking spaces in the city, where great importance has limited space. This unique system includes the original storage room for bicycles, electric vehicle for the relocation of bicycles, special software for the smartphone and, in fact, the bike.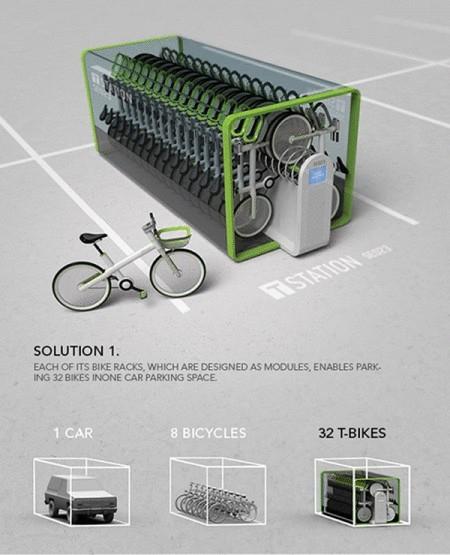 Bicycle storage facilities are modules, similar to large wardrobes with plenty of hangers, but placed on them clothes, and bikes. One such store is able to accommodate 32 of the Bicycle, thus covering an area equal to only one standard Parking space for the car. Without such a system of storage on a single Parking space can accommodate only 8 bikes, so the advantage is clear.
The second element of the system– Trak T-Bike. This electric vehicle is able to delicately transport the bike from one Parking lot to another depending on the shortage or surplus on their public bikes.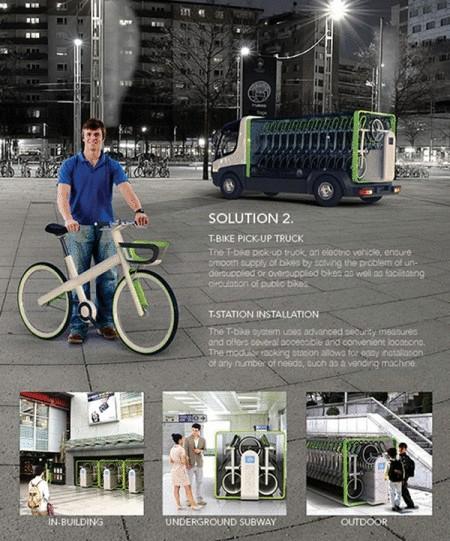 Of special interest is another element of the system is a mobile application T-pass, which is both a mobile pass, which can pay for bike rental and information centre containing essential information about the location of stations, number of available bicycles and other data, as well as providing the opportunity to reserve a Bicycle. All that remains for the user to walk to the bike station, pick up and pay them a reserved bike.
Also the author of the concept was developed and the project bike. To counter vandalism and theft, he has a special bright and noticeable color and simple design. This bike is designed in accordance with the principle of minimalism is compact, has a folding handlebar for convenient transportation, a GPS navigation system and easily adjustable seat.
Thus, the author of the project in detail thought out compact BSS with convenient and accessible locations of bike stations and security measures high-level, suitable for any modern city.
Source: /users/104