Technology is not standing still, and every day the developers delight us with new and new concepts. Here and employees of the company Media Computing Group Malta Weiss (Malte Weiss), Simon Walker (Simon Voelker) and Jan Borchers (Jan Borchers), in collaboration with Christine Sutter (Sutter Christine) from the Rhenish-Westphalian technical University of Aachen in Germany presented his project called BendDesk (meaning "curved table"), representing ordinary Desk with a computer.
BendDesk is a working prototype that supports multi-touch technology allows the user to interact with the entire surface of the table. The table combines two separate of the screen, vertical and horizontal, positioned at an angle of 90°, each relative to the other and representing the working surfaces between which there is a continuous interaction. Thus, the two screens form a single interactive workspace.
To ensure immediate execution of user commands, the system is equipped with two projectors, displaying images, as well as three cameras and multiple infrared LEDs which can recognize up to 10 points taps at the same time.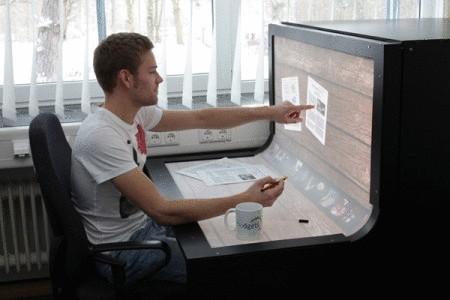 Of course, this device is not very suitable for ordinary users of computer and Internet, but for graphic and video designers, for whom the size of the working surface is of great importance, it will undoubtedly be a valuable acquisition.
Unfortunately, that concept is in the process of development and improvement, therefore, neither the cost, nor, especially, the release date for a fully functional system is not yet known, but in any case it is already clear that this creature has much more promising future than similar Table Connect or Microsoft PixelSense.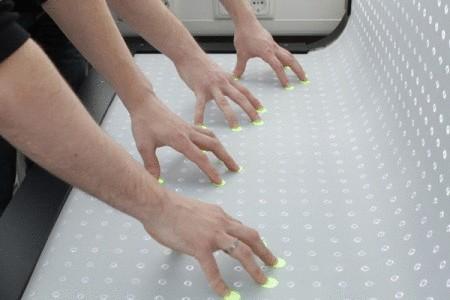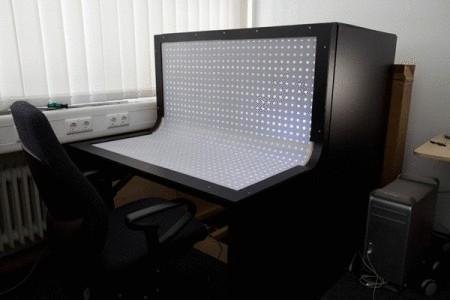 Source: /users/104