In the world of computer technology come new and impressive development, affecting the more sophisticated, almost fantastic modifications, and concepts of personal computers was destined to endure a great number of modifications.
Following the rule that "equipment must be not only functional, but beautiful" designers create a futuristic conceptual projects, radically changing our ideas about how should look like a new generation computer.
The following computer innovations not yet published in serial production, but who knows, maybe in a year they will become the object of desire of millions of users around the world:
1. Computer without a keyboard and displayprojection designer Jakub Zahor, has offered the world a curious futuristic concept notebook computer that allows users to control the device anywhere there is a flat surface that will act as a "display". A desktop computer will consist only of the system unit the size of a mouse. But it is equipped with cameras and a small projector that can display a holographic image of high quality on any convenient surface, including glass.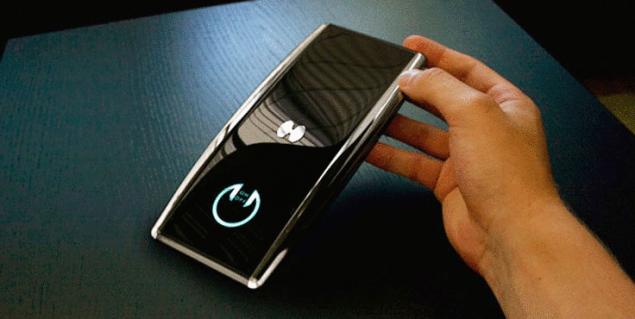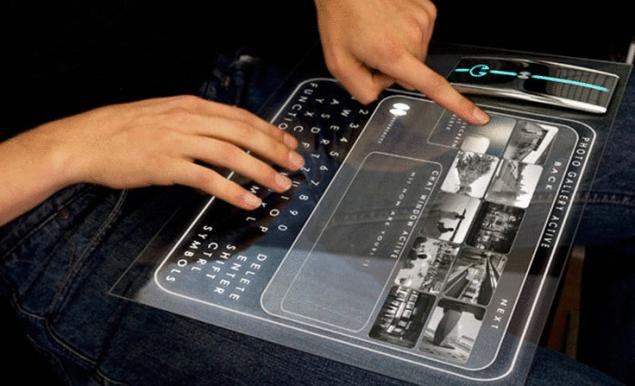 2. RollTop folding ноутбукRollTop is a laptop with flexible 17-inch display that can roll up like a roll of paper, providing the user with maximum comfort when carrying. The laptop comes with a foldable OLED display that supports touch control with multi touch function, making it easy and functional as the iPhone. If desired, the device can turn into a 13-inch tablet PC. In addition to the touchscreen in the gadget embedded full-button keypad, which is very useful for typing. When folded, this compact notebook is easy to carry as a handbag, a belt which is thrown over the shoulder.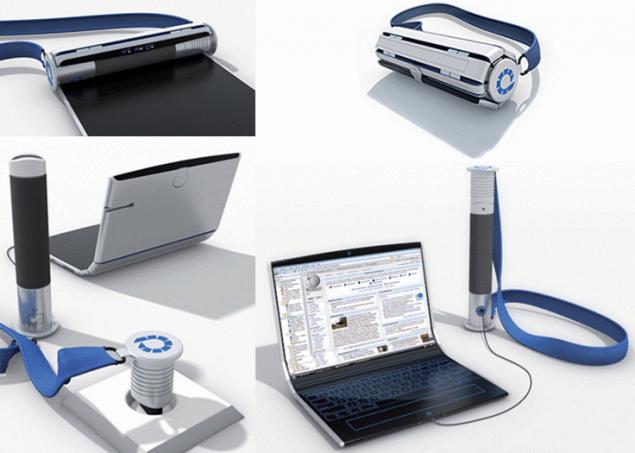 3. HP LiMКонцепт of next generation computer from Hewlett-Packard under the name LiM (LessisMore – which means "less is more") is a small system unit, resembling an empty photo album and a 19-inch completely transparent touchscreen display that looks like a piece of glass. All this adds a touch panel that performs the role of a computer mouse, and thin wireless keyboard.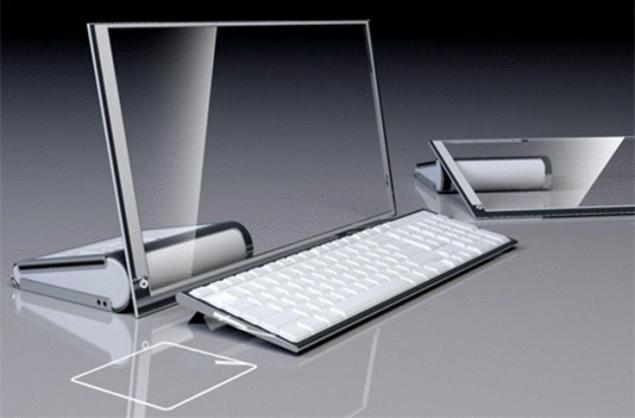 4. Laptop B-membraneЭтот fantastic computer was developed by Korean designer Won-Seok Lee. Membrane keypad appears at the base of the device only when it is needed. With its help you can enter text, but monitor this gadget is not provided. Instead, the image can be projected on any surface using a rotating projector.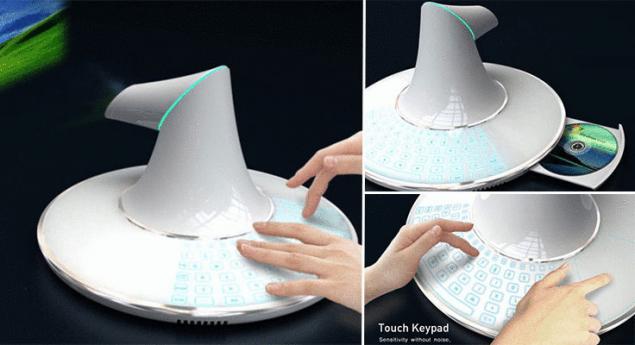 5. Flexible sliding display HorizonЭтот desktop computer equipped with a flexible OLED screen. Users no longer have to worry about the size of the monitor, because the display of this concept can be stretched to the required value.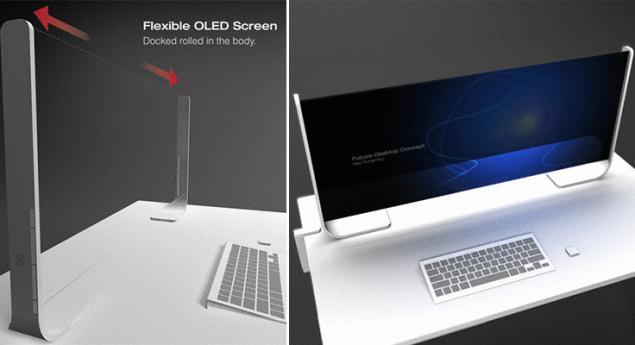 6. The laptop Prime GamingПожалуй, this new product will be the dream of any gamer. Designer Kyle cherry has proposed an original concept gaming laptop with three collapsible OLED display. The author suggests to use in addition to the main 10-inch OLED display (aspect ratio 16:10), two panel Aux OLED. Folded Prime looks like a normal 13 inch laptop. In the open gamer will get a great widescreen display with a diagonal 26 inch (aspect ratio 32:10). It is assumed that the chassis will be made entirely of aluminum, and this computer is equipped with a powerful cooling system.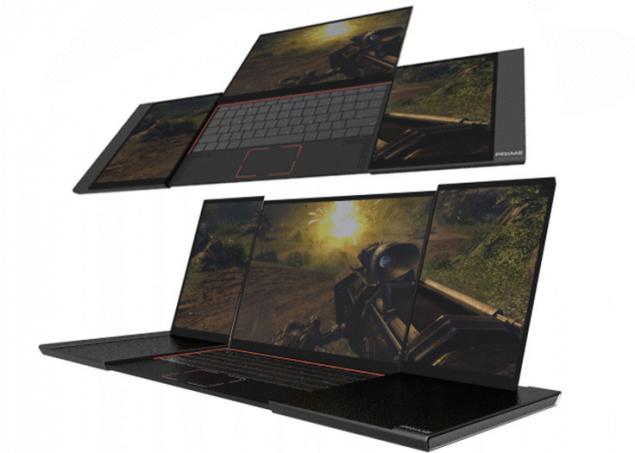 7. Concept Napkin Rsdesigner named Avery Hellman invented the concept of the computer, which will be a very useful tool in meeting rooms. Its design resembles to hold the napkin, which has some of the touch screens, integrated into a single network. Digital pen allows users to draw directly on the touch screen.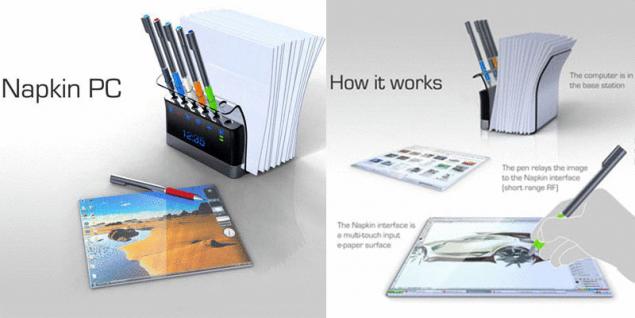 8. Wrist computer NextepSony Sony Nextep is a futuristic device that is worn on the wrist like a bracelet. The concept has a flexible OLED touchscreen, holographic projector, pull-out keyboard panel and access to social networks. The developers are working hard to wrist mini-computer became available to buyers in 2020. Wrist concept designer Hiromi Chirico became the most anticipated novelty from China.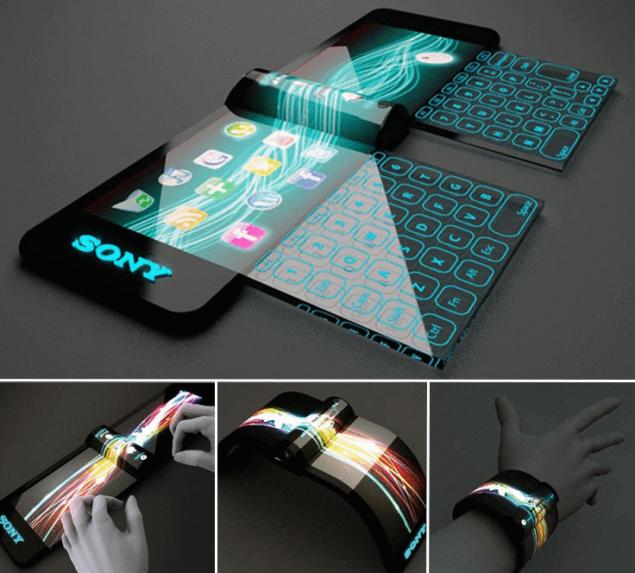 9. KOOB + Modular computer sistemata futuristic modular computer system consists of a thin, lightweight portable main module with display, major components, and a removable control module. All the modules perform different functions depending on the needs of the user. The other part of the system is the wire that can be connected to the main module and use different interchangeable connectors located at the other end.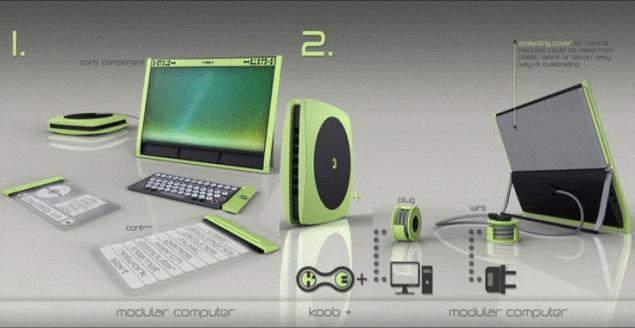 10. The concept of computer InOneInOne or computer "all in one" implies the existence of a 22-inch display, keyboard, touchpad, speakers and a digital tablet. All these components combined in a single housing and are connected wirelessly. The tablet displays everything you write or draw, so there will be no need to raise his eyes to the screen.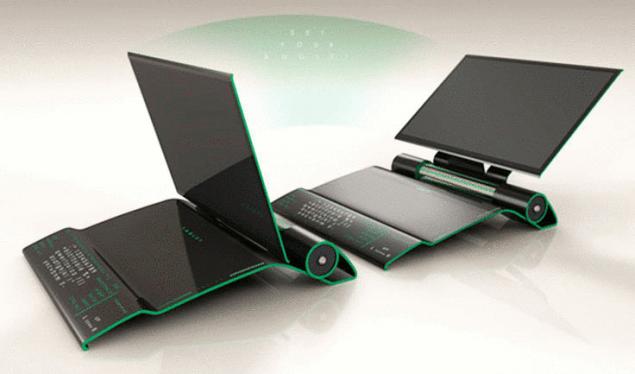 11. Sapphire All-In-One computer, Reto a work of art in a minimalist style, created by Brazilian designer Rafael Berloffa, promises to be a unique discovery in the field of computer technology. The concept includes wireless components, requiring no workstation. In addition, thanks to integrated USB touchpad keyboard is no longer any need for a computer mouse.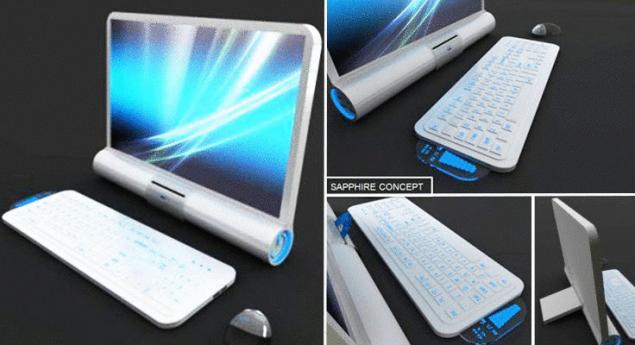 source:mixstuff.ru
Source: /users/1077