In the United States alone each year to send to landfill more than 300 million balls – and because they deflate and stop bounce as it should. Near the tennis courts are a whole trash can full already the for games tennis balls. But every two thousand of the balls is almost a whole ton of rubber, which will go to the dump!
Looking for a misallocation of resources, the designers seriously thinking about a new application outlived her sports equipment. Moreover, working with tennis balls – a pleasure: they are easily pierced with an awl and sewed with wire or thick cord. It turned out that lemon yellow and bright green balls can with your hands to make different utility.
Furniture for tennis fans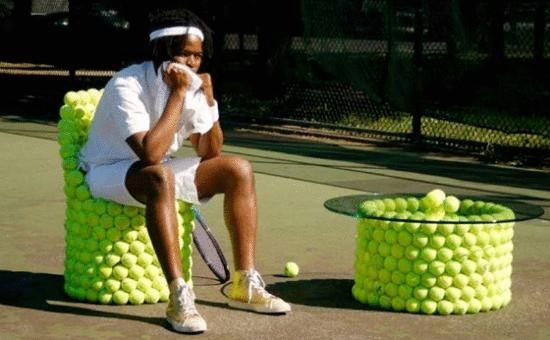 American designer Hugh Hayden (Hugh Hayden) has created a curious HEX Tennis collection, consisting of ergonomic chairs with a slightly curved back, round tables with glass top and a spacious couches for four-legged Pets.
Raw materials for the DIY artist self-collected on tennis courts in new York, and then began to bind the balls together with rope made from polyester.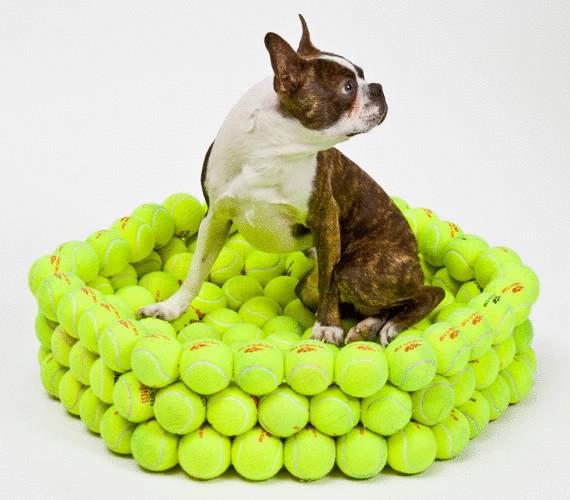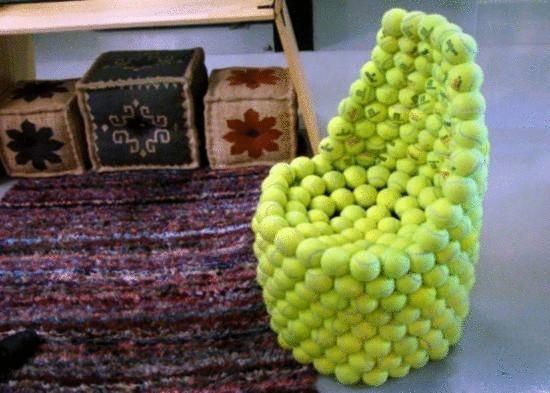 Creating one piece of furniture, the designer went from 8 to 16 hours of "fun": after all, according to Hayden, tennis furniture is a tribute to the memories of the games room and pools with soft colored balls, dip in which brings children so much joy.         
Holders for small items
A deflated ball doesn't matter, because it can be turn into a real 3-D smiley face! The eye can be made from buttons or beads, and the mouth to cut with a sharp knife. To the vertical surfaces of the yellow crank is attached with suction cups, or it can be put on empty the nail, not the way sticking out of the wall. Now this ball can be used as a holder for small items: towels, keys, mail, notes, for households, etc.        
 Art installations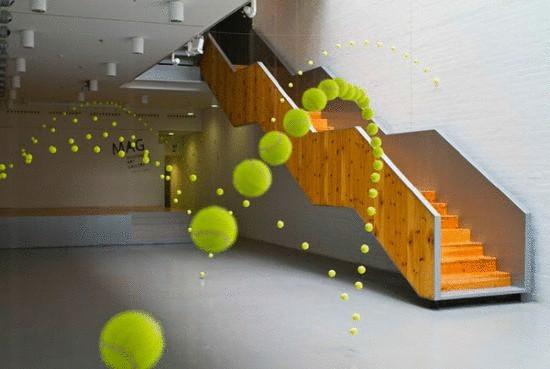 Spanish artist Ana Soler (Ana Soler) is famous for its installation of many small objects, like coins, scissors, paper cranes...
This work is from two thousand tennis balls called "Cause and effect" ("Causa-Efecto").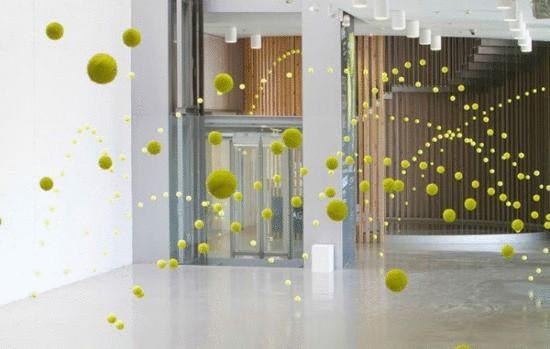 Tennis balls suspended by barely visible fishing line in a strict order: it would look like the trajectory of their flight, if they were Bouncing off the walls, ceiling and floor. This creates the impression that looking at all the footage of the short film at the same time.
Sports jewelry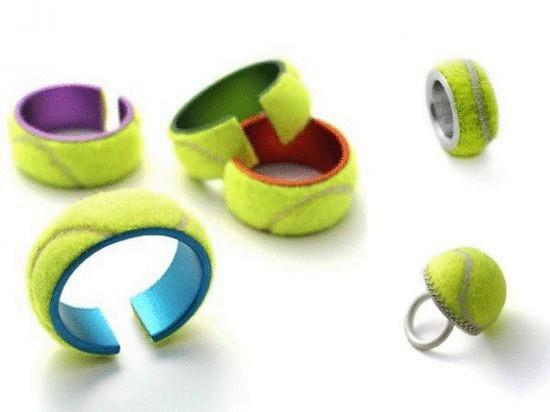 Designer Manhart Elke (Elke Munkert) carried out a seemingly crazy idea: old tennis balls he makes an unusual eco-friendly decoration. And, most importantly, nothing really is not necessary to invent – the shape of the balls makes it easy to get bright and fluffy bracelets, rings and rings. The basis of the jewelry is plastic and metal, which is fixed a strip of a tennis ball cut along its circumference. If you want to make something similar, you can take any improvised means – a cut plastic bottle or a spool of paper towels. In this case, you can even experiment with thicker thread – for example, to decorate the edges of the craft of seam "over the edge".  
Source: /users/104