In stationary upholstered chair is comfortable to fall apart in front of the TV. Typically, this piece of furniture is bulky, heavy and ill-suited to frequent movement. The LLSTOL furniture created an entirely different concept. Her specialty is functionality, versatility and mobility.
The Creator of the LLSTOL – Nico Klansek (Niko Klansek) lives in Ljubljana, Croatia. Before creating a piece of furniture that is easy to store if it is not used temporarily, Klansek studied ergonomics at the faculty of architecture of his native city. After much experimentation, the inventor stopped in L-shaped form, which has fascinated furniture makers since the local factory, STOL&STOL.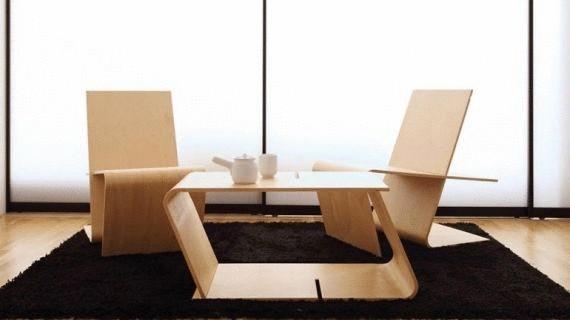 First of all, LLSTOL is a subject on which you sit. This is a simple, elegant and comfortable chair or stool, composed of two identical curved plates. In addition, they can collect a coffee table, bench, or bookshelf, it all depends on the situation and the desires of the owner. Furniture suitable for repeated Assembly and disassembly.
An important feature of the furniture – it's easy to disassemble and fold for storage, if it is temporarily not needed. There are no seams, gluing, joints with nails or bolts. Owner you just have to combine the two halves of the slot to put the seat into "combat readiness".
The minimum kit consists of two izognutye in L-shaped plates. The height of each 72 cm, weight 9.6 kg. Material of furniture – laminated beech plywood. It is durable as compression and tear resistant material, much of which is environmentally friendly renewable wood. Choice of plywood is due to both environment and economy. About 60% of Slovenia is covered with forests.

Advantages of furniture in the simplicity, versatility, universality, portability and mobility. First and foremost, it is designed for young people living in small apartments. If necessary, stacked in the pantry chairs — transformers can wait in the wings while the owners are not visiting guests. In addition LLSTOL will be useful in public buildings such as libraries, cafes or lobbies of hotels and offices that require strength and durability.
The initial investment Nico Klansek decided to collect through the project Kikstarter. He had planned to raise $18000. However, his ideas received great support, and at the disposal of the inventor was almost $22000. Today, the LLSTOL is available to any interested person.
In the future it is possible appearance in the sale of models of different colors and sizes. But it is available only one form and one color. The kit can be purchased at the price of 144 euros. If you need textile covers, they are sold separately for € 39.  
Source: /users/104