Nassau under the chair. Good!
Boring. I remembered stormy youth. I sat once at the table, ate paw of condensed milk cans. These came and started to scream. Well, I'm not a fool, lowered his paw into the jar as climbed, and the three bones - for the refrigerator. These yelled three more days. I was very proud.
Today more and laziness. Piss - laziness. Eat - I can not anymore. I sit quietly doze. These are nervous, they look around, shake and wait for a dirty trick.
What Well these bowls uncomfortable. I tried to eat a piece of meat, so while not hooked paw - not fucking work. None would take a decent bowl and eat on the floor. Vp-p-birth.
Nassau under the chair. Good!
From morning to conduct inspections of the house. Getting lost in the blanket cover.
Barely got out. Scary dvulapye. Ponataschut house all sorts of rubbish - and I suffer.
I hatched a plan for revenge.
Invented.
Embodied.
I gobble up some stuff on the table - a jam or something, - climbed into the closet and a long, fruity vomit on freshly washed, but not yet ironing clothes. This will scream until it goes into ultrasound.
Guessed. This squealed so that throughout the quarter were cracked light bulbs. But guzzle given.
That started a new fashion. Eat me puts on polpaketika all. And
"Oh, my pet, you do not eat for a whole probably do not want to have." You fool! I do not eat, then I'll leave! It is to me more than once in five minutes in a bowl of something puts. These both will fall down for the day - and all! And I want to eat. That has to leave a little bit, kind of like in the stash. Piss will not, and then under the chair there is nothing left. Go tray gap - still today sense of it any longer.
Nassau under the chair. Ho-ro-sho!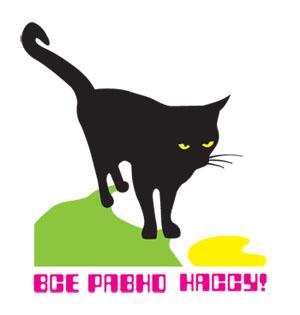 the morning was great.
This goes into the corridor - and I come to bury her bag. Type Nassau, yeah. She squeal so that all the crows in the Sokolniki Park with branches fell. Well, I'm under the sofa - sniffing. Whinnying long. I'm not pissed, I - just to scare. Commanded and led.
Over dinner That biting the lower leg. Strongly bit bare for the lower leg. Reactions zero. He began to bite, and then make such Buee! - Well, like, I blyuyu from nego.Etot roared like! Zanykal a bathroom. Rzhu. We'll have to sit under the bath, this is not going to bed.
Sitting under the bath. I wait until these are gone. Nassau under the chair. Nassau under the lamp. Nassau under the second seat. Good!
I wandered around the house in search of the things that has not yet put his paw. I did not find any. Puzzled.
I have a pad in the toilet. These steles him that was nice, yeah. In fact, it is convenient to take a crap. Or filler to scatter. If properly scatter, the infernal machine called "vacuum" of the work is not less than half an hour. And if zassat as I can, the rug will be washed and then dried for about a week. These after some time, guessed that the mat they often bring hemorrhoids than beauty. And stop putting it in a toilet. But these dumb as boots. They do not have guessed that the same pad is in the bathroom! Befoul all. Completely. That is all. This screaming so that the cockroaches in the house next door burst eardrums. Immediately rushed to call to this phone, "Oh, this cat did this ...»
And me? I feel good, I'm under the bathroom, I was not that hand - a new broom does not get it.
Stolen from the bathroom.
Nassau under the chair. Good!
It was irresistible. In the morning wake These. They are bastards, did not get up. Rode, as a young antelope, stamped like a herd of buffalo, screaming like a wounded panther. Though henna. Even the ear is not conducted. I tried a yell - sleep, reptiles. Biting his lower legs - do not respond.
But I train smart, yeah. I got under the covers and cold wet nose of this in the belly - ShVAK! He runs like a lamb. That's what just screaming - it is not clear.
Nassau under the seat.
Well, yeah.
This came yesterday. He went into the kitchen. I told him yell: "Give guzzle," he told me, "You still have to bowl." I yell to him again: "This is a little, eat forbid!" He told me again, "Do you have any more." Stsuko. I immediately ran past the piss tray. But this is somehow my mouse brain realized that I was going to do. And I looked in the toilet at the moment when I was half flooded the floor, and the second was in the process. I tried to slip away. In general, it is quite successful. Except for a kick that threw me after this. I flew a short time, but it is unpleasant. All night saved his anger and everything else. Well, wait. You leave for work.
This, stsuka, on Friday took the laptop and rinse off somewhere for three days. Fuck that write. Details later. Until a short report for three days:
Nassau under the chair. Good!
Nassau under the chair. Ho-ro-sho!
Nassau under the chair. Zashib!
On Friday morning taught this walk on four legs, like all decent cats. Got spread out under the sofa and began to sing in all throat. Yelled "Murka", "Chattanooga" and "Vladimir Central." It was worn around the couch on all fours and yelled: "Oh, my pet, you razmyaukalsya?" No matter how beat - still goes awry, ass wagging on the head and hair sweeping the floor. Dura complete. Well, at least I gave eat.
Yesterday This pritaranil herring. The fish, I finally can not, I have tried all these there is the salmon-trout slip - well, shit shit. But there is something to understand. Barked on this - two powerful Shmatov byrenko dumps me.
Vlёt devour. Salty was the contagion. I washed down by the fact that under the first face turned up - milk. Perdel so that the boxer from the third floor of envy zhopny gum cracked.
Yesterday scored. Long and carefully zassyval entire filler in the tray until it turned savory shaky swamp. Hidden behind the bathroom door, he waited. This went to the toilet - and I'm on the edge of the tray legs rrraz! The tray on the priest - rrraz! And all this on a relish pants. Full dermopad. This shrieking falsetto, was white and shaking. And me? I sat under the bath and giggling.
Invented, yeah.
When I'm doing well, you have to give me a bonus - plus three more zhrachki pack a day. And then five - will be enough. Now That You're jughead explain all the benefits of such a provision.
Nassau under the chair. Good!
Last night, this brought into the house - and let me squeeze: "Oh, my pet, I miss you, how are you, well behaving themselves?»
I purr and caress, while this has not gone to the toilet. Once it is there - I was under the couch, yeah. Oral course. And then she thought the upper leg cream somehow smeared. Jar
He was open - I'm licked. It turned out delicious, with aloe and other pleasures.
Drunk, so that overnight hiccup. It floated around, tearing the hair on top and yelled, "Oh, my cat was poisoned!" The morning after this kosmet-shit got to shit - well gone, softly. I know now than to have a snack Friskis.
It demanded the morning grub. He then puts me zhrachki and contemptuous way: "Hey, you're an orphan ... Canary!". Offended.
Nassau under the chair. Good!
Carried out archeological excavations in the tray. Control scrapings, opening cultural backgrounds, the examination of remains, fragments, lumps. Noon killed, found nothing interesting. Disappointed. Yes, even the rest of his afternoon shouting: "Pliny ssssuka why again the whole toilet zassal-zasral-buried? Yes, even Yorshik muck, beast! "Insensitive, incompetent bastards.
This grub pritaranil yesterday, immediately gave me three bags. I have them in one fell swoop! Not even devoured, I sucked vlёt. It was trying to eat corn - half a tin rescued him in a fair fight. Oral scary then. This fool, handle folded umilёnno ​​so, and let's sigh: "Oh, we thank you cat says!" Chump. Well I yell in plain text: Give more! Not allowed. And mat, washable, they put nothing into the toilet, yes.
Nassau on the mat. Good!