Mini house made of recycled materials
In all the world has become such a popular phenomenon epsil (from the English. the word upcycle) is a process by which unnecessary more thing not thrown away, but recycled, and what's more — it creates the desired object. Roughly speaking, it is the creative transformation of recycled materials into art or something necessary.
Mini house made of recycled materials
An artist from Oakland, California Gregory Kloen figured out how to use his sculptural and recycling skills to help the homeless population of California using the usual, useless garbage. Artist out of Oakland collected piles and piles of garbage he found around the Bay Area in search of suitable building materials. Taking sheets of plywood, old pallets, blankets and tarpaulin, Clean made portable single houses, which he donated to the homeless men and women in California. Each house cost the artist only $ 30 to $ 50.
Mini house made of recycled materials
Mini house made of recycled materials
Clean built these miniature shelters for the homeless almost entirely from found in the dump materials. He tried to pick up the trash of any materials that can be used for construction such as wood, cushions, tables, chairs. Also at the dump Clean found and parts that can be used for Windows in mini-houses. All that needed to spend their own money, it's the hardware (such as screws and joints), with which he was bonded materials for houses.
Mini house made of recycled materials
The basis for every house was thrown out pallets. The walls and roof were made of was found on the dump boards and plywood sheets. And Clean did all roofs sloping to the rain dripping on them, minimizing the chance that he gets inside the house. The houses are then put on wheels to be easily moved from place to place.
Mini house made of recycled materials
The sculptor has decided to use his creations to help the homeless, instead of doing work, which will then be displayed in the galleries for the rich. Kleen hopes that it will serve as a good example in the future for all.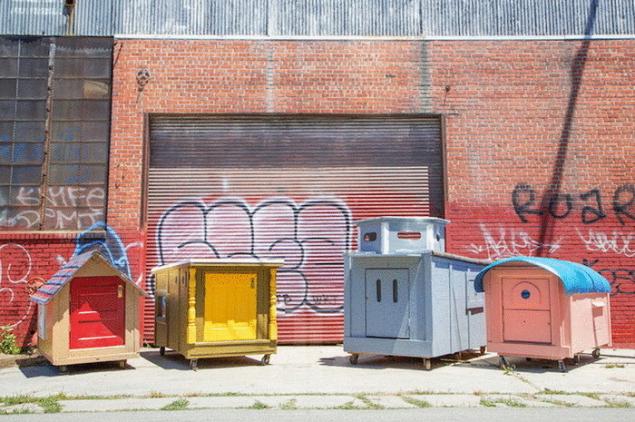 Source: www.ecobyt.ru/