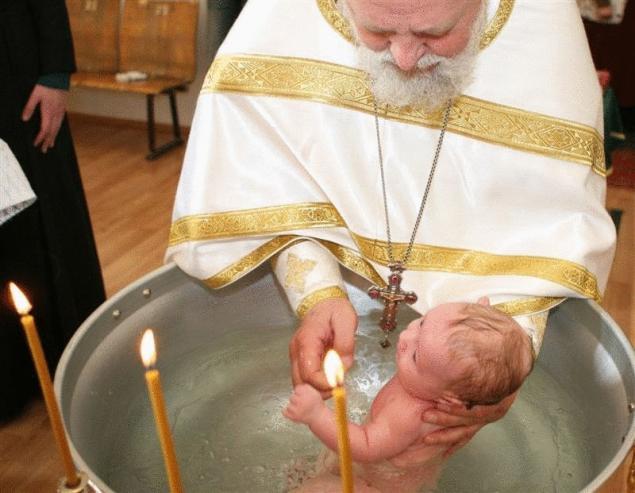 The question "Why baptize a baby?" is often pronounced in the context of that small man to be unable to intelligently approach the Sacrament of Baptism. The child does not understand a lot with their mind cannot consciously confess their faith. For some people this is the reason to postpone Baptism for a later time. They doubt whether to baptize a child. But the child baptized in the faith of his parents and godparents. Rules for baptism of a child require the presence of sponsors, who will take responsibility for the upbringing of the child in accordance with the teachings of the Orthodox Church.
One of the reasons why you need to have a child baptized and why you should not postpone the Baptism is also the fact that no one knows the time of the end of his earthly life. This applies not only to adults but also to newborn babies. There are many cases when a child is in suffering a serious illness, were baptized, after which he immediately became much easier, he was on the mend.
The sacrament of Baptism opens up the gates to the Heavenly abode. It is called spiritual birth. During this Sacrament washed all the sins of man. Little children have not committed deliberate sins, but they are already defiled by the original sin. During their Baptism washed this sin. Here is the answer to the question.
After Baptism we need to make every effort to not Sully the snow-white baptismal garment of the soul of the little Christian to become a faithful child of the Orthodox Church.
In Scripture there is no accurate narrative about why we must baptize the child. But there is indirect evidence that from the first centuries of existence of Christianity baptize infants. The Savior asked not to let the children come to Him. He lovingly blessed the children and said that "of such is the Kingdom of heaven." Old Testament circumcision (a sign of dedication baby God) is the image of Baptism. It was done on the eighth day after birth.
After the Baptism the child can be fed notes in Church, he can participate in the Sacrament of Holy Communion. That's why you need to baptize the child as soon as possible. The Sacrament of Confession by tradition, the children coming from the age of seven. It is considered that from this age a person can realize their wrongdoings and repent.
If the child is seriously ill, so it is difficult to deliver in the Church to participate in the Eucharist, it is possible to invite a priest to the house of Communion for the sick child. Often after prayer and the Sacrament, the child is recovering.
The desire to baptize your baby as early as possible is perfectly natural for Orthodox Christian parents. The answer to the question "why baptize a baby?" for them is obvious as they want their child to quickly attach to the source of divine grace and truth.
Ksenia Araba, theologian-theologian
source: kreshchenie.ru
Source: /users/1077