Saying "How little a man needs for happiness" has a new meaning in the actions of the American Professor Jeff Wilson, who, after divorcing his wife sold virtually all his possessions and bought a large trash container, is 3.3 square meters which he began his new life.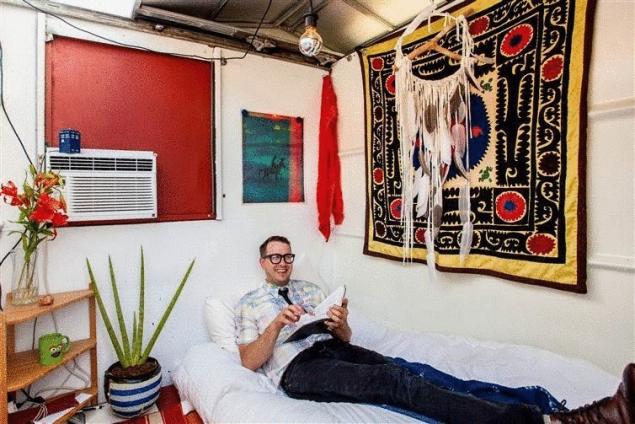 We have a similar "new life" begins people who have the life path went down, but Wilson has all happened Vice versa. Life in the trash was a new step in his life, and he, in his own words, quite happy with this state of Affairs.
Initially, the container was not even the cover, which in the rainy days the Professor tried to carry as much time in your University. But over time Jeff Wilson not only has equipped your Dollhouse a functional retractable roof, but also made within the renovation, which has transformed a dumpster into a quite suitable, though minimalist home.
Three square meters of scientist equipped room which combines the kitchen, bedroom and living room. Of course, I had to look at the sofas in all the stores of his city, to pick up a small, but comfortable model, and kitchen sink and stove were chosen solely for reasons of miniaturization, but in this unusual dwelling has almost everything you need for an ordinary person.
Having done this kind of work, Jeff Wilson wanted to show his students that their own homes are not necessarily huge mansions and multi-level penthouses. All the necessary things it is possible to fit in three square metres, while minimizing their own negative impact on the environment.
Soon the American Professor intends to equip your container house with solar panels that will enable them generate the required electricity, and attach next to the bathroom, the lack of which gives Mr. Wilson the most trouble. Having done all this, the enthusiast will well deserved to be proud of as its the smallest house in the world, which has everything you need.
Source: zeleneet.com