Growing flowers and vegetables in various containers is popular all over the world. The possibility of such a of gardening is extremely diverse: containers decorate terraces and patios; they are placed on the balconies and loggias are ideal for children or a decorative garden; this is a great option for those who want to add variety to the usual suburban landscape and change it at will without much effort and cost...
Today we present a selection of original and practical ideas the use of planting container in a small cottage.
"Square foot" is the English version of the mini-garden If the plot very closely, you can use the idea of an English square foot garden – "garden by the square foot". By the way, this is a great idea for decorating
children's garden
. And such container can be a miniature
Apothecary garden
; if you place it near the summer kitchen or BBQ area, it would be appropriate salads and spicy herbs... in a Word, universal idea.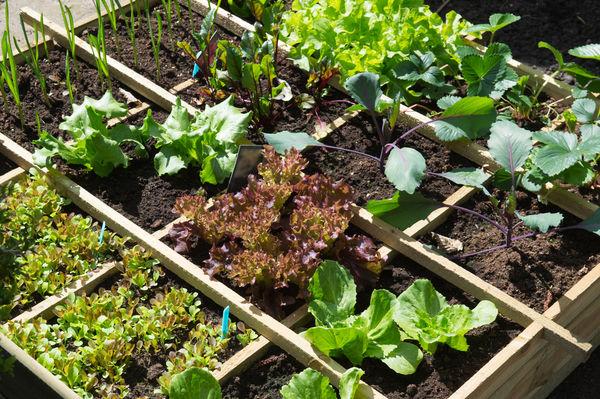 Build a wooden box (option — a raised bed with sides) with a size of 1200 x 1200 cm, Divide by 16 cells: size 30 x 30 cm, 4 cells on each side. How it looks, well seen on the photo.
The cell is intended for one vegetable culture. Large or demanding food plants (tomato, cabbage and others) put one in a cell; small root crops (radishes, carrots) you can sow two rows; green randomly (but keeping the same principle:
one cell — one culture
). Of course, with "square feet" you will not harvest able to feed the family all winter. But sometimes the goal is not in it...
Vertical gardens If you are in the country there is a high deaf fence or unsightly wall of any building, and you long you want them to transform, using a variety of containers it is quite possible, not too difficult, and sometimes costly. The easiest way is to attach to a vertical surface robust metal fittings and lock them in flower pots or boxes. For example, like this: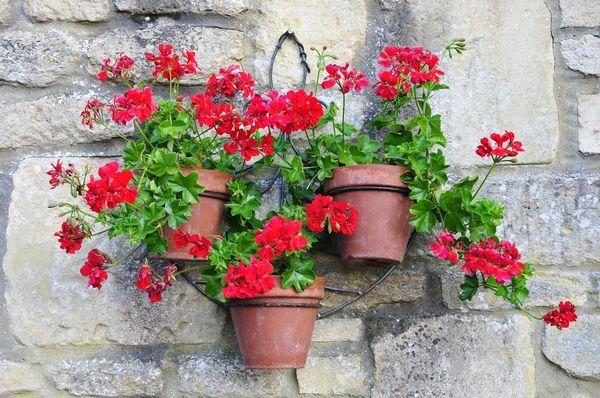 Size, quantity, color, material and shape of containers can be any — it all depends on the creative idea and the existing capacity (both technical and financial). But the plant is better to choose
unpretentious
,
resistant to moisture deficit
(we all remember that soil in containers, especially hanging, dry very quickly).
Can and
containers, vegetable patch
positioned vertically. This idea is especially attractive for owners of small plots, which lack of space to put all of what I dream; it is suitable for creating
a kitchen garden on the balcony
or loggia.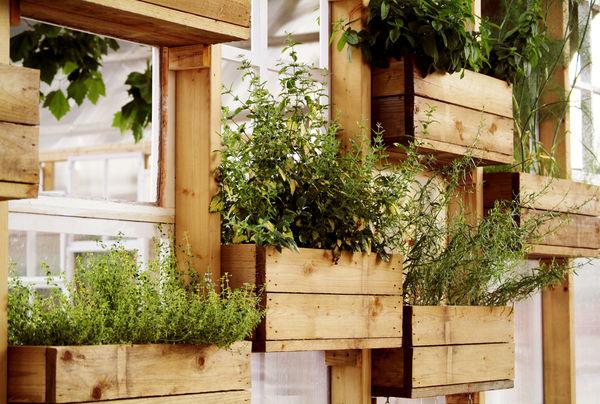 Wooden structure similar to the one in the photo would require a Creator of some carpentry skills, but in General, perhaps, to its not carry. But
multifunction
— easily. It is able to play the role of a pergola or trellis at the cottage, a rack on the balcony. It is suitable for planting almost any crop — vegetables, and herbs, and flowers. But you can not plant anything — use the boxes as planters, putting them in the pots with plants. In short, being creative and taking an idea for a basis, you would be able to come up with this build a better application.
And someone may have more to taste the version with the next photo. It is not as versatile (
the volume of the soil in such containers is limited
and it is not for all plants), but definitely original. Yes, and isn't really complicated (by the way, you can not only use pipes that have to be cut, but also plastic gutters — they are enough to put stubs on both sides to get a long box of plants))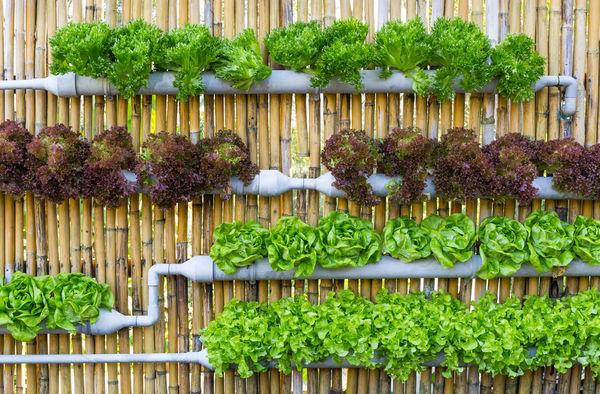 How not to recall about pallets — DIY of them are extremely popular and diverse. Procured at least a couple, we get the opportunity to experiment with planting and in the country, and even in the loggia or balcony:
upright pallets
take very little usable area. And here already the depth of the containers (and the amount of soil in them, accordingly, too) we can vary at their discretion, depending on the crops that will be planted.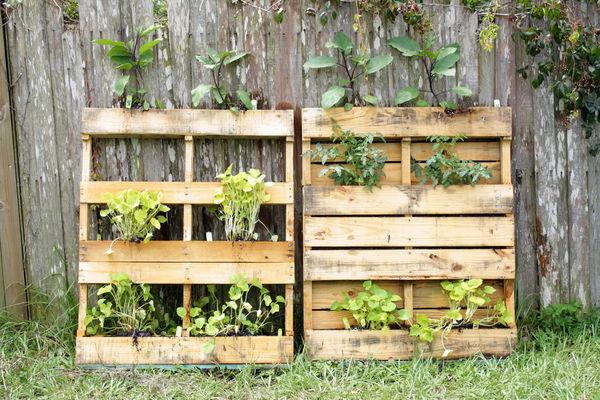 Well, professionals create these masterpieces — Piestany or "living pictures" of undemanding crops. They are remarkable in that will never be static — the decor lives its own life, evolving, changing right before our eyes.
System. The most
simple method
, accessible to every lover of flowers, a small flat container filled with soil and planted with succulents (so that soil does not spill, when the "painting" takes its place on the wall, use a metal mesh; it also holds the plants)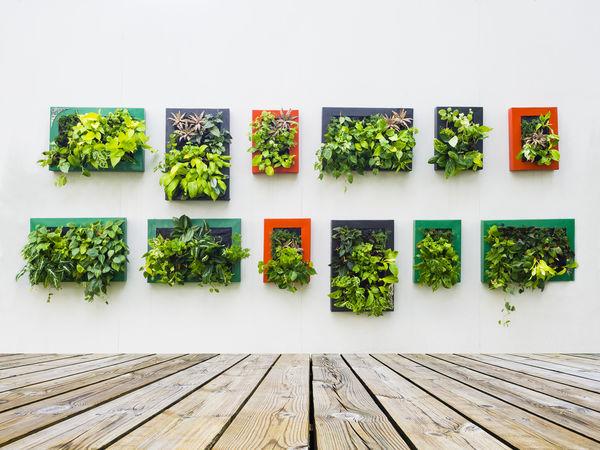 I think to create such "art gallery" is insanely difficult and expensive? Not at all! If you use low-maintenance plants that can live even in the most difficult conditions, all the rest is very simple. After watching a short
master class
from the program "Fazenda", you will be sure to repeat it to everyone!
In order to build
faostino
from plants are larger, use of larger volume containers, often filled with a special substrate that holds plants need moisture. Large vertical design can be equipped
with drip irrigation systems, and irrigation,
additional lighting, and so on. In the country are, frankly, expensive facilities unlikely to be in place, but to build a living wall in the winter garden, for example, is a very promising idea
Another simple, but very attractive option is the use of containers in vertical gardening a small plot, balcony, terrace — all
hanging baskets and planters
for ampelnye plants. The choice of plants is huge, the possibilities of decoration are practically endless. Here, for example, concise version with truckers favorites — petunias
About the most important nuances of vertical container gardening — in the following short video. Knowing and using in practice these techniques, any passionate gardener can create their own hanging garden — a small flowering miracle with your own hands
The main thing — correctly to calculate their own strength: plants in containers always require more attention and care than their counterparts in soil. Without regular care, including watering and feeding, they can not please us nor the lush foliage nor abundant flowering or a good harvest.
Beauty + use most Often cottager — a practical man. Beauty is important, but the benefits also need to think (especially if the site is small) . And born from this thinking amazing things... for Example, here is a birdhouse with a mini-roof garden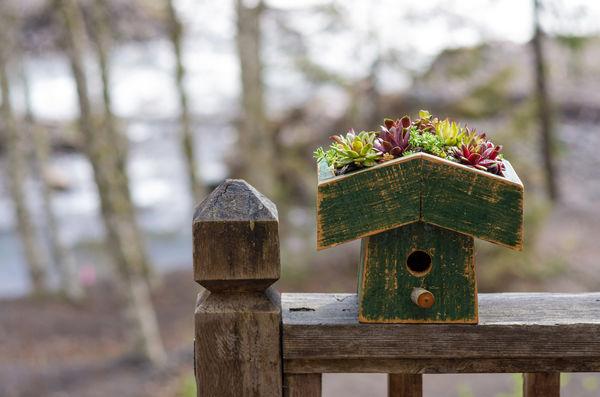 Such small containers suitable
for planting succulents
; demanding food and moisture the plants will not survive — they need more capacity. But for a large container and place harder to find, and move it (considering the weight of soil and plants) is not so easy... And if you attach the wheels?.. Original
container-the car
will become the highlight of the holiday decor — very practical twist, by the way))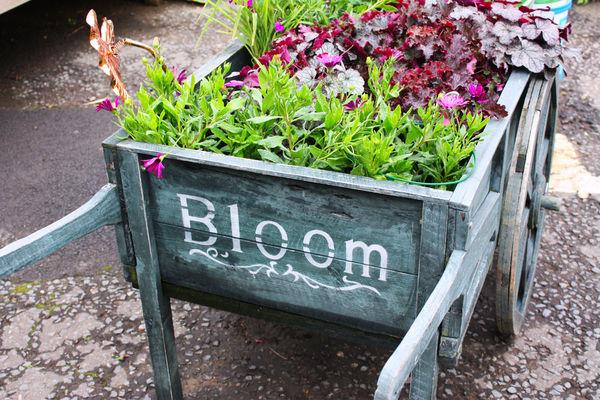 To
garden sculptures
can be treated differently. Sometimes they are hard to find the right place, sometimes they look like foreign elements in the garden... And how do you like the idea of combining similar decor (usually not having any utilitarian value) with pots for plants?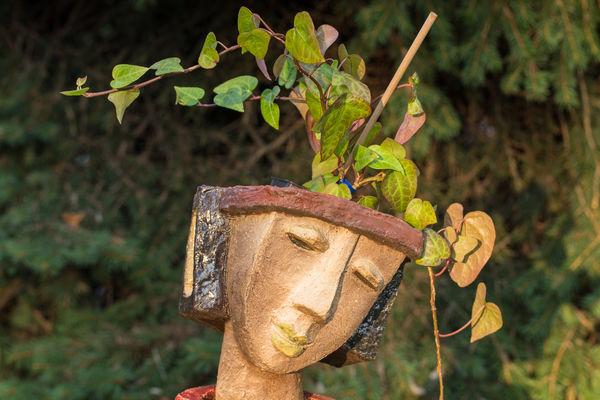 The volume of the soil here is quite large, and therefore the choice of plants is wide. You want — you can make a beautiful "curls" from a basket of flowers, or you want to draw the "short cut" using compact ornamental foliage or flowering plants. Just remember: if it's
perennials
, they have carefully covered for the winter, because in our climate similar capacity chilled through, and the root system of plants may die from cold. So that it is easier to plant
annuals
and less hassle, and every year new ideas are easy to implement.
Wonderful transformation of unnecessary things And we will continue to talk about usability :) it's What compels many to put off unnecessary things: suddenly more useful. Most often it is "suddenly" never comes, and the closets, attics and garden sheds with years filled with all sorts of rubbish. Throw a pity, to use nowhere... a Familiar picture? And let's try to clean up the rubble and in the process to create original design items for the garden...
Use
old kitchen utensils
for planting — reception, which has already become traditional. But look, how interesting can it be beat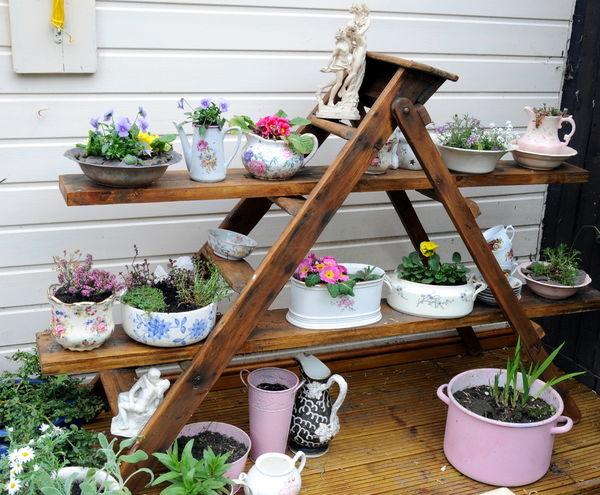 An old ladder becomes about elegant stand of colors (such as a shelf and a terrace to decorate not ashamed!). Vertical placement of plantings helps to save precious space, and assorted utensils
unites color
: color pots, bowls and basins with white paint (or choose any gentle colour: pale blue, pale pink, pale lilac, and so on), add porcelain vases and bowls in fancy shapes and what recently was a trash to decorate a small garden.
A similar idea convenient to use and
for planting herbs
: a bookcase can be put near the summer kitchen, so that the necessary supply of greens will always be at hand. Well, for those who have the farm "lying around"
old wooden barrel
, generally remains only in a good envy...
This (rare nowadays) the subject is able to turn into comfortable high bed and stylish bed. It all depends on what part of the product is better preserved, what are your creative plans and carpentry skills)) But such a flower as in the next photo, you get not only from the large barrel; it can be done from
the shell
or
an old tub
— and then to remodel and have nothing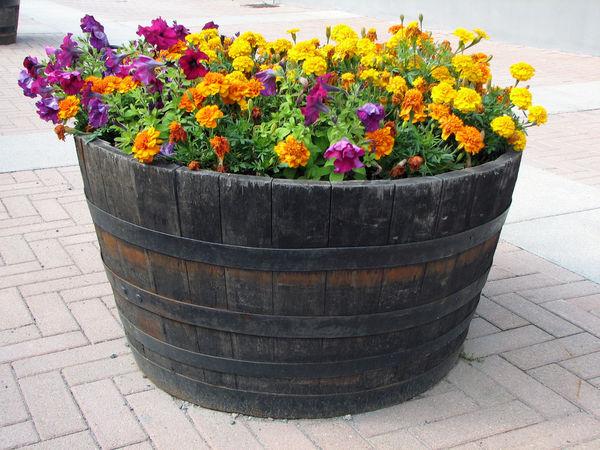 Note: using barrels as containers for plants that
don't need to hide their age
. On the contrary, the traces of time give this element of the decor of special value and appeal. Metal hoops, however, it should be cleaned of rust and possibly covered with a layer of suitable paint to protect it from the weather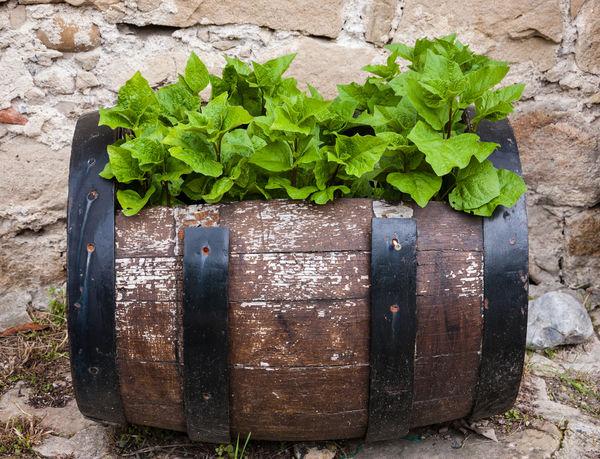 But
the old tub
age not your color. Most often in the country it is used as containers for collecting rainwater (then it is somewhere near the shed, shyly hiding behind the grass). Someone makes end-of-century bath, a small pond — then it completely digged in the earth, and the edges are decorated with stones, hiding unsightly appearance from the viewer. But looking at the next photo, we are convinced: this subject is quite able to play "solo", becoming an independent country decoration landscape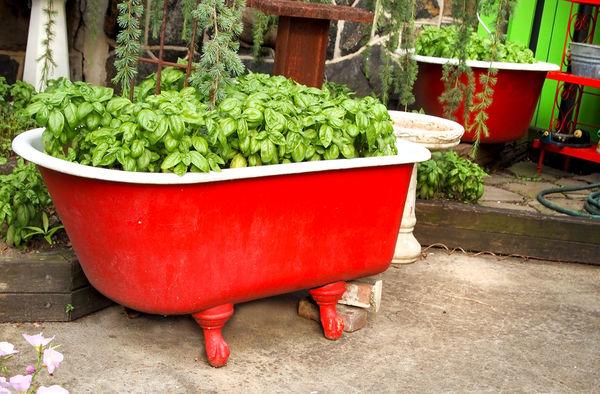 Only, it turns out, you had to paint simple plumbing product in
bright color
and put on the original legs (the old baths they were, but hardly someone from our gardeners have preserved such a treasure :))
On the other hand, plants in this cast frame is clearly losing. "Picture" is lost in the background "frame" — and this is not too right, agree... Therefore, choosing (or making their own hands) a container for new plantings, it is worth considering what exactly we want to emphasize?
Healthy, beautiful plant will adorn any capacity — even a: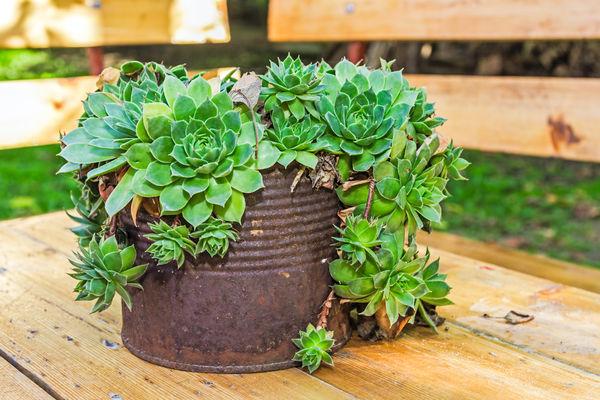 Aesthetes will of course be in shock from such "frills". And we are not going to extremes — the same tin can is a snap to decorate. Yes, even just from rust to clean and paint, right? Harmony —
in the right combination
containers planted them with plants and the landscape. And the creation of such harmony.
I hope today's selection gave you new ideas for creativity, awakened inspiration, and most importantly — convinced: even in a small area is possible and necessary to create beautiful flower gardens, and vegetable beds.
Source: www.7dach.ru