The snow melts and the green carpet of the garden will come alive with bright colors. Many daffodils will peacefully coexist with wild dandelion and core meadow. The curved flower beds will set the tone tulips — different color combinations will begin to change one another.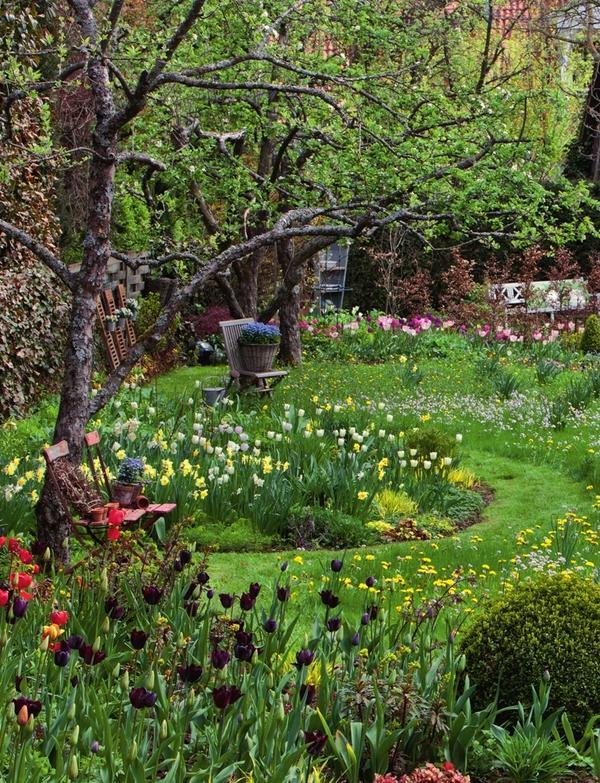 Somewhere in the distant Swabia, in southwest Germany, has a fabulous garden. Here foam pink and white Apple blossoms and lush green newly awakened grass.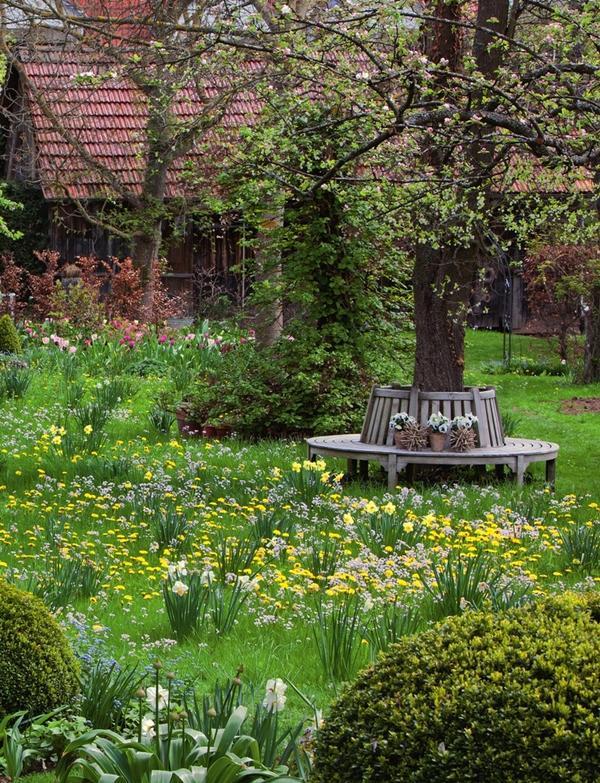 In the South-Western part of Germany, between the historic cities of tübingen and Reutlingen, meadows growing on them with fruit trees is a typical landscape. These delightful species extend right down to the localities. No exception and the town of Kusterdingen, where iris and George brown for 20 years cultivate your garden. Originally this land was used for agricultural purposes as industrial crop, but eventually became part of Kusterdingen. The owners of the garden remains faithful to tradition and carefully preserved most of the fruit trees — Apple, pear, cherry, plum. Over the years some of the old plants died, fell under blows of hurricane winds, but instead the owners have planted a new one.
"I never dreamed of an orderly garden with thujas and a neat lawn," says iris brown. And many years ago she came across a book about Gertrude Jekyll English cottage gardens, and iris with all his soul he loved natural relaxed garden style with lush flower beds and wild herbs.
Fruit trees form a picturesque fence. Under their broad canopy, plenty of space and light to the spacious flower meadows, which has decorative flower beds curved shape. Unpretentious daffodils are great spring garden decoration. Across the meadow lawn mower paved narrow path, so that the trampling flowering plants is not threatened. To walk here in early spring — a special treat. Later bloom in the meadow dandelions and light purple core meadow. Here and there rise white and yellow daffodils, forming a picturesque group. "This onion flower is really very hardy, explains iris brown. — Daffodils are growing by themselves, and every year them becomes more. In addition, unlike tulips they do not touch mouse-vole". To the bulbs of the Narcissus were able to accumulate nutrients for the next season, the owner of the garden mowing the lawn until the end of may, when the plants finish the growing season, and their leaves will turn yellow and wither.
Serious require care, of course, flowerbeds, where grow not only onion, but other herbaceous perennials, including ornamental grasses, forming various combinations. Early spring in the flower beds is dominated by tulips and hostess and always creates a good variety in color composition. As varietal tulips every year we have to dig, toffee brown every spring during their flowering marks the spot where a particular grade to fall to land here suitable color of new plants.
To care for the garden of iris begins, usually in the afternoon when the sun is not so hot. Work in the garden for her stay and at the same time a source of inspiration. Therefore, she prefers to do herself, and only when you have to mow the grass or pruning the branches of trees, helping her husband George. The gardener, lover of iris brown it is important to maintain the natural look of the garden. So everywhere you can see wild grasses, there are piles of brushwood or leaves, which can shelter different animals. And with each new arrival of spring with the first warm rays of the sun garden iris brown again begins to live their turbulent lives and inspire hosts to new achievements.
1. In a basket of wicker —
daffodils and pansies.
It is installed on the back of an old bike.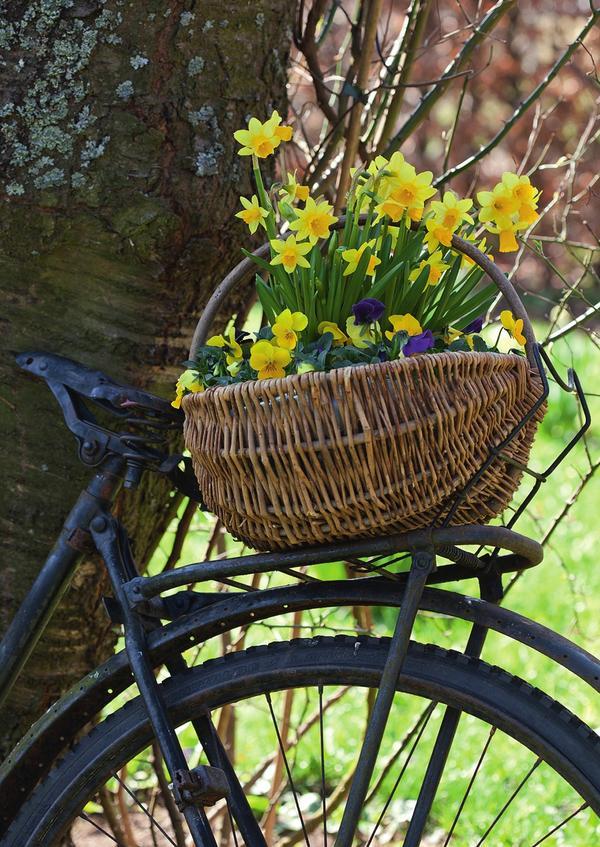 2.
Fruit trees
, such as this Apple tree, are the basis of garden, charming in the spring with their blooms.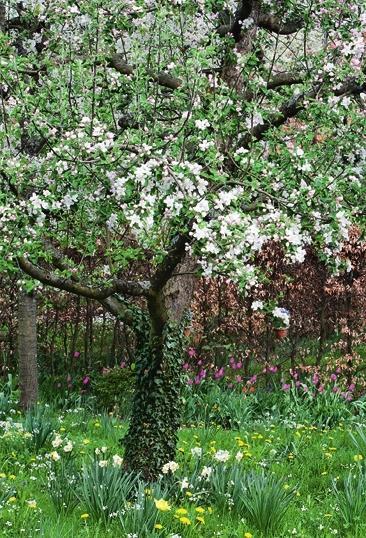 3.
Primroses
every year there are new places — this plant is well propagated by self-seeding.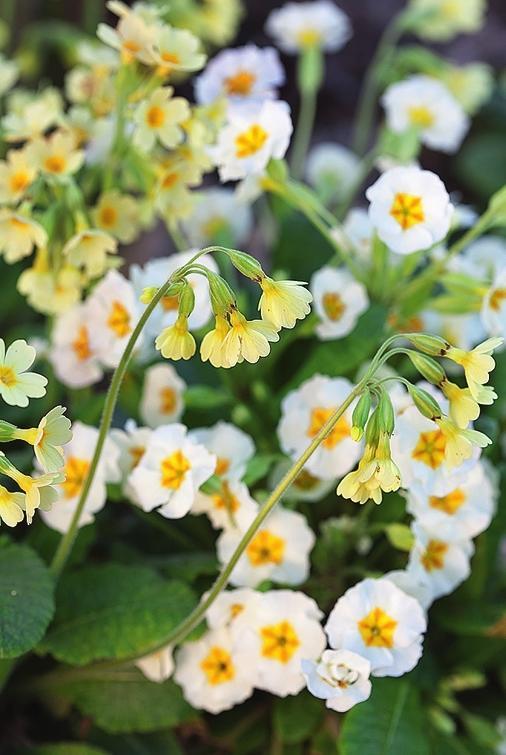 4.
Brunner macrophylla
and
triumph tulips
frame the bed.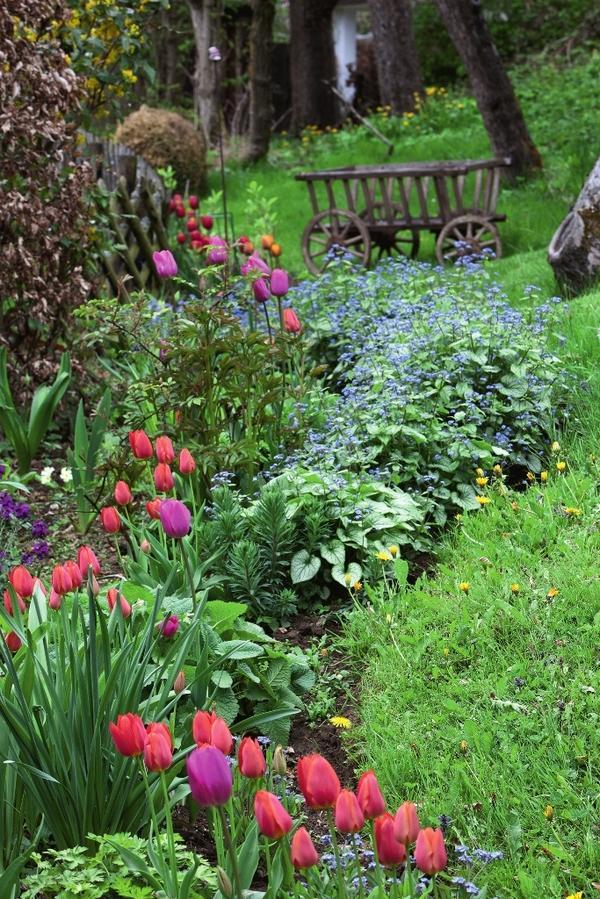 5. The mistress of the garden several times a year, newly planted
pansies
and
forget-me-nots
in pots and decorate them elaborately.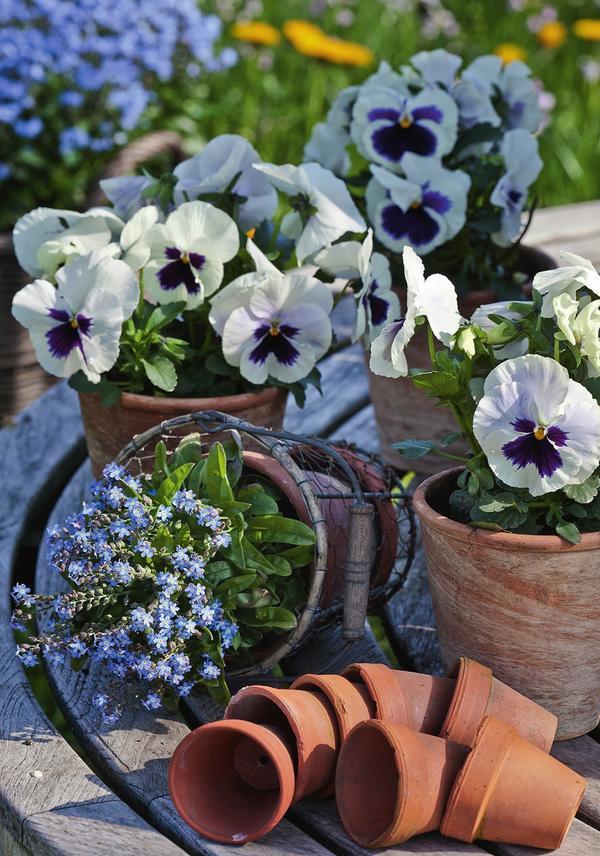 6.
Old basket
organically fit into the garden space as a decorative ornament.
7. On the bed of bulbous plants — a contrast combination of
white tulips
and
daffodils varieties 'Ice Wings'
and
purple 'Queen of the Night'.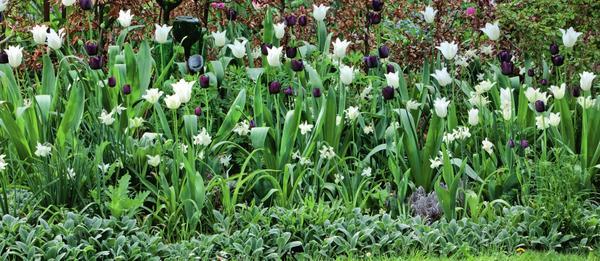 Iris brown
fully dedicates himself to his favorite hobby — working in the garden. Plot with an area of 2800 square meters gives you the opportunity to make dreams come into reality.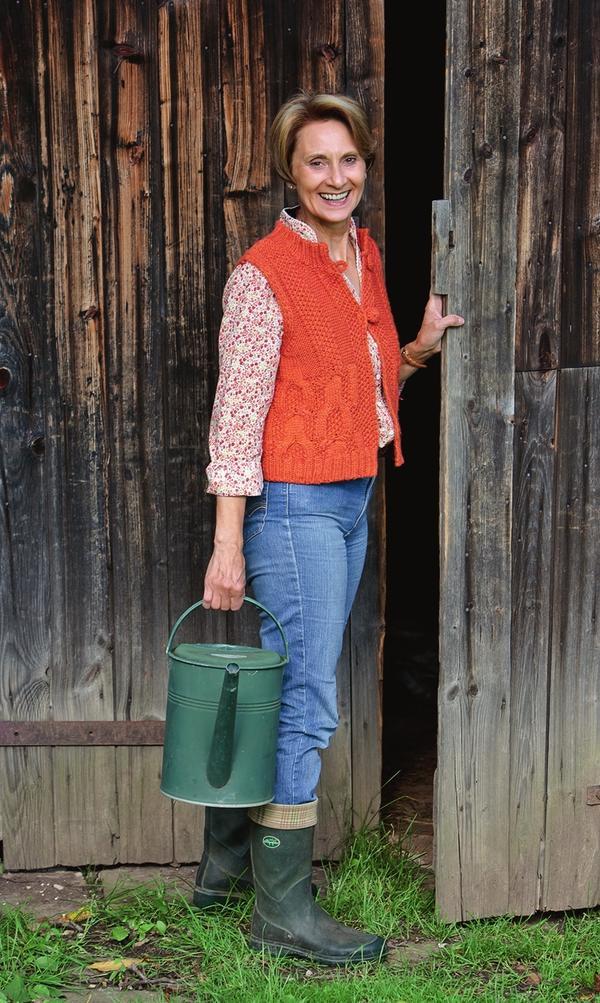 1. With flower-growing here, next to fruit trees is a Central element of the garden. The curved flower beds in early spring tulips and daffodils, late blooming roses and other perennials.
2. In a wooden shed, separate from the flower garden beech hedge, stored wood for the fireplace and various garden utensils.
3. The useful area of the garden decorated in the style of classical farms: a vegetable garden with symmetrical beds framed by a border of boxwood. Along the fence grow a number of berry bushes.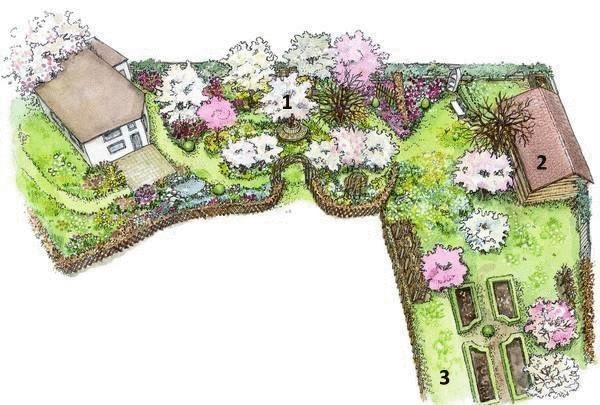 A wooden bench around an old tree, ideal for relaxation. published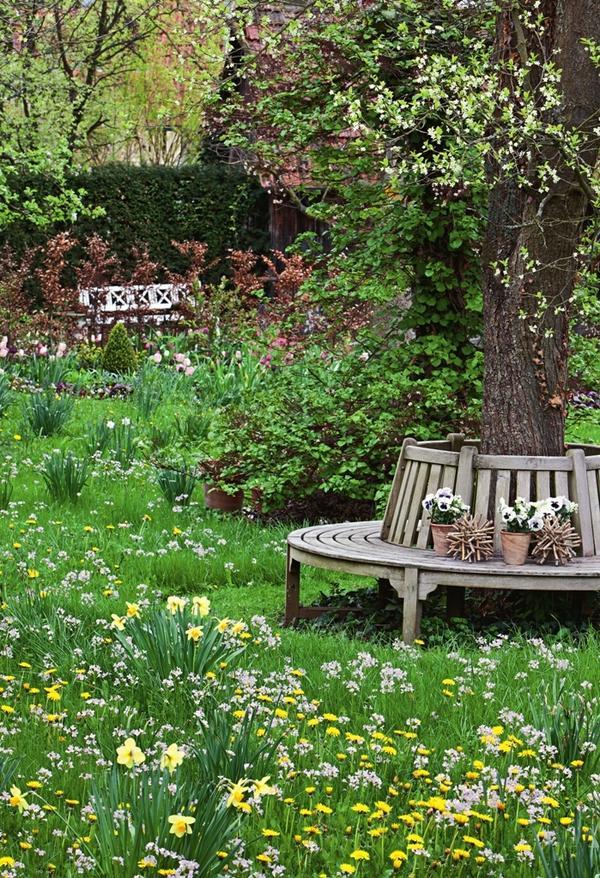 Source: www.7dach.ru