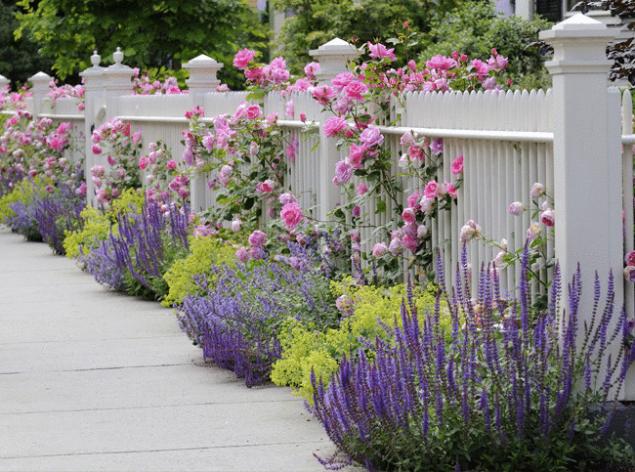 How to make the infield. Photo: thinkstockphotos.com  
Well, when farmland is decorated in accordance with the tastes of its owners. Ideas for decorating the garden, there are many, even empty plastic bottles can awaken inspiration, stones, boards, paving slabs, pebbles will turn it into a Paradise.
Landscaping an important role to the fence. He traces the plot and must fit in with the overall concept of the site. Well, if its color scheme harmonizes with the shade of the walls or the roof of the house.
Shed, outside WC with shower, a summer kitchen also needs to create a unified architectural and color style of the house. You can stay for brave decisions, for example, covering the walls of buildings light-brown antiseptic, and the window frames green. Interesting combination of white with blue, sand and green.
After you have resolved what style and color will be the fence and buildings, start the layout of the tracks. You can make them yourself, having laid in a sandy-gravel cushion concrete paving. With the help of special forms of cast elements of paths, similar to natural stone. If you are not confident in their abilities, help to make the track hired the workers. If this option is not suitable, mark the path, put it on a thick film or a geotextile, from top to pour the gravel.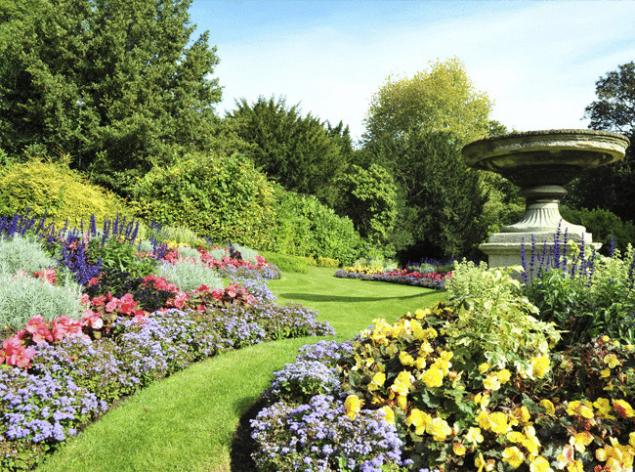 These tracks look spectacular around the lawn, which is another design element of the infield. If you do not plan to break into the Hacienda garden, you can sow the lawn grass area to put a small garden sculptures and plant some single or group of plants – the host rose, and in another part of the lawn to flowerbeds. They can be the most original forms. Some make the flower even from old suitcases, painted them and filled with nutritious soil. These flower gardens can be created from any available material – wood, plastic bottles, old tires, large stones.
The latter will help to prepare and Alpine slide. It also looks great among the lawn, and anywhere in the suburban area. Enough to put some stones in a circle, oval or other shapes to fill in between the soil and plant low-growing plants.
Porch not only beautify the area, but will also enable the leisure time in a cozy atmosphere. This will help wicker garden furniture or plastic. Comfortable chairs, sofa contribute to a wonderful holiday.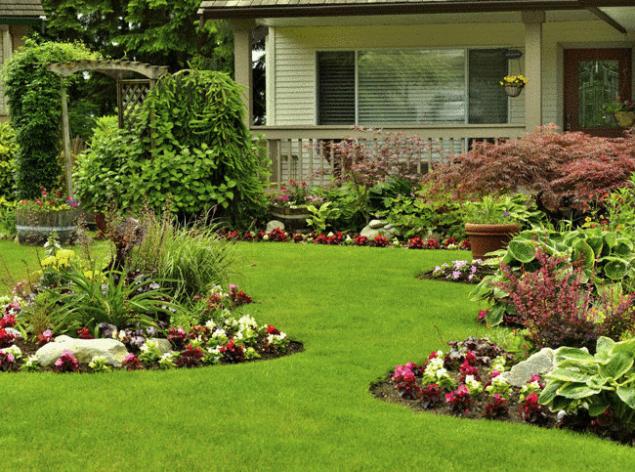 Next to the porch, put a swing, you can buy them or make your own hands. A small pond also will look great in this area. Install a fountain in it, and if this place is a slanted waterfall. From the well or the well water will pump pump and she will make a cycle.
Even the garden, where are grown vegetables, you can make beautiful. Bordering them is made of planks, stones, plastic bottles. The latter need to turn upside down and dig halfway or two thirds along the perimeter of the garden. This waste material you will be able to do a lot of decorative elements. Looks great Palma, stork, flowers from plastic bottles, which do not fade and always decorative.published
Source: domashniy.ru/