If the country you prefer passive rest eternal digging in the garden and flower beds, plants for country ownership to choose long-term view: to eye pleasing, and trouble does not deliver. What cultures prefer? This will tell Mikhail Novikov, a leading dendrologist of the garden center "Landscape design".
A healthy minimalism is a salvation of a bummer.
Replace dekorativnolistnyh and flowering garden flowers compact low bushes
, and opportunities for leisure activities you have noticeably increased! The modern range of garden plants is extensive, and it includes both flowering and dekorativnolistnye breed.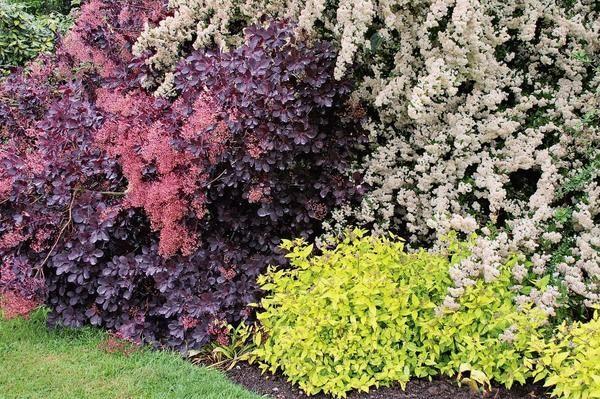 A massive list of possible candidates for the available places is constantly updated, as the master garden industry make every effort to tear us from the usual peonies and Phlox and force him to pay attention to prickly barbarisi, parikova a miniature tree or a new chocolate physocarpus.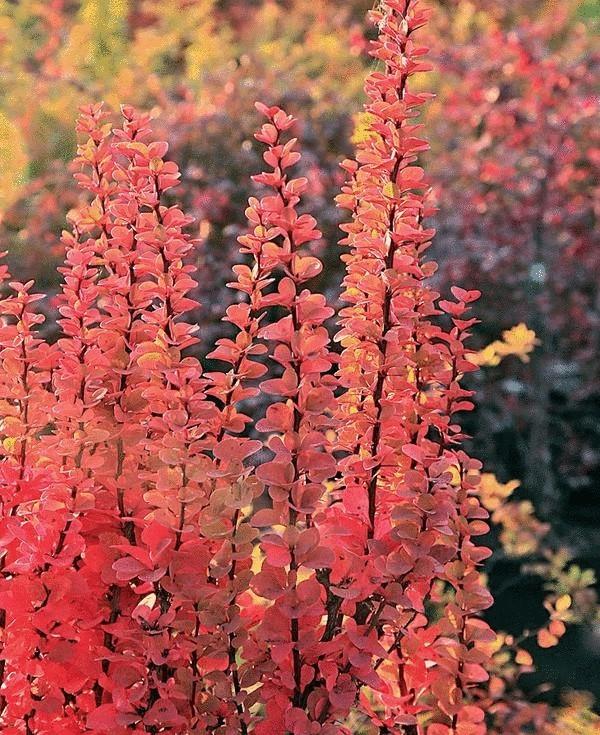 So that all their hard work and hassle to save a search among the mass of new cultivars of those that you really like, but strictly in accordance with the selected direction.
Short and sweet it can be formulated as
a maximum effect of + minimal hassle
. For example, if shrubs require specific conditions (e.g., acidic soil) and the soil in your yard does not meet these requirements, strictly say to yourself "No!".
The same decision will have to be taken if chosen in the nursery blossoming shrub needs sunlight, and your house is in the woods.
Remember,
colors in the shade you will not wait!
It is quite another matter if any plant from nature prefer the shade. Even on a new, as yet undeveloped area with no shade trees will always be on the North side of the house or other buildings, such as the fence and the garage. Don't forget
to ask about the hardiness
of the selected plants. Efforts to shelter for the winter and spring "extracting" warm "houses" clearly violates the peaceful life in the land of the lazy gardener.
Properly selected shrubs are easier to care for compared to garden flowers, they
do not have every few years, divide and replant in a new location
. They are by nature much more durable and tougher, and with a special fertilizing is not a problem. Perhaps the most time-consuming work boil down to pruning. For this reason, for the sake of saving their own forces choose species and varieties, which, having reached the age of maturity, will fit the seats reserved for them.
Even
work on pruning
can be minimized if the basis of garden design you think
is compact, small cultivars
. Typically, these plants are quite "decent", do not show aggression towards neighbors, do not crawl to the side without asking and not too smartly stretch in height.
These shrubs according to their size and participation in landscape compositions can be compared with perennial flowers, there is only a small but very nice difference:
they have virtually no disadvantages of herbaceous plants
. And this is why open endless opportunities for garden work. Durable composition of these plants successfully replace an effective but time-consuming to care for a flower garden.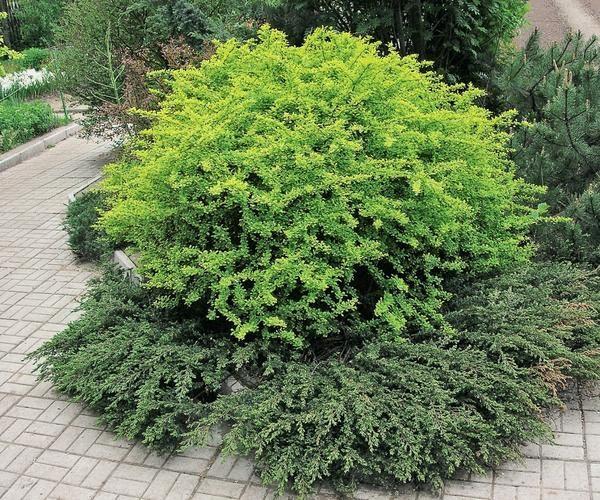 A
geotextile
, used as mulching material, it is possible to further reduce the time and effort spent on the care of plantings. Shrub miksborder, the curbs along the walkways, little Islands in the lawn, rockery, scenic design of the reservoir, the front group at the gate, gates, porch or romantic at the entrance to the gazebo — any idea with the compact and reliable miniature shrubs you can realize effortlessly.
Three arguments in favor of compact mini-shrubs leads Valeria Fedosova, landscape architect company "Formula of the Garden." Listen, it will be interesting!
1. This sovremennoie compact miniature varieties, often with unusual growth form is the new trend of the time, associated in particular with small size modern private gardens. These varieties most often the product, so the mere presence of them in the garden contributes to the design of innovative spirit and evidence that the owner of the garden to keep pace with the times.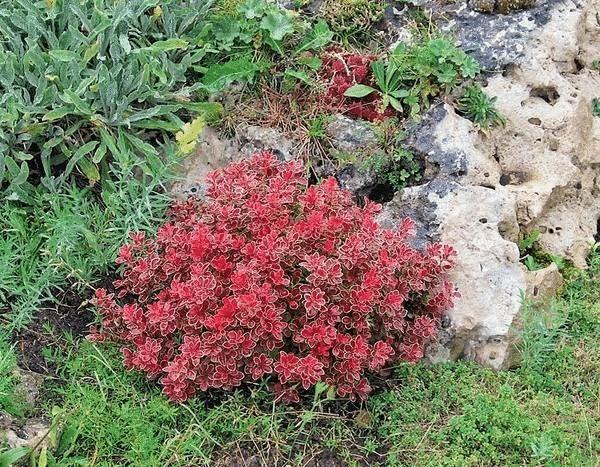 On the other hand, a compact shape really save time and effort and conserve resources, including your own, is not only fashionable, it is truly a hard requirement of our days. The emphasis on compact, small bushes allows you to have a well-groomed garden with an original design without compromising other activities.
2. Will not be bored!If one of the areas in the gardens low maintenance is to give plants the opportunity to grow and develop territory "in its discretion", in this case, the development of the garden to a much greater extent under the control of its owner. Therefore, compositions of modern compact cultivars of tree species suited to those who even in the garden strives to maintain a perfect order in the house, who takes care of a smooth and a thick carpet of trimmed lawn, the neat paths, healthy and strong plants, who are so vigorously fighting weeds like household dust, does not tolerate rubbish and filthy corner.
Fortunately, no matter how we tried to make the plants once and for all in the strictly defined frame will fail. They — living material, which is characterized by the dynamics of the transformations. As they should be, our characters grow, develop, and, therefore, composed of these compositions will also change, though not as quickly and significantly as the corners, is adorned with the usual varieties. So what is to have a hand in improving the garden sketches, there will always be — will not be bored!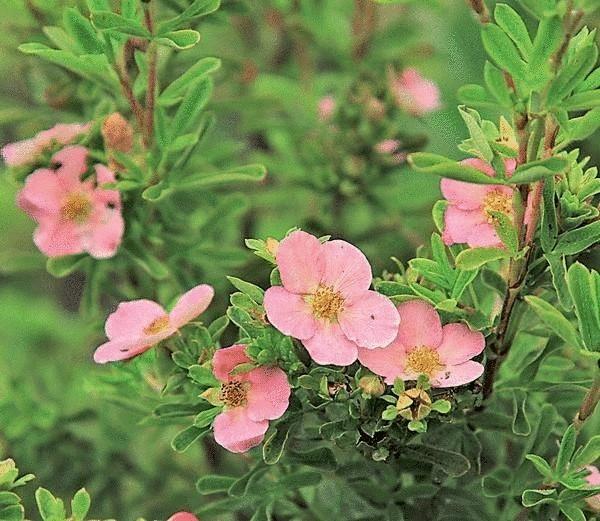 3. Practical advice: don't go into too much detail!Fashionable dwarf varieties of shrubs are so small that a single can use them only in very small gardens and in the smallest area of the compositions. More natural compositions in which these mini-plants are planted in groups of several specimens.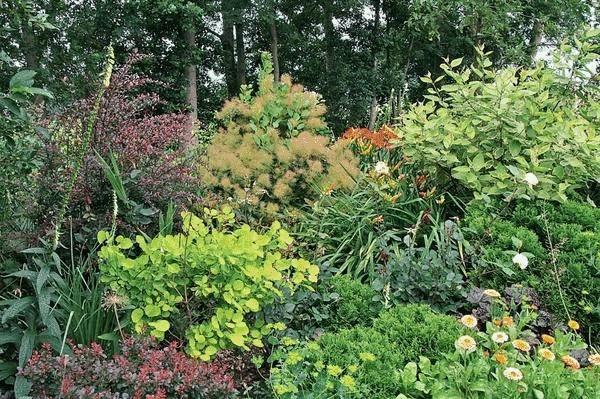 So don't get carried away with excessive diversity. Landing of a reasonably limited number of varieties look more natural and more pleasing to the eye, than a rich "skladki" expensive and fashionable new products. The average for a small garden (10 acres), it is advisable to group plants of the same species or variety in a spot area of 0.5-1.5 sq. m. published
Text: I. Volkovskaya. Photo: A. Lysikov, S. Kovalenko.
Source: www.7dach.ru