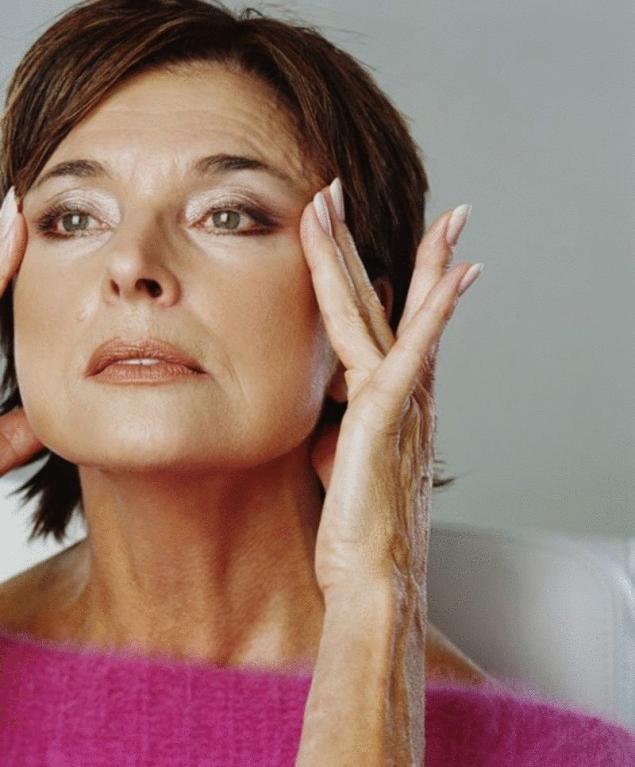 Creams and suppositories of hemorrhoids prevent the appearance of wrinkles
This standard use of hemorrhoids cream will help to smooth out even deep wrinkles. All about shark liver oil and other substances that condense and regenerate the tissues and relieves swelling.
Candles from hemorrhoids soften in a water bath until creamy, then apply under the eyes or even all over the face.
For example, the model Kate moss knows to hide the black eyes after sleepless night to refresh your face, just apply hemorrhoids cream. They star rubs the skin around the eyes and puffiness. "It's just luxurious facility — happy Kate, It works instantly".
Aspirin scrub
To update the skin once a week is good to do a cleansing mask of aspirin. Drip a drop of water on aspirin. It is granulated. Add a teaspoon of honey, stir.Apply on face for 10 minutes, then massaging like a scrub, wash off. Mask removes all redness and evens the skin.
Retinoic ointment to rejuvenate
The effect of retinoic ointment based on the direct stimulatory effect of retinoic acid and its derivatives (retinoids) in the skin. Retinoids are synthetic analogues of vitamin A.
The ointment is positioned as protivorechia, but is also an excellent prevention of aging, improves skin, removes redness.Can be used as a cream.
Licorice (liquorice) vs age spots
Extract of licorice root regulates the production of melanin that helps to fight age-related dark spots liquorice Extract evens skin tone, making less visible dark spots, tightens facial contours.
To apply, you can simply brew the licorice root, to insist, to wipe the face or rinse the mouth.
Vietnamese "the asterisk" for lifting that has been applied to the skin
If you need to urgently get rid of bags under the eyes helps the ordinary "Vietnamese star". Tightens the skin that they say,"eyes."
The main components of balm "Asterisk" — menthol, formic acid, eucalyptus oil, clove oil, rosehip extract, peppermint oil, cinnamon oil, petrolatum, camphor oil, other excipients. When you use, try to avoid the eye area.
Zinc ointment from wrinkles
Using zinc ointment to fight wrinkles. If zinc ointment for acne is applied only to the region of inflammation, in the case of wrinkles it can be applied in a thin layer on the entire surface of aged skin. However, you should always remember that this tool is quite strongly dries the skin, so it should be applied in combination with a moisturizer, otherwise the sensitive skin under the eyes and around the mouth (which is where most are going the wrinkles) very quickly turn into dry and flaky.
Hydrocortisone ointment instead of Botox, against crow's feet
Hydrocortisone ointment helps retain moisture in the skin, which explains the effect of "reducing wrinkles". In fact, the wrinkles will not diminish — on the skin creates swelling, which is their "stretches".
For starters it is better to test the skin for allergic reactions. If all is well, safely fight against wrinkles.
Hydrocortisone eye ointment is a hormonal therapeutic agent for the treatment of Allergy and inflammation relief process.
Liquid vitamins for rejuvenation
Buy the oil capsules of vitamins A and E, pierce, squeeze a little content and apply on wrinkles. Lightly hammer toes and leave it on for half an hour. Then blot the excess with a napkin. Do this week in 1-2 months, at night, during the day. Add these vitamins in face masks, the effect is excellent.
And inside once a month 1 take 1 capsule 7-10 days — good for the complexion, hair and nails.
Vitamin a has a huge number of different properties. This is the king of vitamins in creams against wrinkles!
Vitamin F complex of unsaturated fatty acids designed to cleanse, nourish the skin, especially dry, irritated and with obvious signs of decay. Vitamin F (at a concentration of 3-7%) strengthens the epidermal barrier, restoring the lipid balance, and therefore – hydrate skin, improve its turgor.published  
P. S. And remember, only by changing their consumption — together we change the world! ©
Source: www.facebook.com/MySecretsGo/posts/1834424806782020:0