Get up early, get up early,
Get up early,
Only the morning loomed at the gate,
You see, you see,
As a gay drummer
In the hands of maple sticks takes.
Okudzhava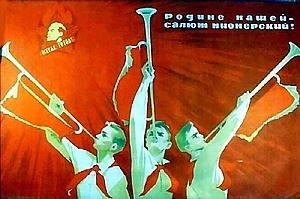 Buglers poster.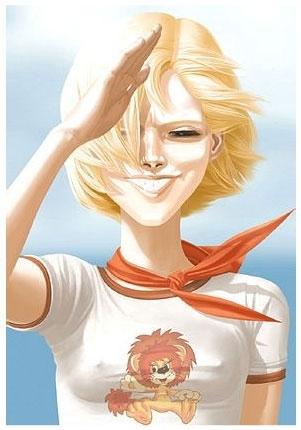 Quite a pioneer of 80th. :)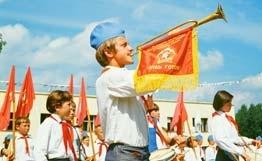 And true.
Experience Sparta was not entirely forgotten. Of course, the pioneers had to bring up heroes and patriots.
Ah, good to live in the Soviet!
Ah, good country to be loved!
Ah, good country to be helpful,
Red tie to wear with pride!
To measure the earth decisive step,
Remember covenants firmly fathers,
I know only one answer -
Fighting our greetings:
Be ready! Be ready! Be ready!
Chorus:
Be ready always around,
Whether you are ready day and night!
The bolder go to our goal,
The sooner victory will come!
Or:
You see, from the books, in a column built,
They went out and heroes became heroes.
How Timurov is, look!
Gaidar steps forward!
If the newly menacing clouds Push,
Timur come - children and adults:
Each victory is ready to go.
Gaidar steps forward!
The famous song about the Civil War:
Eaglet, little eagle, Soar above the sun
And from the heights of the steppe looking around!
Forever silent merry lads,
As I live alone.
Eaglet, little eagle, baubles plumage,
Himself overshadow white light.
I do not want to think about death, believe me,
At sixteen years old boys.
Eaglet, little eagle, detonating a grenade
From shallow hills enemies.
I was called orlёnkom Detachment,
The enemies called an eagle.
Eaglet, little eagle, my faithful companion,
You see, I survived.
Fly in the village, darling tell,
As his son were shot.
Eaglet, little eagle, feathered friend,
Feather grass steppes on fire.
To help hasten Komsomol eaglets -
And life will come back to me.
Eaglet, little eagle, go trains,
Winning the fight is solved.
The government eagle eaglets millions,
And our country proud.
Or:
Little drummer
We went under the roar of cannon fire,
We have looked death in the face,
Forward advancing troops
Spartacus, courageous fighters.
Among us was a young drummer.
Offensively, he went ahead
With another gay-drum,
With the Bolshevik fire in my chest.
One night in camp
He sang a cheerful song,
But the enemy bullet struck,
Sing until the end did not.
...
1929
Or:
Old Drummer
Young drummer, the young drummer,
Hong knocking his heart - a tuk-tuk-tuk,
Raise the flag of summer camp,
Young drummer on duty.
Long road close alarm,
Starts swirling clouds ahead.
You're no longer a boy, a brave drummer,
Peer to exploit conclusions!
Bili - not finished off, burned - but not burned,
Why are you up so early was the saddle?
By far the countries with the best drum
We passed, leaving a good mark.
The battle - do not seek peace,
Adult drummer, adult age.
Lift, man, the world of ashes,
Requirement planet, man!
And around the crazy woman, little souls,
And scream and whisper all:
 - Old drummer, a stock guitar,
The drum is not fashionable these days.
With arfoyu and lute quieter and cozier!
This we know from childhood.
But while early live without a drum,
I did not give up. No no no!
...
1962
Or is it, Nakhimov:
The sun shines clear,
Hello, beautiful country!
Young Nakhimov send greetings to you!
In the world there is no other
Homeland this!
All of us shines like sunlight,
Banner of your wins!
Plenty of room - blue,
Earth - the stern,
Proudly fluttering over US flag native Fatherland!
...
The case of seafarers - Defeat the enemy!