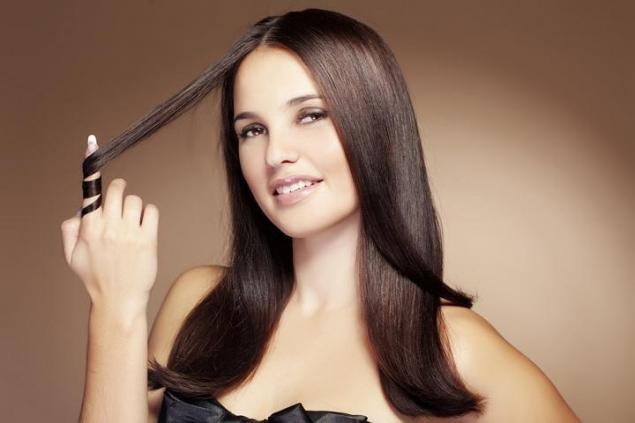 Healthy hair is what we all seek, isn't it? But there are many different factors that prevent them looked beautiful and well groomed, for example, the weather, various chemicals, hot air (hair dryer) and heat (flat irons and Curling hair), poor nutrition, genetic characteristics, etc. can All lead to weakening of the hair, as a result they lose their natural Shine and vitality.
Today in the market you can find a huge number of products for the treatment and recovery of the hair structure, but as a rule, they are expensive and require frequent or even continuous use to provide the desired result. So in our today's article we will offer you alternative methods to strengthen the hair (they are more economical, but no less effective).
Tool for repairing dry and damaged hair Hair becomes dry and brittle due to frequent use of various irons, hair dryers, Curling irons and plates for Curling and long exposure to the sun, that is, high temperatures are not the best conditions for the health and beauty of hair. They lose moisture, and with it the brilliance and vitality. But the following tool will help restore the hair structure and restore them to health and natural glow.
You will need:
1 tablespoon of honey
1 tablespoon of mayonnaise
1 tablespoon vegetable oil
1 tablespoon cognac
1 egg yolk
capacity for mixing ingredients
Method of preparation:
Mix in the tank all of the above ingredients to obtain a homogeneous mass.
Apply to wet hair and leave for exposure for 30 minutes.
After the specified time to wash the head as usual.
Hair conditioner This hair conditioner is composed of specially selected ingredients that restore the hair structure and reducing split ends, and simultaneously strengthen the roots and provide beneficial effects on the scalp. As a result, the hair looks smoother and more beautiful.
You will need:
1/2 ripe banana
1/4 ripe avocado
1 tablespoon oil wheat germ
1 tablespoon natural yoghurt
1 tablespoon of mayonnaise
1 capsule of vitamin E
plug
capacity for mixing ingredients
Method of preparation:
Put in a container of banana and avocado and mash them with a fork.
When you obtain a homogeneous mass, add the remaining ingredients and stir well.
To apply this tool should also to damp hair, rubbing it into the scalp massaging the scalp and spreading along the entire length of hair.
Leave it performing its action for 15 minutes, then rinse it with cold water.
Moisturizer for Dehydrated hair hair tended to look dry and dull. This tool will help restore your hair's beauty and vitality, giving them the necessary hydration.
You will need:
1 egg yolk
1 Cup natural yoghurt
1 tablespoon of jojoba oil
1 tablespoon beeswax (granules)
Method of preparation:
Heat the jojoba oil and beeswax to melt.
In a separate container whisk the egg yolks with yogurt until you obtain a mass of uniform consistency.
Then mix all the ingredients together and apply the mixture to the hair.
Gently massage hair and leave it for exposure for 25 minutes.
After the specified time to wash the head as usual.
A tool for strengthening and smoothing the hair Straight and smooth hair, today, we can say that fashion trend, and women put a lot of work. One of the most common ways of straightening and smoothing hair is the use of so-called irons. Yes, it is efficient and fast enough, but as a result of this procedure, the hair is exposed to high temperatures, and this, as mentioned above, negatively affects their condition. Hair becomes dry, fragile and brittle, and then it is very difficult to restore them.
However, the following home remedy can help you. It is ideal for straightening hair naturally without damaging, but on the contrary, restoring their structure and restoring the lost strength and Shine.
You will need:
1 tablespoon ground oatmeal
1 tablespoon starch
1/2 Cup milk
half coconut
Method of preparation:
Mix in a blender the oats, coconut and milk.
Separately dissolve in water starch.
Bring to the boil mixture from blender, and then add diluted in water starch.
Simmer, stirring constantly, until you get a smooth creamy mixture.
Remove from heat, cool slightly and apply to damp hair.
The exposure time is 20 minutes.
Restorative hair This home remedy for hair is ideal to restore damaged hair and to return vitality and Shine.
You will need:
1 Cup natural yoghurt
1 egg
capacity for mixing ingredients
Method of preparation:
Put both ingredients in a container and mix to obtain a mass of uniform consistency.
Apply the mixture on damp hair, make a gentle massage of the head and distribute the mass over the whole length of the hair.
Leave for influence for 20 minutes, and then wash your hair as usual.published
 
P. S. And remember, only by changing their consumption - together we change the world! ©
Source: steptohealth.ru/