When you learn how easy it is to do, there will be no need to buy chemicals powders. Its main advantage — natural ingredients. You'll also find that baby powder can be used for a variety of things and not only for children.
Many people don't realize how easy it is to make a particular product. And as, in the end, it turns out economically, and most importantly — useful. You can use natural ingredients and make your own recipes based on their preferences.
If you think about it, how much chemicals we knowingly consumed! You will be pleasantly surprised after making my first natural products. And you don't have to worry about what you apply on your skin and on your baby's skin.
Other ways to use the powders:
— helps with rashes due to its components;
— for athlete's foot: if you wear closed-toe shoes without tights or socks it would be the ideal option; if you use a powder specifically for these purposes — it makes sense to enter in a recipe of tea tree oil for antibacterial action;
— after waxing: powder cools and relieves irritation;
— for dry shampooing;
— when you apply mascara, apply a little baby powder with a cotton swab to wet the lashes, then apply a second coat the lashes will look thicker and longer.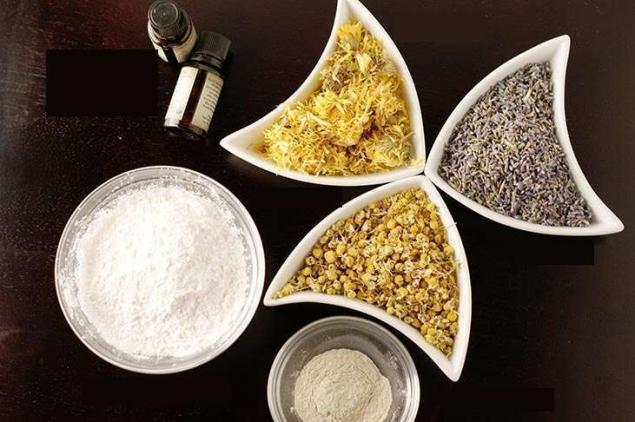 About the ingredients:Arrowroot powder
- is a kind of food starch. Contains phosphorus, sodium, potassium. In lower concentrations: magnesium, iron, calcium, zinc. Perfectly absorbs moisture. In addition, it gives a silky texture mixtures and powders.
Bentonite clay
- a natural mineral. There are two types of bentonite: calcium and sodium. In this recipe it is recommended to use sodium bentonite, because it absorbs moisture better. Any bentonite clay acts like a sponge, which cleanses the body from harmful substances: removes chemical impurities, toxins, heavy metals.
Dried calendula flowers
- anti-inflammatory, astringent, antifungal, tonic, healing properties. What makes calendula essential in the treatment of minor wounds, scrapes, yeast infections, diaper rash and other minor irritations and infections of the skin.
Dried chamomile flowers
- a potent anti-inflammatory, antibacterial and antiviral agent. In addition, chamomile is a good soothing for the skin.
Dried lavender flowers
- in addition to a pleasant smell, has antiseptic and calming effect.
Essential oils
- depending on personal preference. As calendula oil and lavender to enhance the healing properties and aroma.  
How to make a powder.
Take:
— 3/4 Cup of arrowroot powder
— 1/4 Cup of bentonite clay
— 2 tablespoons of calendula flowers
— 2 tablespoons chamomile flowers
— 1 tablespoon of lavender flowers
— 2-3 drops of any essential oil (calendula, chamomile, tea tree, or rose)
Using a blender (or with any method: food processor, meat grinder, mortar) grind the flowers of calendula, chamomile and lavender. Sift through a sieve. Add the clay powder arrowroot. Mix well. Powder ready!
As you can see, it is really very simple.published  
P. S. And remember, only by changing their consumption — together we change the world! © Join us at Facebook , Vkontakte, Odnoklassniki
Source: www.liveinternet.ru/users/ab12345678901/post326934970/