Modest charm of the grasses is able to charm anyone — their delicate openwork appropriate in the gardens of various styles and attractive at all times of the year. What are the parts to decorate with these plants?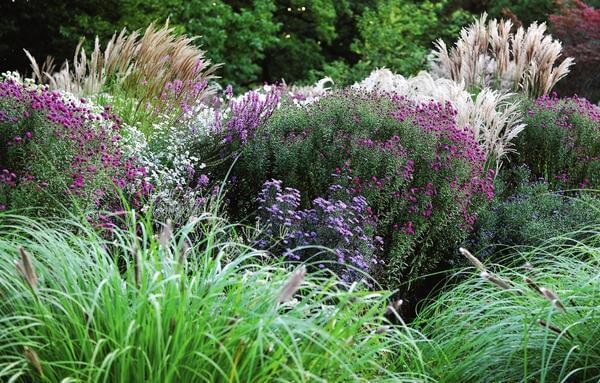 Where to plant cerealsOrnamental grasses
— welcome guests in any garden. And it's not that these plants are confidently located at the height of fashion, slightly surpassing the established favorites. The secret of their delicate charm in the combination of the "flexible nature" and amazing for plants year-round. Grasses are very hardy and grow in almost any poor soil.
They are resistant to drought and almost no fear of frost, and therefore do not require special shelters. Even in summer, when the garden plays with bright colors, they are not lost on the General background, and in the fall and is playing at their summer cottage the first violin: change color, coloring in yellow, red, orange and silver tones. But if you don't rush to cut raspoutine panicles until the following spring, and in winter they serve as elegant decoration of monochromatic snow-covered garden. And most importantly, they are willing to take part in any of your garden austere. Don't believe? Let's see this together!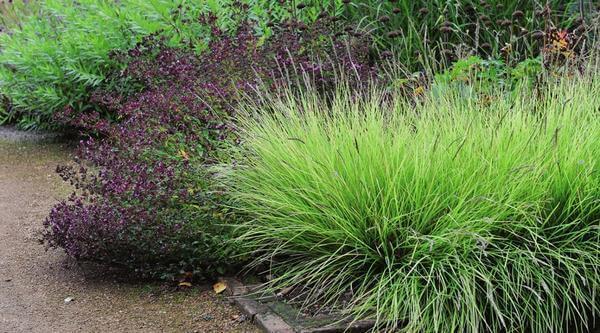 In the flower beds, grasses are more original — they give the compositions contrast and lightness, the beneficial shading of its neighbors. Fluffy inflorescence-panicle very mobile in the wind, they flutter will give momentum to any garden landscape. In monoclimax, which usually gathered the plants of one color or species, cereals are also welcome: they will dilute the overall picture and make it more lively and interesting. To see this, it suffices to plant in the neighborhood irises and grasses. Lawn grasses look spectacular in the garden modules or curtain walls.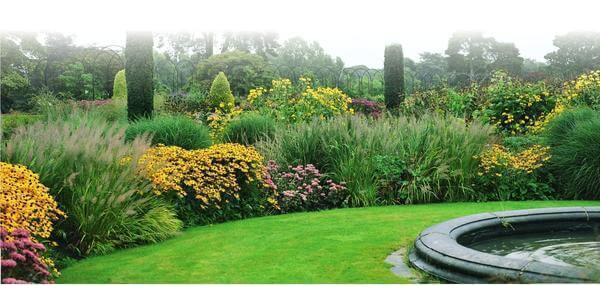 But remember:
for these plantings, it is important to choose the most showy grasses, because here they act as soloists. Even a hedge, and that can be composed of tall grasses. Such exotic "living fence" would look much more impressive than a hedge of shrubs or conifers, and care for her will not have the grass do everything themselves.  
Garden grassGarden grasses
— perhaps the most spectacular and fashionable landscape feature. For the device, you need a lot of different grasses, which differ from each other in height, the shape of the curtain, the silhouette and shade of leaves and even buds. To plant the selected plants should be the same as the flowers, in accordance with the basic laws of composition. For these purposes, choose open to all views Sunny area and plant grass separate kartinkami close to each other. Read more about this is told in the video How to break the grass of the garden.
Important:
despite the simplicity, a "Caprice" in grasses is still there. Before planting in a permanent place, they must gain strength in the "new plantation" — a small private garden with well-treated soil, otherwise more powerful plants will not allow them to Shine.
There are separate grains, which we do not hibernate, such as casual arrangement of Japanese pampas grass. But frost-resistant cereals more than enough!
Perennial shrub of the Aster look great next to any monocotyledonous plant.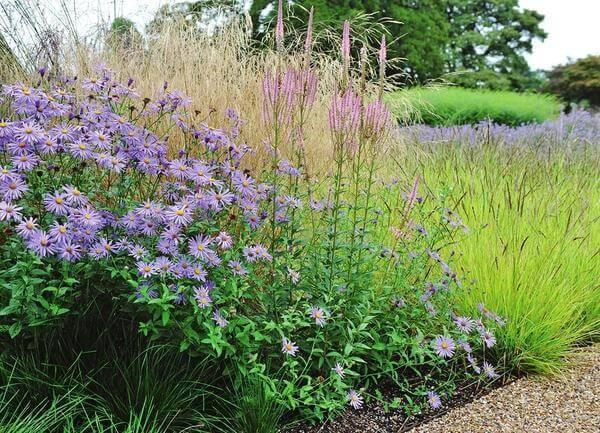 Foxtail palmistry able to grow to nearly 2 m. Planted in several clumps will be a great protection from the wind.
Lush mounds of fescue glaucous like cute hedgehogs, black hidden spouts in the ground of the flower bed.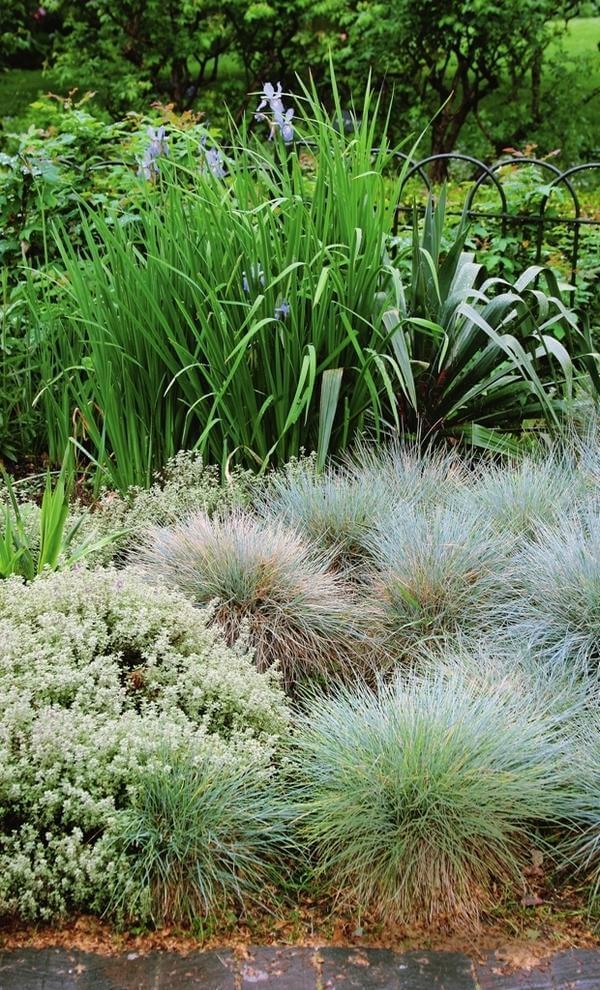 The combination of eragrostis and miscanthus Chinese is only suitable for the southern regions of Russia.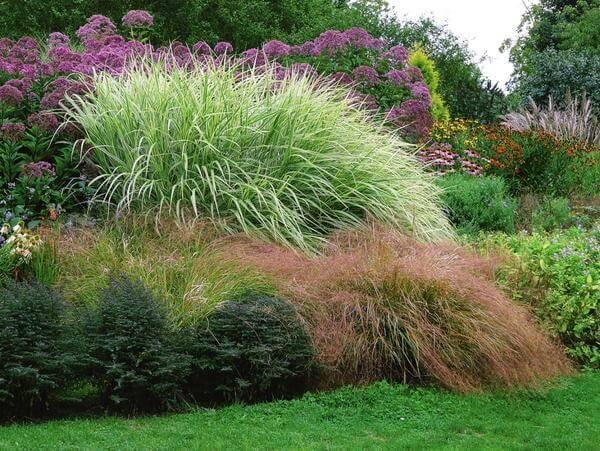 Cortaderia with showy panicles are able to grow up to 3 m, but in Central overwinters only with shelter.
Sitehost — a pretty annual herb plant which is best in sun or partial shade.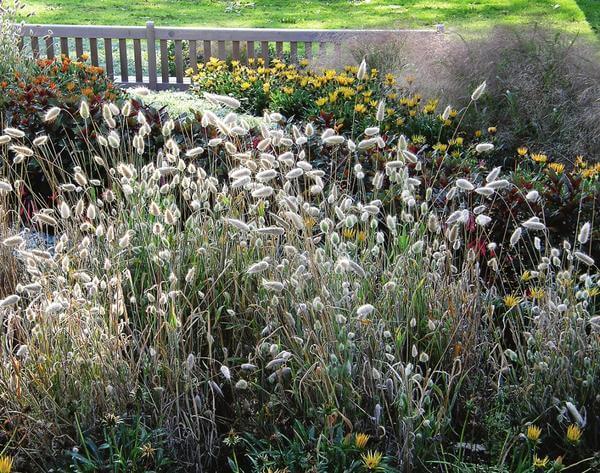 The boxwood used for the border, afraid of cold weather. Therefore, in zones of severe climate it is better to find a suitable replacement.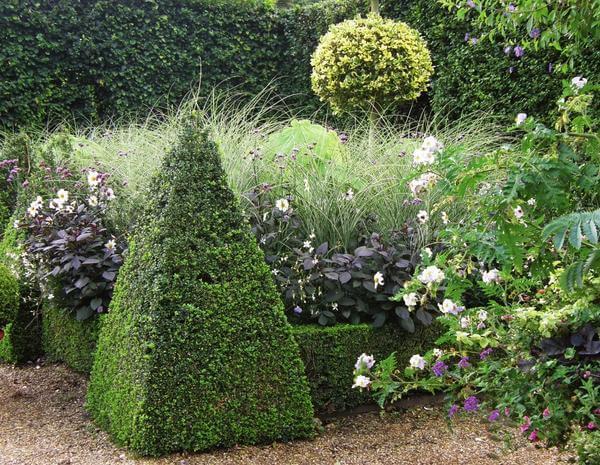 Optimal candidates for gardens of the middle band:
millet (hairlike or rod),
molinia blue,
Calamagrostis Ostrovetsky,
barley maned,
lagurus ovate,
miscanthus sharetoday,
Falaris,
feather hairlike,
the ovsets evergreen
fescue PPE.
But if you liked any wild herb, it is also possible to include in the "garden". published
Text: Olga Voronova.
P. S. And remember, only by changing their consumption — together we change the world! © Join us at Facebook , Vkontakte, Odnoklassniki
Source: 7dach.ru/MoySad/zlakovye-travy-vne-vremeni-vne-sezona-41619.html