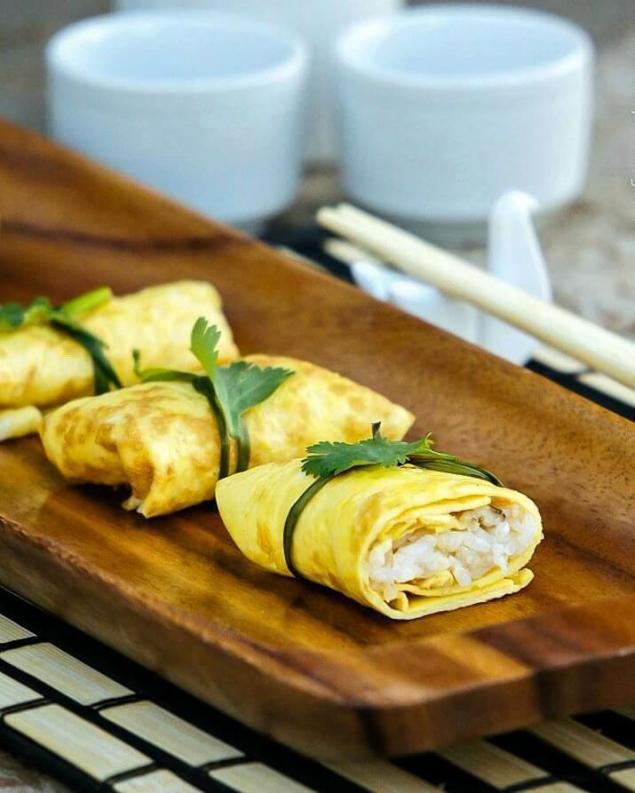 vegetable oil for greasing
hot red pepper – 1 PC.
soy sauce – 1 tbsp
vegetable oil – 2 tbsp
stalks green onions – 2 PCs.
salt
bulb onion – 1 PC.
cooked rice – 2 cups
eggs – 6 PCs.
fresh shiitake mushrooms – 2 PCs.
Cooking time 30 minutes
COOKING METHOD
Onion peel and chop. Pepper wash, cut in half and scrape the seeds. The pulp finely chop. Mushrooms wash, remove the legs, caps cut into thin strips.
In a saucepan heat the oil and fry the onions and chillies for 2 minutes, Add chopped mushrooms and cook 4 min.
Put the rice, mix well, breaking up with a wooden spatula lumps. Remove from heat and allow to cool.
Green onions wash, dry and cut into thin rings. Beat the eggs with soy sauce until smooth, add green onions.
Pour the mixture on a greased baking sheet and put in a preheated 200 °C oven for 5-6 minutes. Remove the pan from the oven and give the omelet a little to cool.
Gently shift the scrambled eggs on the work surface. Put one at the edge of the rice mixture to give it the shape of a log. Gently roll the omelet roll. Lightly press with your hands so that the mixture formed is denser. To shift on a dish and cut into portions. Serve with light soy sauce. published  
P. S. And remember, only by changing their consumption — together we change the world! © Join us at Facebook , Vkontakte, Odnoklassniki
Source: www.gastronom.ru/recipe/14975/omurajsu-yaponskij-omlet