Sogudi – old dish of the peoples of Siberia and the far North. The best way to cook a delicate white fish of the Cisco family. Frozen fish fillet mixed with lots of onion, sunflower oil, salt, pepper and wait. A bit — a couple of hours.
And the most impatient can start to be treated immediately. A sprinkle of lemon, a chunk of black bread... Well, not forbidden besides you know what). The lemon is a deviation from tradition, and this step it is possible to exclude from the recipe. Tender, melt in your mouth pieces of fish lightly podmazyvanie is impossible good. And this is probably the best thing we've done lately.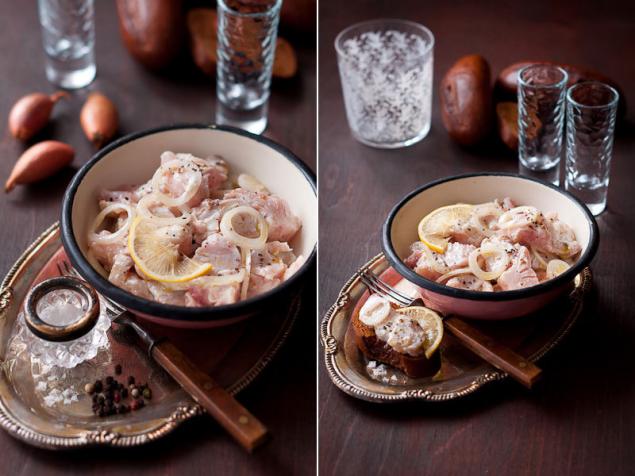 1 kg of broad whitefish fillets, whitefish or whitefish
2 PCs medium onions
2-3 tbsp vegetable oil
1 tbsp lemon juice
½ Tsp freshly ground black pepper
Salt
Frozen fish is slightly thawed, but not quite. Cut off the head and tail. Cut the fillet from the ridge, then a knife to cut the bones of the body. Slice crosswise slices with a thickness of 1.5 cm. Put the fish in an enamel or glass dish.
Cut onion into rings, gently mix with the fish pieces. Season with salt and pepper, add the lemon juice and 2 tablespoons vegetable or olive oil without the strong smell. Again being careful not to crumble, mix the fish. Refrigerate at least 3 hours. This fish is kept in the fridge for a few days. published  
P. S. And remember, only by changing their consumption — together we change the world! ©
Join us in Facebook , Vkontakte, Odnoklassniki  
Source: zveruska.livejournal.com/102922.html