The growth of sales of cars with electric (pure electric and hybrid cars) continues. Compared to 2015, the growth rate fell slightly, but still each month in 2016 is better than the same month 2015.

Engine of growth is China, where such vehicles because of the policies States enjoy a stable, progressively growing demand. According to data and forecasts of the Internet portal EV-Volumes.com the number of environmentally friendly cars in the world by the end of 2016 to exceed 2 million cars.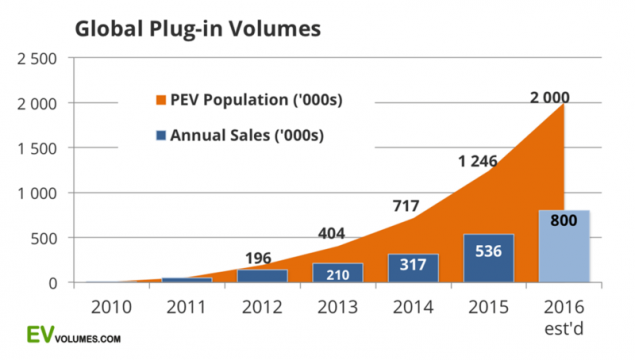 As can be seen from the graph below, on the second place on growth of plug-in hybrid reached Japan, which is a phenomenal increase compared to 2015, when there was a decline of 22%
U.S. sales also recovered from the doldrums of the previous year and show a slight increase.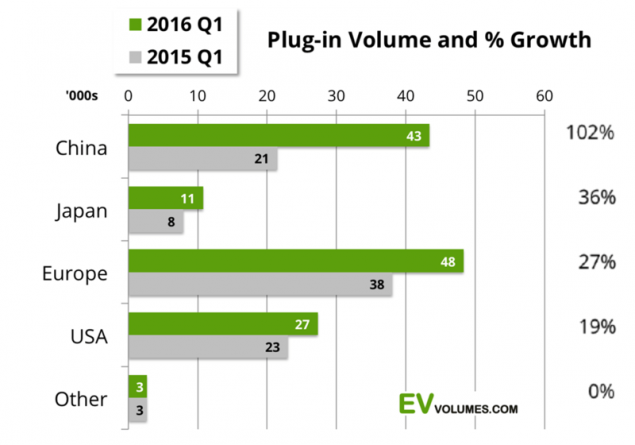 From 2014 to 2015, we saw growth in car sales with an increase of almost 70%, where the main engines of growth were the markets of China (+230%) and Europe (+99%).
This year in China and Europe growth is slowing, while the U.S. and Japan increases. In April, worldwide sales increased by 42% yoy. In the United States still lacks impulse from the new, important models such as the Volt Gen-2 and Tesla Model-X.
PEV sales vary greatly between markets.
Norway still holds the record with 25% of sales in the passenger car segment, followed by Hong Kong with 6 percent.Among large countries, France and the UK are the only markets vehicles with a share of more than 1%. In all other countries, including China and the United States, they have not yet reached the level of 1%.published by P. S. And remember, only by changing their consumption — together we change the world! ©
Source: www.electromobile360.ru/2016/05/2016-2.html