What is holding up the clouds?
Mom reads aloud the book the 6-year-old Petya, and 2-year-old Katyusha interfere.
Why is this happening? What to do?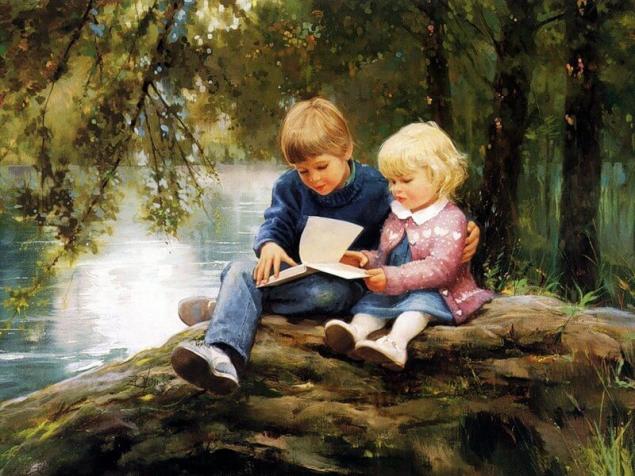 Every child needs that parents paid attention to him personally.
Naughty children
need attention constantly, constantly.
Normally developing children
are looking for individual communication with parents
at certain points:
when they find it difficult in the study of natural phenomena ("what is holding up the clouds?", "what thunders during a storm?", "where are the children?", etc.)
when they find it difficult to understand the psychology of human relationships ("why me wants to be friends one that I like?", "why I put the example of someone who doesn't respect neither I nor the other children?" etc.).
In our case, 2-year-old Katyusha needs mom's attention just like Peter. How can you do?
"Pick her up and continue to read a book Pete"
– not ideal. In the best case, the daughter will fall asleep in the worst – will stop, because the meaning of reading her is not clear and therefore not interesting.
The option of "read it later with my son because he's older, and to engage the younger daughter"
doesn't fit too. The boy was his age, reading together (even if he knows how to read) – a wonderful experience-empathy. To form friendships. Plus there is the opportunity with my mother to perform interesting episodes of the read, compare them with similar life situations, to compare the evaluation of events from the point of view of the child and the adult. Thus is formed a respect for the opinion of another person, set the rules of debate. A little girl is enough simple but interesting things with toys, comics, drawing.
So
a variant "to take a 2-year-old Katyusha interesting for her age, employment, and personal attention to 6-year-old Pete"
– the most successful decision. To move the communion with the son at another, more convenient for moms time, creates the risk that the child will disappear this desire, there are other issues that he can solve on their own. And the chance concerned communication will be missed. For this desire must emanate from the child, then education is most effective.published  
Author: Lyudmyla Andrievska  
Also interesting: the 2 basic options to do to your child What we forget to teach children
Source: detkiclub.com/articles/111995-kapriznye-deti-chto-delat