Creativity wins the hearts of all: both children and adults! Especially for those who love their own hands to create something beautiful, we have prepared a selection of videos with the most views on YouTube.
These exciting lessons to create crafts
paper for kids watched by millions of people. You also have the chance to learn the secret of simple paper creations! They look like real masterpieces ...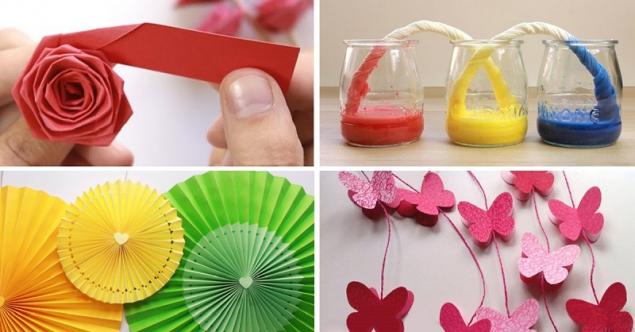 Crafts from colored paper Paper Rose
Rosettes of paper I recently presented to the son, children do something like that in school. The idea is not new, but there is something fascinating in the paper colors!

A fascinating experiment for kids
Scientific experiments that can be implemented easily in the home, - my passion! Itching repeat ...

Colored umbrellas
Such cheerful umbrellas decorate any holiday! And this charming hendmeyd will create a festive mood, even in a gloomy day for happiness no particular reason. It is only necessary to insert a bright umbrella in a glass of orange juice ...

Garland of butterflies
Such a decoration in the room will be glad to any child! Unable to look away ...

colored hearts
Heart of paper can make even the baby. But how beautifully it turns out! Even a completely incompetent people, these hearts will come out perfectly.



Now I have something to do with his nephews! Save yourself these video lessons - who knows where it may come in handy colorful paper umbrella for cocktails ...