I like women who know his worth. These representatives of the fair sex look elegant even in the most ordinary day, pleasing the others! Impeccable female character - a sincere smile, open face and carefully coiffed hair ...
To make such an original
hairstyle with pigtail , you will need about 20 minutes of time, mid-length hair, 2 pins and a comb, which can be done easily even parting. I was delighted to see the result!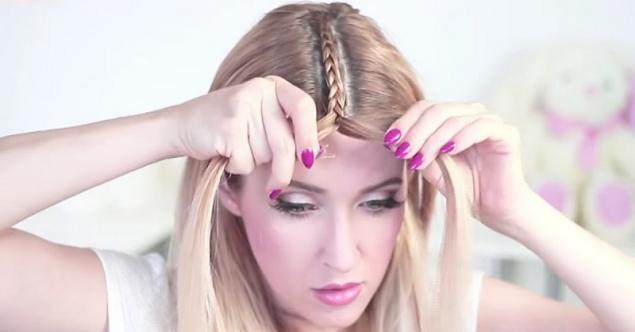 Hairstyle for medium volosyOtdeli strand of hair in the middle of the head with two straight parting. Then, a thin braided pigtail. At the level of the forehead to split it into two parts, lock pins thin strands and braiding 2 thin braids on the sides.

This video shows how to make the royal hairstyle for medium and long Hair! This installation will transform any person, add charm and brighten up the gray routine ... For the sake of beauty and positive emotions I want to try!



Since childhood, I love braids - this detail is very decorated with hair, I think. In such an approach, even braid older women: be sure, this hairstyle is great age hides and ennobles

! Prompt her friends an idea for a bright spring and summer image sharing with them this video! Original solutions make you a fashion trendsetter ...