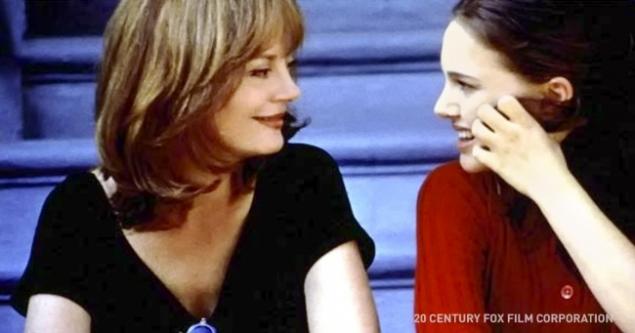 Relationships with parents are not always add up smoothly, and sometimes have to make considerable efforts to develop them. < Website and SNC publishes articles Alina Farkas that regardless of age, status and the existing communication to each of us needed that very dear and irreplaceable - mum
I have a childhood friend. At school, the parents beat her belt - a thick, soldiers - for four (had to be only five), with the loose hair ( "so go only prostitutes"), for what she called her mother her mother, not mom, for being washed hands linen is not invented by mom scheme, but simply erased. Because invite friends home - it was forbidden. And a lot of that.
< It is terribly jealous of my relationship with my mother. It seemed to her that I understand. What we have at home - support and freedom. Love and happiness. And, in general, compared to the situation in her family, we really the way it was. I hated it when his parents to shiver.
Recently, we met her, very happy with each other, shared news of the past ten years. She said: "My mother and I were in such an interesting show!" - Or "Dad advised me to go to such and such a MBA course and he understands this," - or, "I love to go with my mother to shop, her great
taste. " The more I listened, the more clearly understand what my friend with her parents -
are the same adults, equitable, harmonious, warm, close and trusting relationship, that most of my friends could not even dream No. this is not the Stockholm syndrome. No, parents are still young, cheerful and well-earned. Yes, my friend made a good career, no one no one is independent, and there are voluntary for mutual pleasure.

And I could not stand it. I asked directly: "HOW ?! How are you able to reach such a friendship after all, it was "Here in my heart I was expecting the usual responses from the series:" I understand, let go and forgive. " Or: "I realized that parents are not eternal." Or: "If they did not beat me, I would become a drug addict and a prostitute, and I am grateful to them for their care." A friend thought and said: "You know, my mother just apologized, and my father said that he was ashamed - his life brought a belt, so he did not know anything else. < And now, they are very sorry for what happened. But most importantly, they do seem to have changed. They think I'm an adult, admire and take pride

me. " And then I - no, I do not cry, I have to do too much willpower - thought it's never too late. < In each of us sits a longing for my mother. No matter how many years you may be, you need a mother. This warm, living, loving you just because you exist in the world. That is why many so persistently, repeatedly beating his head against the same wall.

Many again and again come to the family home despite the fact that each meeting ends with tears and scandal. Try to start a conversation about the past - it is usually the parents angry. Response tactics have four. Firstly, they do not remember anything, "There was no such! You still invent. " Secondly, laugh off, "let bygones be bygones!" Third, the discount: "Again you about this, well, how much can you already!" Fourth, rationalize, "If I had not made you sit on textbooks when everyone walked, you would not be admitted to the Institute. " All it usually takes huge chunks of the soul and the life of the daughters, who are trying to lead such conversations. And by and large it is absolutely pointless.

Besides, why? < After all, the past can not be corrected and can not rewrite. Whatever you do, you will never be comfortable easy childhood and caring parents who understand. So why all this talk? It may, indeed, to forget, to try to achieve full of Zen, to forgive and to love?

Many reproached himself for being unable to forgive feel petty and vindictive, ashamed of their offense and their hide. Only issue here is much thinner. When a person tries to repeatedly clarify some situation with his parents, he is not trying to change the past. < He wants to make sure that parents have changed. What they are not the same scary screaming monsters. What they are ashamed that they regret. What if they could, they would fix it. They would have to handle that little girl would have regretted it, have rocked her and told her that she was the nicest, most beloved, most of the native girl.

< This article is about the fact that he never later to become a mother The fact that want to mom on the handle, even if you are the most over fifty and you have a grandmother, -. natural and right. The fact that parents often can not correct the past, but can - future. And what if you are fighting in the wall and try to discuss the past, it is not about how you hurt then. We are talking about the fact that they now do not consider it necessary to apologize. What are they here now believe that you can continue to beat and insult. And it is clear why every such conversation injures stronger. < And yes, I do not know any girl who at heart would not want the parents to come and honestly talked And loved. Which would not have hoped.





via www.foxmovies.com/