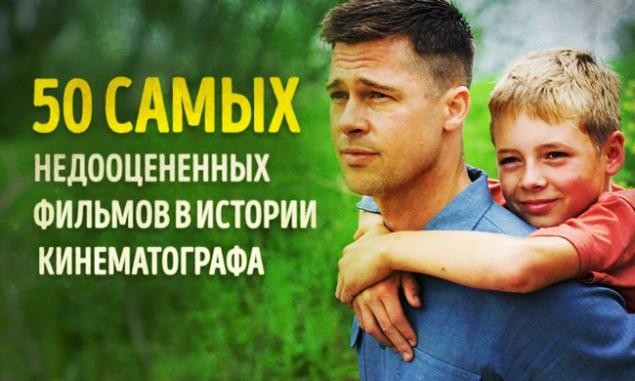 Some films are destined to become masterpieces of the cinema industry, but there are those who, for one reason or another have not had a chance to get into the prestigious list. < Website to your attention the list of the most underrated films in cinema history
Drama Blessed Mary, 2004 -. Maria and her friend works at a flower plantation, but it is fired, and we need a new source of income. How important it is not to be mistaken in choosing a profession! Winter's Bone, 2010 - Home picture heroine - a 17-year-old Ree from a dysfunctional family; her mother is seriously ill and drug dealer father is in jail. Soon Rea learns about the disappearance of the newly freed his father, and from that moment her life changes dramatically. Half Nelson, 2006 - The teacher of high school using drugs ... He begins to be friends with his student, after she reveals his secret. In what will result, this strange friendship? Shame, 2011 - Brandon suffers from the inability to control his sexual life. But his world is turned upside down when sister Sissy arrives to him. The Brothers Bloom, 2008 - Brothers Stephen and Bloom - scammers international scale. Over many years of working together, they perfectly mastered the art of taking money from millionaires. They will be the last thing. You Do not Know Jack, 2010 - The film tells the story of a doctor who supports the legalization of euthanasia. And he spoke of her, not only in words: he helped his terminally ill patients to withdraw from life. A good script, a provocative topic, the legendary Al Pacino in the lead role - all this does not help the film to remain long in the memory. Oranges and Sunshine, 2010 - A worker of the hospital in Nottingham Margaret Humphreys went down in history as a woman, to expose the most pernicious scheme of state regulation of the demographic problem, which resulted in tens of thousands of families were separated, and the kids are deprived of their childhood. 1778 stories about me and my wife, 2011 - In a happy family life infantile science fiction writer Sakutaro and kind and caring Setsuko invades trouble: sick spouse. To somehow support his wife, Saku decides to write every day for her, one funny story. A touching picture of director Mamoru Hoshi is sure to impress fans of good Japanese dramas.
Giant, 1998 - Once upon a time two boys. One very intelligent, but weak, the other strong, but very shy. To survive in the harsh world of the school, they came up with a neat trick: the guys have become one - a mighty and valiant knight-giant. Cautionary tale about how important it is to have a team spirit, did not remain in the memory of most moviegoers
Horror Before dawn, 1995 -. A young American Jesse meets on the train with a beautiful Frenchwoman Celine. They immediately find a lot of common topics of conversation, Celine and Jesse persuades go with him to Vienna to spend together evening and night, because the next morning he had to fly back home to the States. Mood for Love, 2000 - Su and Chow removed in the house adjoining rooms. Their spouses all the time was away. We never see them. Chou Su learns purse, given to her husband. His wife is the same. And finds Su Chow tie given to him by his wife. Her husband is the same. Punch-Drunk Love, 2002 - Barry Egan - the eighth child in a family where all the other kids - girls. This fate is not for the faint of heart. Not surprisingly, the guy grew up with a bunch of creepy neurotic complexes. In his thirty years of the hero he never learned to communicate normally with people. But fortune has not put an end to it.
Things We Lost in the Fire, 2007 - The widow, recently lost her husband, invites his troubled best friend Jerry to live with her and her two children. Jerry helps the family cope with their loss, and gradually leading his life in order.
One day, 2007 - A tale of two kindred souls who have managed to find each other in the crush of the Dublin streets. He - a street musician who lacks the confidence to perform their own songs. She - a young mother trying to find their place in this strange, new city for her. Gentle history of relations, which is definitely worth your attention.
Monsoon Wedding, 2001 - I will go to the wedding 24-year-old Aditi in New Delhi from all over the world, its numerous relatives brought a variety of ideas about life. Of all cabinets are beginning to fall out skeletons and secrets.
Kiss, who want to, 2002 - What happens when fate decides to bring together an odd couple, gorgeous housewife unsatisfied teenage womanizer passionate, jealous and terrible screaming baby? You have the rare chance to witness this epic disaster!
Yes, probably, 2008 - Never too late to go back ... and maybe find happiness. Will Hays - New York's father, slightly over thirty. His divorce in full swing when the ten-year daughter, Maya begins to ask his father questions about his life before marriage.
Fake Documentary, 1973 - The film tells about the famous forgeries of works of literature and art. The focus of the two characters: the artist Elmir de Hori and journalist Clifford Irving - "the world's leaders in the field of fakes»
. Waltz with Bashir, 2008 - An old friend of Ari Folman, sitting at the bar at night, he complains about the fact that it pursues the same nightmare: being chased 26 angry dogs. Amazing documentary in cartoon graphics!
Samsara, 2011 - The film is a journey through the most amazing places on the planet. The action of "Samsara" takes the viewer on a sacred land and in areas of natural disasters, in the heart of the industrial sites and natural wonders.
Adventure
Into the Wild, 2007 - After graduating from college, one of his top students and athletes Christopher McCandless gives accumulated during the study money to charity and hitchhiked to Alaska sent to plunge into the wild. Along the way, Christopher met with different people, one way or another influence on his life.
The Darjeeling Limited. Desperate travelers, 2007 - Three silly brother, who had not spoken to each other for a year, find themselves in a train traveling through India. The way relatives are beginning to swear, and even fight, resulting in turn thrown in the middle of the desert.
Travel, 2010 - The film is about two friends who went to a tasting tour of England. Very exciting movie!
Comedy
King of Comedy, 1982 - Tireless loser Rupert Papkin sure that it is designed to be a brilliant humorist. Despite the complete lack of talent, he knows what awaits him unfading glory of the brilliant showman. This powerful image of Robert De Niro was one of the most unpopular in his career. The Life Aquatic, 2004 - "I will take revenge," - said at a press conference, the famous oceanographer. And he was going to avenge the mysterious yaguarovoy shark, eaten, not choking, his best friend and helper. The main roles are played by the wonderful Bill Murray, Owen Wilson and Cate Blanchett.
Terminal, 2004 - The film tells the story of Viktor Navorski, who had gone to New York from Eastern Europe. While Victor was flying in an airplane, in his homeland was a coup. Stretch weeks and months, and Victor finds that the small terminal can be the whole world. Very strong game Tom Hanks did not prevent the film covered with dust.
Fairy, 2011 - A guy named House works the night shift in a small hotel near the industrial sea port of Le Havre. One night the hotel comes a woman with no luggage and shoes. Her name is Fiona. It seems like a fairy House and allows him three wishes.
Death to Smoochy, 2002 - Comedy about hard life behind the scenes of children's television with Robin Williams in the lead role, which, alas, did not become a classic
Fantasy Tree of Life, 2010 -. The history of growing boy Jack. Mother teaches son goodness and unconditional love, the father insists on the primacy of their interests in this life. The incredible beauty of the psychological tape Terrence Malick with Brad Pitt in the lead role, which was a masterpiece only in narrow circles kinoekspertov. Children of Men, 2006 - The world is mired in anarchy, the cause of which was mass infertility. Over mankind threatened by extinction. Stripped of illusions bureaucrat stands up for pregnant women who need to deliver a safe place under the supervision of doctors. With such a scenario, the movie clearly deserves more. Fountain, 2006 - The main character is Thomas Creo, who is looking for the Tree of Life, whose sap gives eternal life to save his terminally ill wife Isabel. As always, a great game charming Hugh Jackman could not pull the picture. Super 8, 2011 - A few friends from a small town, making amateur movie on the camera of "Super 8", witnessed a train crash. Soon they begin to suspect that it was not just an accident. Reign of Fire, 2002 - Planet dominated by fierce fire-breathing dragons, rebels from oblivion because of a ridiculous blunder of people. Few inmates burned to ashes huddle London underground. Only the appearance of dragon hunters, led by the brave Van Zan gives them hope. Outland, 2006 - Los Angeles hospital five year old girl listening to Alexandria fancy Hollywood stuntman Roy. Once Roy learns that the beloved has betrayed him, he no longer wants to live and wants to commit suicide. At this point, it comes back to Alexandria. Luna 2112, 2009 - Sam's contract comes to an end: he spent three years on the moon, watching the automated station for the extraction of rare gas. Three long years in solitude, except for talking robot Hertha can change any. Two weeks before returning to Earth, Sam meets his mate. Thriller Apocalypse, 2006 - The film shows the life of the Maya civilization, in particular Indian named Jaguar Paw, before the arrival of the Spanish conquistadors: the brutal war with neighboring tribes, human sacrifices, mysterious mystical rituals
. Hannah. Perfect Weapon, 2010 - A fragile at first glance Hannah - the perfect soldier. The mystery of her birth is jealously guarded by the US government. Its mission - to avenge his father's former employers. Intelligence agencies around the world go on the trail of the girl-killer.
A History of Violence, 2005 - Two bandits travel the American West, leaving behind numerous corpses. Once they are in the quiet town of Millbrook, where he lives, Tom Stoll, respected by all the owner of a small diner. When you attempt an armed robbery of his diner, Tom Stoll killing bandits and becomes a local hero.
Gone Baby Gone, 2007 - In the Boston suburb missing Amanda McCready disappears four year. When the authorities stopped trying to find the girl disappeared, her aunt begs two private detectives - Patrick Kenzie and Angela Gennaro - launch an investigation
. The Whistleblower, 2010 - Katherine - a brave cop from Nebraska, who is assigned to go to Bosnia, in order to ascertain the reasons for the sex trade in slaves in the country. At this time, in this country in chaos after the military operations. Very controversial, but truthful film.
Baader Meinhof Complex-2008 - 70-ies of XX century, Berlin. During the visit of the Shah of Iran in West Germany the police are satisfied with the massacre of protesters. This event leads to the creation of the organization "Red Army Faction» (RAF). Its members follow the principle of "the end justifies the means", not rushing arson, bombings, robberies and murders.
The Place Beyond the Pines, 2012 - Luc Motokaskader Glenton makes a tour, showing their stunt skills and earning a living. At the end of one of his speeches he meets his ex-girlfriend Romina, shortly after learning that she had from him year-old son Jason. Curiously, these follow.
Insomnia, 2002 - An experienced detective LAPD Will Dormer, together with his partner sent to a small town in Alaska to investigate the murder of a girl of seventeen. Starring Al Pacino, Robin Williams and Hilary Swank, director Christopher Nolan
Detective Spy, get out !, 2011 -. Many British intelligence officials suspected that its leadership has long dwelt "mole" working for Russia . But those who dared to declare openly about it, somehow found themselves in retirement. Jacket, 2005 - Veteran of the Gulf War, Jack Starks is recovering after being wounded in the head. He returns to his native Vermont, but the wound has an effect bouts of amnesia. Soon Starks accused of killing a police officer. Suspiria, 1977 - A young American Susie comes to Germany to study dance skills in the old Roman ballet school. On the night of her arrival there for some reason it is not allowed, but she saw the girl ran out of the school building, which is on the same night will be brutally murdered. Biography The Last King of Scotland 2006 - The power of the President of Uganda Idi Amin and his bold decisions at first fascinated by the Scottish physician Garrigana, became the dictator's personal physician. But the brutal regime and bloody crimes Garrigana president changed the attitude to his idol.
Singer, 2006 - The life of the owner of the "golden voice", a popular Latin American artist Hector Lavoe salsa began in sultry Puerto Rico and was tragically cut short in a cold New York. Even Marc Anthony and Jennifer Lopez in the lead roles have not helped the film become more successful.
Bronson, 2008 - The life story of a British prisoner Charles Bronson, born Michael Gordon Peterson of prosperous middle-class British family. Bronson held in solitary confinement for various violations of almost 40 years.
According to the materials: Kinopoisk
Photos on the preview: Fox Searchlight Pictures
via www.foxsearchlight.com/news/?film=thetreeoflife