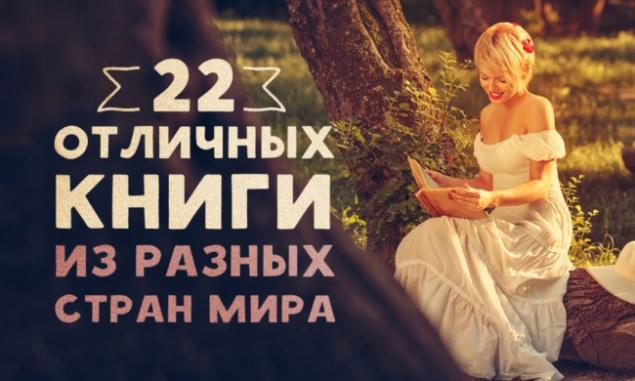 said that a man can tell a lot just by looking at his bookshelf. Novelist Anne Morgan (Ann Morgan) considered themselves cultured, educated man who knows enough about other peoples and the world at large.
But one day she looked at my shelf and was surprised to realize that there are only books of American and British writers - those for whom English is a native. No translation. And even more audio books from Africa or South America.
And Anne decided to read for a year at least one book from each country in the world. The experiment was a success: in the meantime Anne read about 200 books from different countries. She learned how people live on Easter Island and in northern latitudes, to experience for yourself that the world - is not only a native Britain, and thousands of different cultures. In fact, she traveled the world, without leaving the couch.
We are in the
Website in awe of her ideas. Therefore, to create your list of books from several countries around the world, translated into Russian. If you have something to add, share in the comments.



1. Argentina
Children's fun, in which he played as an adult. And the characters in the book, too, playing the classics, but instead of squares drawn on the pavement - almost life itself, and the rate in the game - happiness.

2. Brazil
A handful of homeless boys found a home in an abandoned warehouse with a leaky roof. They call themselves the "generals sand pits". The story is about the fact that children are children, even if they have to fight for their lives in arms.

3. Vietnam
Exotic and spicy, like a royal fruit durian, the story of Tanya clerk and his friend-scientist Dina, who are investigating an unusual incident in the capital, on the brink of civil war.

4. Greece
The protagonist, a writer who decides to radically change lives and become a man of action. He rents a coal mine on Crete and goes to deal with the "real thing." Fate does not favor him in the business, but gives his partner Zorba the Greek, who has a rare gift of life "here and now».

5. Denmark
The story of the daughter of a wealthy European and Eskimo, whose native language of 200 words for snow. The magic of Copenhagen and a traveler, wandering alone through the dark streets in search of truth.

6. Egypt
Four character quite differently describe the same event, the same reality. Hidden from the eyes of an outsider, the life of the inhabitants of one of the neighborhoods of Cairo is full of cynicism, brutality and real, passionate love.

7. Indonesia
Young Indonesians blindly worshiping Western culture, and parents raising children in their traditions, who do not remember their native language. The book is about how miserable and lost, you can become separated from their roots.

8. China
During the land reform of 1950 shot an innocent man - a hard-working hands, strong-willed, kind heart and unblemished past. But the proud soul has to return again and again to the world and in different guises, to fight for their truth.

9. Latvia
Rural teacher has to go through serious trials of life. She thinks, feels, tries to build relationships - and wade through the difficulties.

10. Mexico
Artemio Cruz during the revolution dies, covered with glory - and forgotten. And with him dies and the era, and the soul of this era. No more heroes "time of change". And there is no place in a modern, peaceful world order, who did not die beautifully on the battlefields.

11. Norway
The small town where every house, especially the rich, holds many unsightly secrets. Broken fortune, ruined love, gossip and giggles behind him - and no change. But once settled in the town of the eternal wanderer Knut Pedersen, and everything begins to change.

12. Portugal
The inhabitants of the nameless city strikes a mysterious epidemic of blindness. In an effort to curb the spread of its authorities impose strict quarantine and relocated all cases the empty suburban hospital under the supervision of soldiers. Among patients - eye doctor, for whom voluntarily followed his healthy wife.

13. Romania
After the war, in Romania, there was chaos. People try to live as they lived, but just not as easy to recover after your country has been ruined, and many friends dead or missing.

14. Serbia
Beauty Anna and her lover in Venice 18th century trying to unravel the mystery of the stone changes color rings and strange sayings written on the bottom of the glass. Three hundred years later, Serbian writer and his wife Lisa again confronted with this mystery.

15. Turkey
Istanbul is beautiful: narrow streets, Ottoman houses and canals, writers, artists and historians crazy. One and a half century, the city grew and transformed. This story - a "portrait of the artist in the city," an unusual biography - and the city, and a man.

16. Uruguay
Letters himself. Letters about what will live out the age of one, then reached for his life. Letters to yourself that if you will live - it reads. And if you read it, you will know that he lives.

17. Philippines
Modern Filipinos fighting for their own "I" for its spirituality and culture. And next - pagan and Christian colonies of the metropolis. As with all good books, "The Cave and shadows" of the people and how to live, if all of a sudden was wrong.

18. Czech Republic
World salamanders is the likeness of the world people. Collision of Worlds leads to mortal danger to all humanity. The book is considered the best among all the books written by Karel Capek.

19. Sweden
He lives currently in the hutorke Katthult a wonderful boy. Extremely independent and restless. In a world of so many interesting things! And so I want to try everything. That pulls the young Emil Svensson on feats - the tureen on the head wear, then go to the soldiers' teachings.

20. Estonia
The gray-haired and toothless Timo returns from prison. He spent years in prison for the emperor sent out a memorandum, where he wrote the whole truth - about the power of the emperor. And now we must begin to live again in a world where truth no one wants.

21. South Africa
Dear Professor loses his job because of the scandalous connection with a student and eventually arranged a janitor in a veterinary hospital. The book - a story about a man who lost his past, future and all hopes. All that was left of it - is self-esteem.

22. Japan
Toru Okada - the usual thirty man, who has his own happiness: beloved wife, cat, small house in a good neighborhood. But suddenly everything changes: first, the cat disappears, calling a strange woman, then leaves his wife. Old prophecy come true, and life is now a mountain of questions and no answers.



Preview: Milenko Đilas





via 500px.com/photo/65079043/old-memories-by-milenko-%C4%90ilas