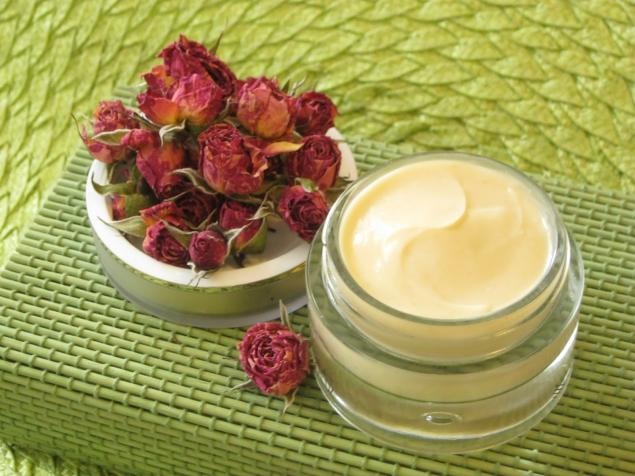 Home care for face and body
Today, cosmetic stores shelves just bursting with an abundance of creams for face and body. There are anti-aging, and of defects and wrinkles. Yes, and at a price everyone can find your product. But not all such creams are suitable: someone can not find the perfect giving the expected result, and the other has a severe allergic reaction to any cosmetics. Indeed, in the cosmetics store it contains not only the beneficial ingredients, but there are also harmful: dyes, fragrances, preservatives or binders. However, few of the women is, and knows how to make cream at home, although it is simple and quite feasible.
Ingredients for home creams are not so little. Consider the most common and affordable ones.
1) Cacao butter. It has a solid consistency, odorless. Sold in pharmacies. Price: about 2, $ 5 for '50 This oil is valued in the cosmetic market for moisturizing and softening properties. It restores the lipid balance of the skin, promotes regeneration of damaged cells. Also, cocoa butter is used for the prevention of stretch marks in the fight against chronic dry skin and fine wrinkles on the face. It perfectly removes the cracks on the fingers and the formation of burrs around the nail plate. Maybe the base oil for creams and massage oils.
2) Olive oil - a valuable food product and cosmetics. It does not smell. In composition, it did not seem to how to make cream at home usloviyahpodsolnechnoe or corn oil, so is recommended for people with oily skin and enlarged pores. The price of good olive oil - about $ 20 a liter. Due to the great content of vitamin E oil is considered to be a magic bullet for the care of aging, aging skin. It prevents the appearance of stretch marks and helps lift the skin with a sharp weight loss.
3) Peach oil (peach kernel oil) - transparent oil odorless. It does not cause allergic reactions. It can even be used to massage the newborn. It has anti-inflammatory, anti-aging, toning, lightening properties. This oil is used for cellulite, diaper rash and inflammation on the skin, to improve the faded, tired skin with poor color unevenness. Its price - no more than 1, $ 5 for 20ml.
4) Beeswax - solid white or yellow substance formed as a result of the work of bees. This is an excellent protective agent that is able to create a protective barrier on the skin, thus preventing its dehydration, chapping and premature aging. An essential ingredient for the preparation of the daily protective creams for the face and hand creams. Its cost is about $ 2 for 200g.
5) Rose water (water from the rose petals) - a component that is very beautiful and aristocratic called, and is very simple: a handful of rose petals (preferably home), pour boiling water, so that they almost covered with water and infuse for 8-12 hours. Drain the water in a glass bowl. Store in refrigerator for up to 10 days. The miraculous properties of this product can not be overestimated: Rose Water is perfectly smoothes the skin, gives it a healthy color, velvety, elasticity, completely smooths bumps on the hands, easily wins wrinkles. Indeed, the magic water.
6) And the last point: for the manufacture of creams fit any cosmetic oil, which is sold in your pharmacy: tangerine, lavender, sandalwood, castor oil, pine nuts, ylang-ylang, fir. The instructions spelled out all their properties. The cost of each is less than $ 2 per 20ml.
Remember that one vial of oil will be enough for 5-8 servings of cream. All components and complete domestic cosmetics should be kept in the refrigerator.
how to make cream at home usloviyahVse creams are prepared in a water bath. The solid components (for example, wax or hard butter) Grate. Liquid is added when all the solid has melted. For women under 30 as a basis for taking cocoa butter or shea butter (3 tsp), add rose water (2 teaspoons), 1 tsp peach or any other cosmetic oil. For women over 30, the basis of all creams will olive oil (half of the portion of the cream), it is added 1 tsp Pine nut oil, shea butter and peach. For the preparation of protective creams for the autumn-winter period we recommend additional ingredient: 1 tsp grated beeswax.
Experiment and be the most beautiful!