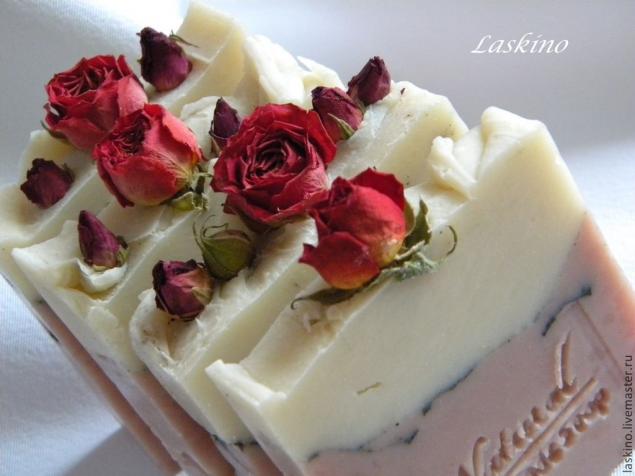 Homemade soap - a useful and simple thing that will make your skin soft and silky.
Ingredients:
Children soap - 100 g (1 slice)
herbal decoction (nettle, sage, chamomile, parsley) - 250 g
Oil - 2 tsp (1 tsp olive oil, 1 teaspoon of castor)
1 tsp honey
1/2 tsp Vitamin E
1/2 tsp Vitamin A
peppermint oil - 5 drops
Preparation:
Rub the soap, add the olive oil and castor oil, herbal decoction and melt in a water bath. Pour honey, vitamins and peppermint oil. Stir and remove from heat. Pour the soap into molds.
What natural dyes used to produce color?
Beige:
Milk
Yellow:
Saffron
Chamomile flowers
Petals of calendula
Curry powder
Orange:
Sea buckthorn oil
Carrots
Pumpkin
From pink to red:
Moroccan red clay
Beet
Pink clay
Green:
Cucumber
Algae
Spirulina
Sage
Spinach
Parsley or dill dry
Brown:
Cinnamon
Cloves crushed
Cocoa powder
Coffee beans are crushed, coffee grounds
Rosehip crushed
Pieces of chocolate
Karkade
Caramel