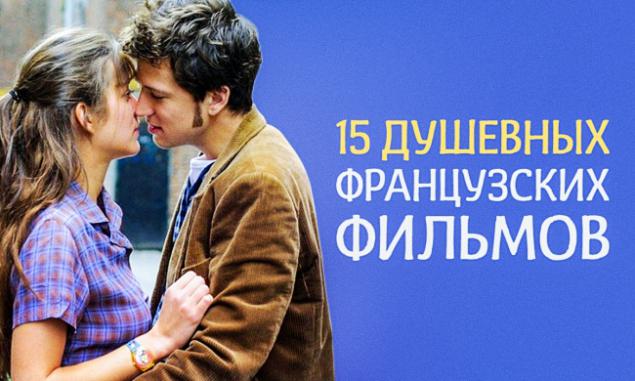 French cinema has given us many fine films, some of whom are naive comedy, and lyrical melodrama, adventure and exciting picture. Many of them have become classics and some modern films such as, for example, "Amelie" and "1 + 1", we reviewed more than once.
Website gathered excellent films that will surely appreciate not only the fans of French cinema.


My best friend

Mon meilleur ami h3>


Francois - a successful antique dealer, a leading luxury lifestyle. He's arrogant, self-centered, and ... lonely. Catherine, his business partner, offers a bet: if François can find friends, he will get a very valuable gift. He has only a few days to present his best friend Catherine. Wonderful movie without pathos and Hollywood glitz for those who have forgotten, or perhaps never knew what real friendship.


Welcome to the Sticks!

Bienvenue chez les Ch'tis h3>


Probably the best French tape in recent years. Philip Abrams, head of the post office in the south of France, is doing everything in order to rise in the service. However, for minor violation of his official transferred for two years in a small town in northern France. To his astonishment, Philip finds a hospitable people and make new friends. After seeing this film, you will get a positive charge and accurately raise your spirits.


Crazy wedding

Qu'est-ce qu'on a fait au Bon Dieu? h3>


Monsieur Verne and his wife - a respectable married couple, parents of four beautiful daughters. Three daughters have found their happiness, and it's time to get married the fourth. But it so happened that all the young men turned out to be of different nationalities. Easy and fun to film, under which it is possible to spend a family evening.


Love Me If You Dare

Jeux d'enfants h3>


This film is exquisite and delicate as French croissant. Even as a child protagonists come up with the game 'dare - do not you dare. " They took each other "on the weak". The game grew with them, and once they become adults. They knew that they love each other, but they uttered these words, and the game is back, not allowing them to become a man and a woman. Wonderful actors who believe, and it is not surprising that a few years after the shooting Guillaume Canet and Marion Cotillard were married.


Family Linen

La famille Bélier h3>

The family Linen all deaf, except for 16-year-old Paula. It is an indispensable translator for parents in their daily lives. One day, inspired by his music teacher, who discovered in her vocal talent, Paula decides to start preparing for the audition for the vocal course in Paris. A touching film about family, love, and that you need to be closer to each other.


Gregory Moulin vs. Humanity

Grégoire Moulin contre l'humanité h3>

Gregory Mulin whole life plagued with failures. The poor fellow had almost believed that happiness is bypassed by his side, but once it happened the unthinkable: he fell in love with a charming stranger and decided to confess his love to her. Gregory challenged unpredictable fate that, having gone through a series of incredible adventures, be the happiest man in the world. Full of humor, easy and exciting movie to have fun.


Love obstacles

Un bonheur n'arrive jamais seul h3>

Sasha lives carefree and frivolous life, surrounded by beautiful girls, friends and music. Charlotte had visited twice married and was no longer going to repeat their mistakes. A good film about the real relationship between a man and a woman, funny, light and easy in French.


Just with

Ensemble, c'est tout h3>

Due to certain circumstances a young girl Camilla moved into the apartment to his neighbor Philibert and his friend, chef Frank. The three main characters suddenly finds harmony and zest for life. The film evokes a feeling of comfort, peace and joy, see and remember: love is closer than you think.


Error Bank in your favor

Erreur de la banque en votre faveur h3>

From the first frame of the film gives the impression that you get in the past. Furnishings and decorations, casting and smooth development of the plot - all talking about the glorious traditions and the characteristic humor. Normal headwaiter accidentally discovers the secret of the stock exchange, which is used for the cherished dream - to open his own restaurant.


Name

Le prénom h3>

A film for fans of fine comedies. The usual dinner with friends was a success. Brother Elizabeth finally said what name he and his wife chose the future baby, and it just threw all in shock. Serious passions, and under this dispute came to light at the same time a couple of dark secrets, silly nicknames and long-standing grievances. The highlight of the film is that all the action takes place in an apartment with the same people.


The Losers

Micmacs à tire-larigot h3>

Basil does not carry through life. That he nearly killed by a stray bullet, the homeless, the one with the same "lucky" as he begins to fight for justice. But who knows, maybe this time luck will smile to him? If you do not overstrain their bellies with laughter while watching, it certainly does not stop smiling happily to the most titles.


Little Secrets

Les petits mouchoirs h3>

French cinema has always possessed charm charming and attractive charm, and this film is no exception. It is filled with experiences and internal strife, and thanks to a stunning cast of you to immerse themselves in the life of the protagonists. Wonderful film about the versatility of human relations.


A Very Long Engagement

Un long dimanche de fiançailles h3>

Unique film talent and organically combining several different genres - military chronicle, thriller and melodrama. The picture shows that it is easier to believe in the death of a loved one and suffer than to find, lose and regain hope. After watching the movie you know what love.


Do not worry, I have all the normal

Je vais bien, ne t'en fais pas h3>

19-year-old Lily returns home after the holidays and discovers that her twin brother Loic strongly quarreled with his father left home. Not receiving the news from my brother, my sister goes in search. The film was very strong and emotional, it raised the topic of relations and problems within the family. Beautiful and a little sad movie.


Customs gives good

Rien à déclarer h3>

On the nose joint customs posts between France and Belgium. And on both sides of the border are a Frenchman, made fun of the Belgians, and the Belgian, who hates the French. And by coincidence, they will be the first joint customs and the crew is in a microscopic machine. Recommended for viewing, will be fun.

In a preview of the frame from the film "Love Me If You Dare»

via www.artemisproductions.com/