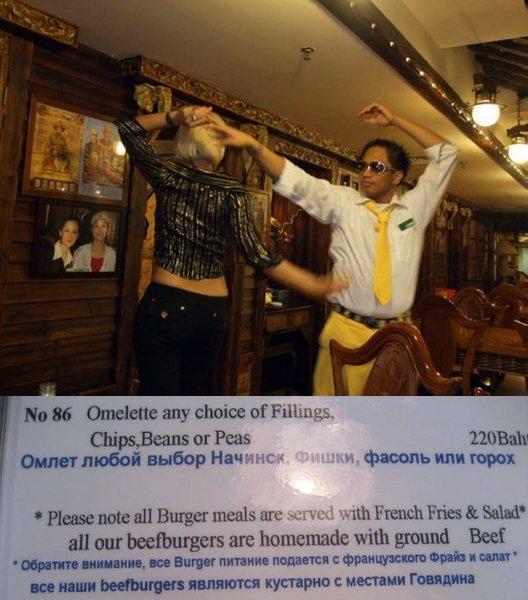 In one of the last days of stay in Thailand had a chance to visit the bar "Elephant" near the hotel. Well, of course, that I, with my name, could not visit the restaurant with the same name. But it's not that. This restaurant has decided to show off, and, catching the trend of the growing popularity of Thai spas among Russian, translated the menu from English to Russian. Fragments of what they have presented below:
Fish Mystery! COD! I'm afraid to imagine what the acronym stands for. Moreover, I was afraid to try this dish.
"Classname" programmer tickled my nerves, but the order I again abstained.
«They do not know what the fuck a quarter pound is. They call it a royale with cheese. »©

Here the situation is even more strange. bifburger they wrote latinnitsey, cheeseburger - transliterated. They are Buddhists, it is difficult to understand. Or maybe it's because they have separated meat from milk, according to an entirely different tradition? :)
Was the idea to try it here:

But then I remembered that you call a boat ... In general, did not dare spoil the character, and the more karma. In general, the name of this dish is missing a comma. "What brought you to me, a thousand devils?" - "Roast, ham!»
Then a lot of text. We make it clear that the institution is prepared to so-yourself homemade food ... place comes the beef. However, given that the word is written with a capital letter, maybe it was a man. In general, if you are not sure that you love French Fries - it is hardly a dish to order.