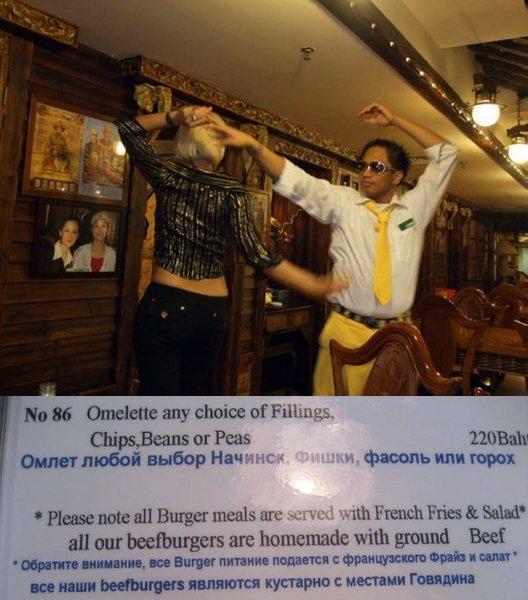 In one of the last days of stay in Thailand had a chance to visit the bar "Elephant" near the hotel. Well, of course, that I, with my name, could not visit the restaurant with the same name. But it's not that. This restaurant has decided to show off, and, catching the trend of the growing popularity of Thai spas among Russian, translated the menu from English to Russian. Fragments of what they have presented below:
Fish Mystery! COD! I'm afraid to imagine what the acronym stands for. Moreover, I was afraid to try this dish.
"Classname" programmer tickled my nerves, but the order I again abstained.
«They do not know what the fuck a quarter pound is. They call it a royale with cheese. »©

Here the situation is even more strange. bifburger they wrote latinnitsey, cheeseburger - transliterated. They are Buddhists, it is difficult to understand. Or maybe it's because they have separated meat from milk, according to an entirely different tradition? :)
Was the idea to try it here:

But then I remembered that you call a boat ... In general, did not dare spoil the character, and the more karma. In general, the name of this dish is missing a comma. "What brought you to me, a thousand devils?" - "Roast, ham!»
Then a lot of text. We make it clear that the institution is prepared to so-yourself homemade food ... place comes the beef. However, given that the word is written with a capital letter, maybe it was a man. In general, if you are not sure that you love French Fries - it is hardly a dish to order.

But there is one "but"! Only here! Only today! Along with the meal you get chips!
Drinks. In my opinion, simply gorgeous. Orange juice - out of competition (it is interesting, from which it is made of ... really gouache?), It comes on the heels of a tandem coffee and fresh coffee. Agree, it is not clear which one is ordered.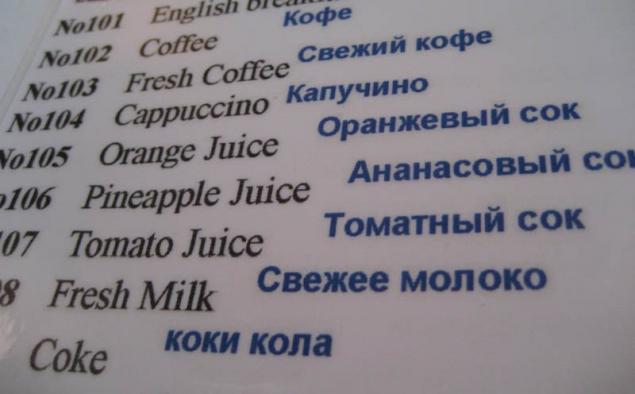 But the evening would not have been on holiday like if we did not offer coca cola :)
Toast. I think the right thing. Food should be healthy, from the ingredients, ending with the name.

Cheers, toilet right :)
The sticky ribs. WHe ... From this point it becomes clear that the transfer was used not just PROMT, but also to some specific set of dictionaries :)

Ribs - they do who are you? However, it does not matter. The taste was so himself harsh. Until now, the best bbq ribs I've eaten in Texas. All the rest - a pathetic parody.
Banks shrimp. Something begins to peep through the jet shroud translation :)

And that's what spring roll - I do not know. Maybe just the aggravation? Or vitamin deficiency ...
Then there is poetry. Lermontov ...

Dramstiks fried chicken in bredkrambs
And there three times cranked up their weapons ...
Or is it closer to the Homeric syllable? I do not understand ...
Come on. From Lermontov move closer to Byron, cousin Michal Juric, or even Burns - Scotland.

Thus here, easily. We prove that under the kilts something to eat! Frankly, I would not become a book - except by taking pre-pint of scotch :)
Going further north, in the country of Hans Christian Andersen. Only a king was naked, and we have - and even battered. However, that is only in fairy tales do not happen. Sesame, your mother!

Read and be honest, what picture arises before your eyes when you hear the "warm baby potatoes»?
And would you have it? :)
Again problems with punctuation. It is clear that the comma after the word «Pizza» absolutely inappropriate. The rest of this dish to the complaints. Not otbenzinish - do not sing. The main thing - we have a choice! It's a free country.

Then there are two recipes of cooking. Housekeeping tip: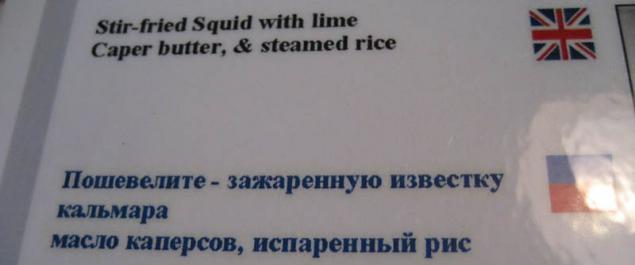 Do not forget to add salt and pepper. To taste.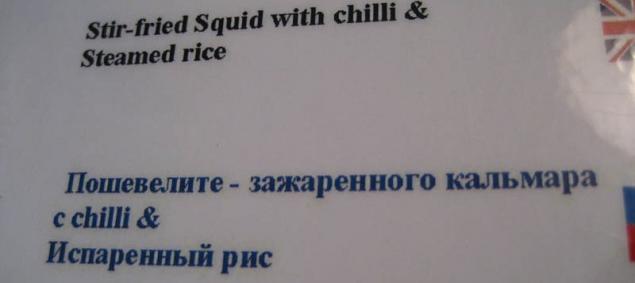 And add the soy sauce. You can bring to the table! The main thing - be sure to carefully lift a :)
If earlier, were mainly had problems with punctuation, now face flaws in spelling. "Serve" - ​​what is it like to not be ashamed? These delicious spicy mussels fresh from the earthen pot - and "to serve." Ay-ay-ay!
Here I have a question for linguists: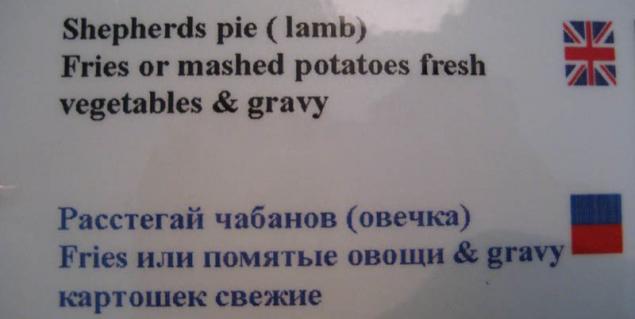 Pie - a noun or a verb in the imperative? However, taking all the same I will not. Vegetables - some mashed ...
WHe ... again :)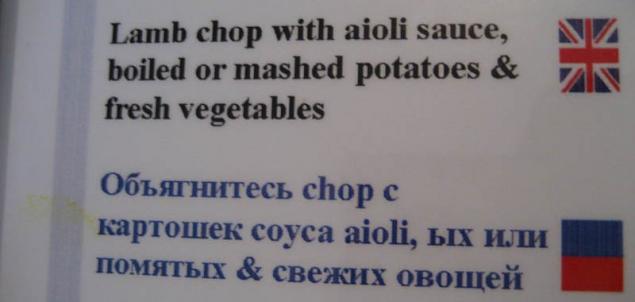 Have you heard? Obyagnites immediately! And then come CHOP and vegetables namnet you :)
Another recipe.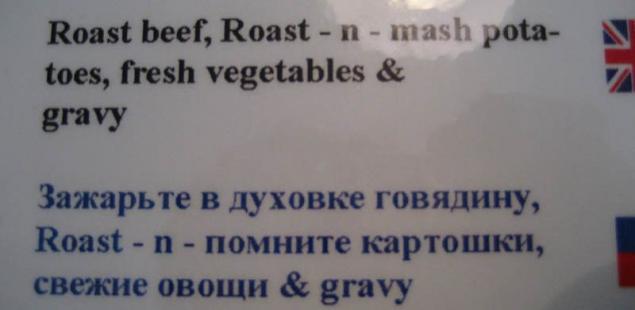 Respect is very stylish writing. Rock-n-roll :: Roast-n-remember. There's something in it!
Finally. I promise. For fans of the King!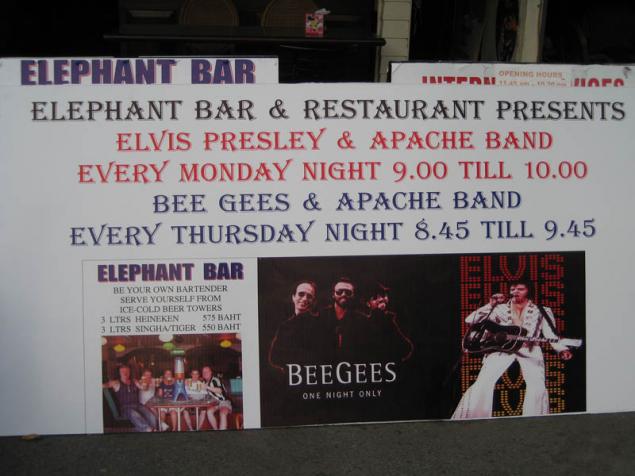 Elvis is alive! He lives in Thailand and appears every Monday in the bar "Elephant." I know you believe - I do believe! URAAAAA!
If anyone wants to try it all - can address to Treat :) :)
via torrio