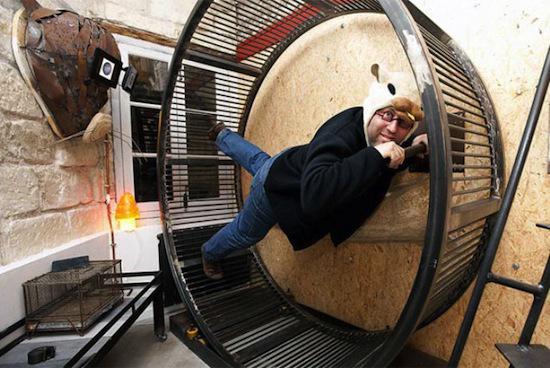 According to the French set designer Yann Falkero (Yann Falquerho), people sometimes just need to live the way they caged pets. His house rental «Villa Hamster» («Villa Hamster"), located in the city of Nantes in western France, enables people to live like a hamster in a specially designed housing with a "squirrel cage" and a box of hay.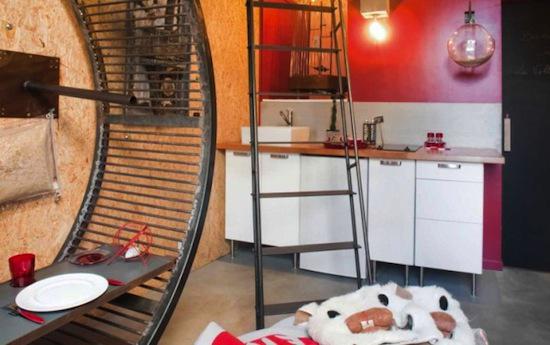 This little house has become incredibly popular because of its concept of transformation into an animal. Residence, which opened in 2009, boasts all the attributes of animal cages, including the container with organic grain tube for water, through which the visitor can drink, a double bed, which can be reached only through a stepladder and scrambling on all fours. < br />
Villa became so popular that the owner raised the rents from 156 dollars a night to $ 230 per night. Now he is thinking about how to expand the network of property imitating the lives of other animals, probably dogs and cats.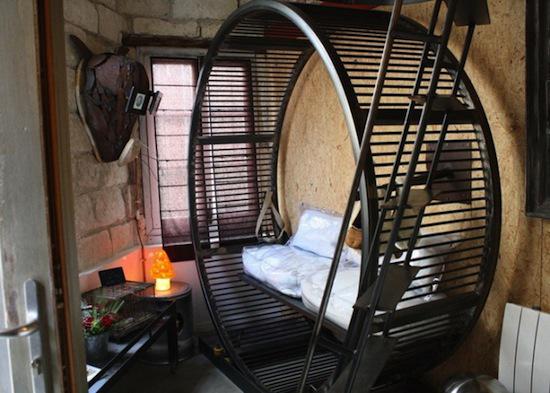 According to Yann Falkero, the most difficult in his company it had to find a hamster wheel, which would be big enough for a man, and he sought the help of an interior designer and architect.
The most favorite aspect for him is the reaction of visitors. When the owner asked them why they wanted to come to this house, people say: "This house is so strange that we wanted to see him. We have never seen a place where you can turn into a hamster ».
via factroom.ru