Many successful people have long come to the conclusion that the best way to invest in yourself. Personal resources are not impaired and not deteriorate. To educate themselves, and you will see how before you open all the roads in the world. What to do if you can not pay for the training, but there is a thirst for knowledge? Come to the aid of online resources for free education. In this case, you have to invest only your time and nothing else. We have collected for you 10 resources to help you develop and improve themselves.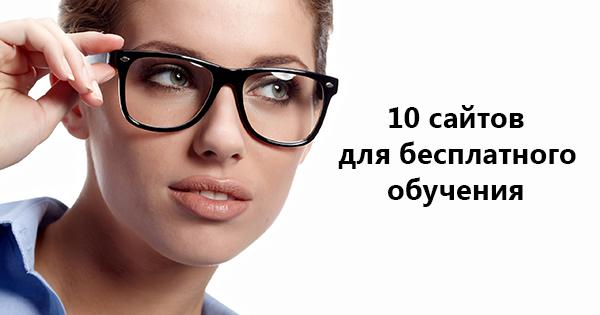 1. Khan Academy
One day a young man, a graduate of a prestigious university, he learned that his cousin problems with math in school. He decided to come to her aid, and began recording for her videos and share them on YouTube. These videos became instantly popular. Then the man opened his educational resource. On this site you will find a huge database of video lessons in more than 20 languages.
2. Intuit
This online university that provides an opportunity to get higher education. It is also possible retraining and skills development. A complete education is paid, but there are free online courses in various fields of knowledge. After their passage, you can get an electronic certificate.
3. Tufts Open Courseware
Excellent site in English for those who do not like the long process of registration indicating their personal data. The lecture material on a variety of topics is available in the form of slides.
4. Universarium
On this resource you will find free educational courses are the best teachers of renowned universities and research centers. Courses include video lectures, homework, tests, group work and evaluation.
5. Learning Space: The Open University
All materials are divided by age of readers and subjects. The lecture material can be downloaded to your computer.
6. Lectorium
On this website you can find a large number of lectures in Russian. Also here are loaded with interesting materials of scientific conferences.
7. TED
One of the most popular resources with free movies. Almost all are accompanied by subtitles in Russian. You can not only view the online conference of scientists, but also to get acquainted with the ideas of successful entrepreneurs, psychologists, artists and so on.
8. School Yandex
As Internet technology is developing very rapidly, increasing the demand for personnel in this area. You can enroll in the "School of Yandex" and learn more about the field of data processing and analysis and retrieving information from the Internet.
9. Soursera
An excellent resource with their homework, their verification, tests and exams. Courses are held on various branches of knowledge.
10. Ed
A great site for those who do not have problems with the English language, and for those who wish to choose a course like, for example, in music.
«Who wants, that is looking for opportunities, who does not want - is looking for reasons» em>, - said Socrates. Do not look for excuses, loans to its form today. You will not regret that spent its time on such a useful exercise as self-development.

Share these popular resources in English and Russian with your friends!

via takprosto cc