The best articles of the year for those who teach foreign languages Bashny.Net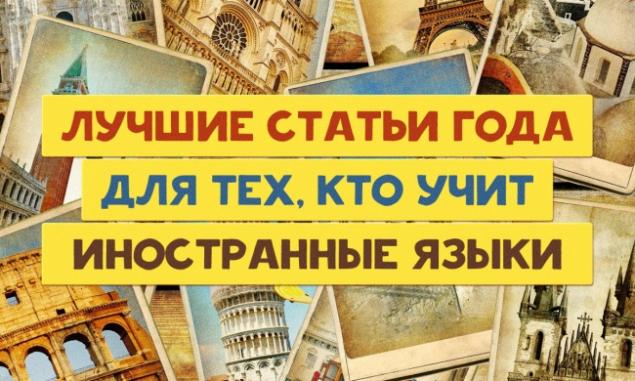 We
Website adore to learn new things and grow, and this is the best promotes learning a foreign language. Having looked through thousands of educational resources, we tried to prepare the highest quality and useful articles, and now gathered them all together, to the study of language was interesting and comfortable. Come on, you all must succeed!






To study the English language h3>


70 valuable resources for anyone who is learning English h3>




For anyone who is tired of the monotonous cramming grammar and obscure jobs, we have compiled a list of the best resources assistants in language learning. They dull the learning process turns into an exciting adventure. The main thing, remember that the key to success in learning a language - consistency.






6 techniques for self-study of English h3>




There are many ways to teach yourself a foreign language fun and interest. Especially for the Chicago site Sasha collected 6 methods of learning English, which will make the process easier and more fun.






155 phrases relevant to talk in English h3>




In English, the set of stable phrases and expressions that are quite difficult to understand at once, but to know it, however, necessary. We have gathered the most popular phrases in a simple table, which is convenient to use.






150 expressions of English slang h3>




In schools and universities have traditionally taught classical English - prim, proper, and very far from the life. But the spoken language includes a lot of slang catchphrases and sharp expressions that make it alive and help to distinguish "their" from "foreign". In this collection we have collected the words that will help you not look black sheep during normal daily talk with foreigners.






170 English verbs, which will be useful in any conversation h3>



The hallmark of the English language - the so-called phrasal verbs. This combination of a verb with a preposition or an adverb, which has a single value. To understand the principle of combining them without much scientific research is almost impossible, but remember phrasal expression - is quite real. We have prepared a list of verbs that are most often used the British and Americans in everyday speech.






15 free resources to prepare for the TOEFL h3>



Passing the exam TOEFL - a necessary condition for admission to many foreign colleges and universities to qualify for an internship or a receipt for work requiring knowledge of English. In general, TOEFL certificate opens a lot of opportunities and prospects for development.
These 15 free sites will help you achieve this goal.






15 channels on YouTube for English h3>



Before we opened many possibilities available for learning languages. For example, you can include a video every day with one of the educational channel on YouTube, and job opportunities for free on the shelves lay the all clear. This will help you find an excellent selection of a suitable channel in Russian or English.






10 luxurious series for anyone learning English h3>



There is one way to learn English, which is loved by all, without exception, - watching movies in the original. Here serials advantages more than in the movies: simple dialogues, living language, short duration, and that from series to series, you gradually get used to the voices of the characters. In this collection you will find a suitable series, depending on the level of knowledge and a favorite genre.





For the study of other languages ​​ h3>


12 useful sites for the study of European languages ​​ h3>



If you already own one foreign language to master another one will be easier. Site "theory and practice" chose useful English-language sites with public access to independent study French, German, Italian and Spanish - via podcasts, games, opera arias and detective stories.






40 helpful resources for free learning languages ​​ h3>



Learning foreign languages ​​can be even for free - would have access to the Internet and a little more patience. In this cool collection we have collected the most useful resources for the study of 6 different languages ​​- and all must work, we believe in you!






speak German 30 sites to help h3>



German - one of the most widely spoken languages ​​in the world, it is spoken in Germany, Austria, Switzerland, Belgium and other countries. This means that the German could be useful for business and work, and for the adventurous journeys. Here you can find the best resources for learning the language of Goethe, Nietzsche and Til Schweiger.






33 helpful resources for conquering Spanish h3>



Spanish - the second most popular language learning in the world. One of the reasons - ease of development: beginners do not have difficulty with pronunciation and grammar. Many researchers believe that soon this language can and does push the English and take pride of place among the first who want to learn a foreign language. Site picked for you the best free online resources to explore this temperamental language.




25 free resources for learning the French language h3>



French is one of the most beautiful and melodic languages. It wants to sing, write poetry, and a declaration of love. This compilation contains the best free online resource for those who want to learn French, without spending a lot of time and money.




Speak Italian: Top 30 sites to help h3>



Italian language is considered one of the most beautiful and melodic languages. For a long time Italy consisted of many small states, the country had many dialects. And in order to understand each other better, the Italians began to gesticulate, so the Italian language so expressive and emotional. The site has collected for you the most valuable resources for learning the language of Dante. Vuoi parlare italiano?






30 helpful resources for anyone who teaches Chinese h3>



According to statistics, Chinese - the most widely spoken language in the world, because it speak more than 1 billion people! No matter how complex the study of it is, we are assured: perseverance and regular classes - the key to success. Therefore, for you have made a list of the most useful resources for learning the language of China.





via # image5141710
Tags
See also
New and interesting
New and interesting