Imagine a girl with an attractive figure, who proudly paces through the park on her high heels. The evening, her face is not visible, but it is very interested in a young man, who is not averse to become better acquainted. "Natasha! - He calls the first name that came to mind. - Long time no see! We're sitting at a desk, remember? "She stops, and in the evening light lights man sees ... groomed pimpled face! Scary?
Now imagine for a moment that the place of this girl you can be. Do not want? Then read how to wash your face. And let the beauty of your skin shines!
Common mistakes:

1. You wet the skin with water before you apply cleanser. It does not give any chance to thoroughly clean the pores.
2. You use the wrong tool chosen. Do not listen to the advice of friends and not vedis advertising. What suits one person to another can spoil. It is best to find a good specialist (cosmetologist, dermatologist), who will select the means to meet the needs of your skin.
3. Wash only at night. If you start the morning with the proper procedures, the cheerful mood for the whole day you provided.
4. Makeup to leave for the night. A simple water it does not wash off, so use only as a means for removing makeup.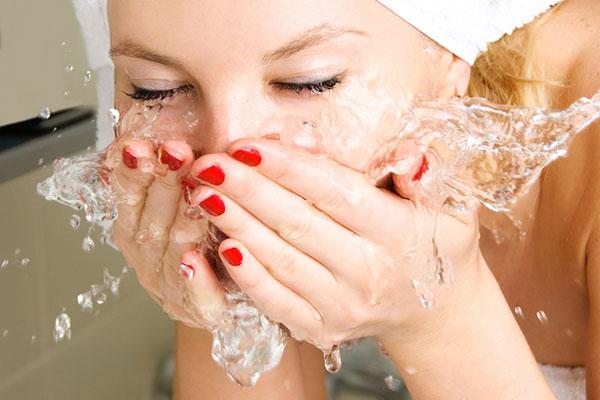 care for your skin properly:

1. First, removes make-up. On a makeup try not to save - your face is worthy of the best!
2. Cleanser is applied to dry skin! Just Rub a small amount of gel or foam hands and gently rubbed into the skin before washing.
3. After the scrub wash your face first with warm, then cold water contrast. From such a treatment, the skin will shine, it becomes smooth and elastic.
4. Not three face with a towel. This contributes to the early appearance of wrinkles and other signs of aging. It is better to gently pat your skin or leave to dry naturally.
5. Moisturizing skin cream. This is the last and least, but perhaps the most important step. The correct Cream supports the natural moisture balance of the skin, prevents it from drying out, keeps the beauty and youth. Apply a thin layer of moisturizer to the face and neck and gently massage. To avoid premature aging of the skin, always make massage movements from the bottom up.

The skin condition, perhaps the first thing that draws the attention of everyone at first sight. "Natasha! - Shouts the guy the first name that came to mind. -Long time no see! We're sitting at a desk, remember? "She stops, and in the evening lamplight ... he sees his first love! Smooth velvet skin, beautiful face, the gleam in his eyes. What will happen next? You decide. Share this article with your friends, and let dreams come true, not only in fairy tales!

via takprosto cc