Rummage in the closet - this is a pleasant experience! You can always discover something quite unexpected: for example, the thing was looking for and she calmly slacking on the shelf. Now we have yet another exciting experience for those who like to explore her wardrobe: just read what is written on ordinary labels for clothing, and the mood will get better soon! The labels that you see was done by people with a great sense of humor. I would like to see the face of someone who has found in his closet like ...
1. Wash when soiled.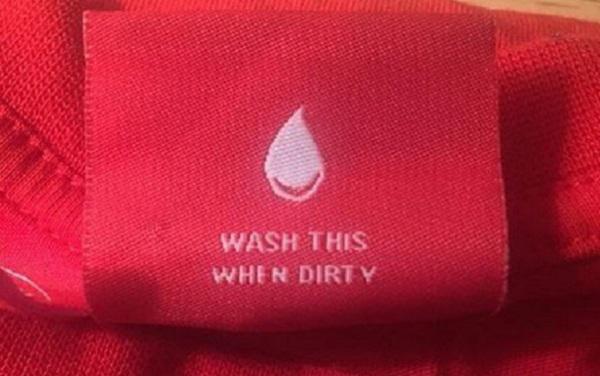 2. Wash in cold water. Do not tumble dry. Do not iron pattern. Do not spank pandas!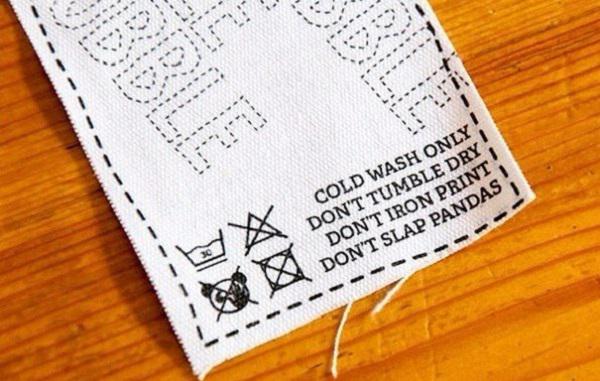 3. Wash in cold water. Use mode "gentle wash". Do not bleach. Drying vertically. Do not iron. Do not use dry cleaning. Do not wear in sumo wrestling.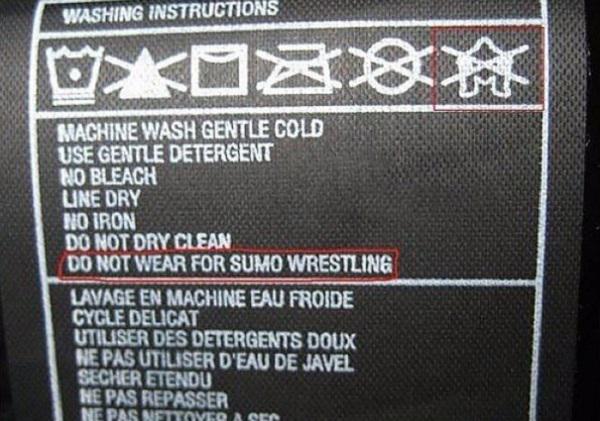 4. For best results: wash in cool water and dried at a low temperature, do not iron pattern. For the worst outcome: to push through a puddle, the thing tied to the car. Tumble dry on the trunk lid.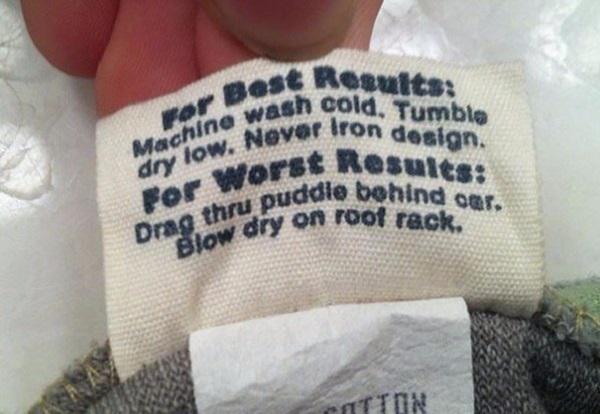 5. Very impressive, what you basically could not find this label!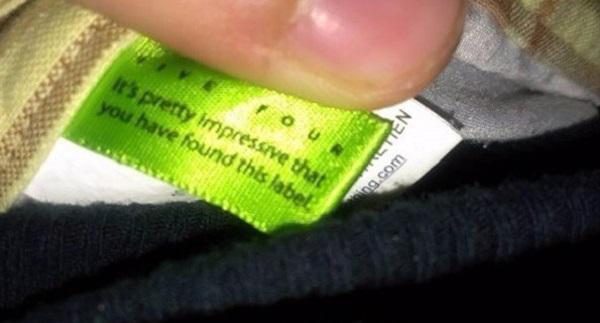 6. Hey! If you do not smile, looking at me, you got something wrong with the person. Consult your doctor. Otherwise, I put on and wear at home. I can be machine washed and tumble-dried, but I do not like hate ironing and bleaching. I am made of cotton and polyester 90/10, made in Mexico from materials imported from the United States.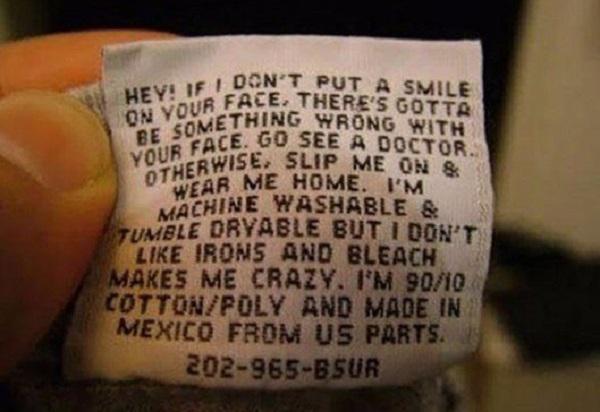 7. Wash in warm water, removing the item inside out. Use bleach without chlorine. Gentle spin. Do not iron. Do not use dry cleaning. Do not feed after midnight.




8. I always wear on a first date, and you will look stunning!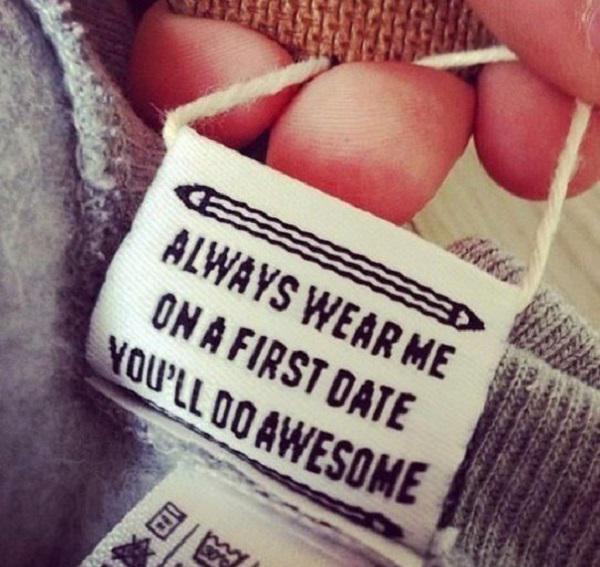 9. Wash separately from the dark things. Before washing, turn inside out. Do not iron pattern. Do not use bleach. Do not tumble dry. Made on Earth.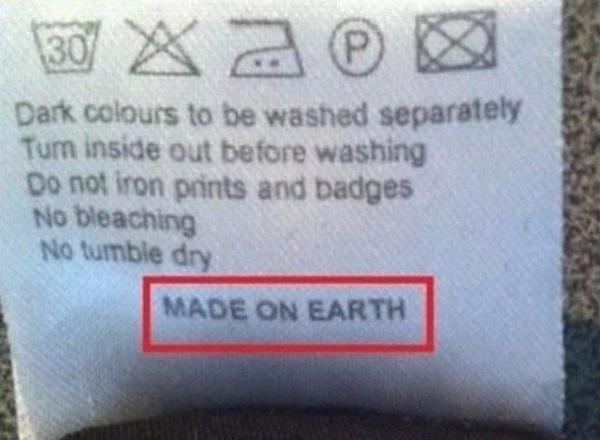 10. T-shirts have been tested on animals. Size proved unsuitable ...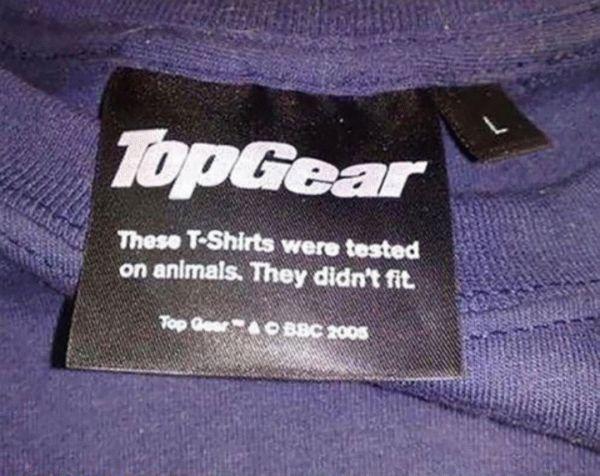 11. Warning! This lightning can pinch you something. BUTTONS carefully!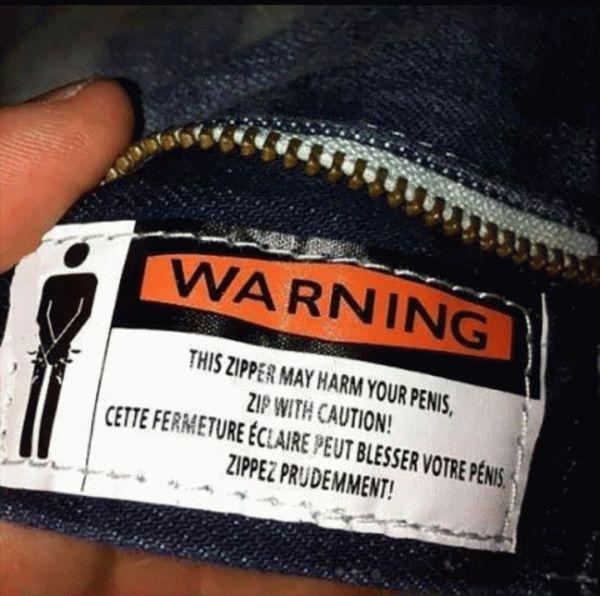 12. 100% cotton. Machine wash in cold water. Never so hot to take off his shirt. Do not be the guy.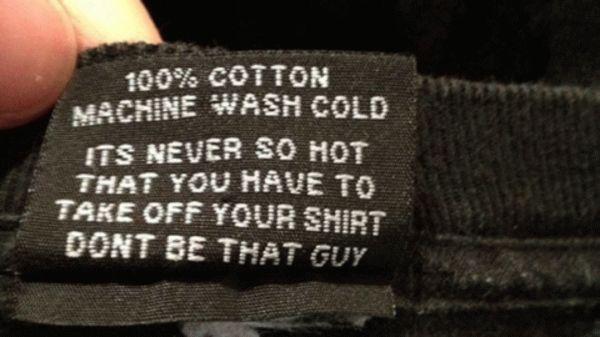 Hidden humorous messages on labels for clothes! That's what came creative producers. Some of these inscriptions pretty fun, although at first sight difficult to find in them something different. Give a smile to friends - show them these fun labels on clothes.

via takprosto cc