Balcony can be both a curse and a blessing because of any apartment. If you have a mess on the balcony immediately Solve this question! After the summer so I want to spend more time outdoors in a cozy place. Even on the small balcony, you can create a magnificent residence of comfort and beauty. One need only remember 7 important elements that determine how well will be there. Use these tricks to create a unique spiritual atmosphere, and you will be a place where you can relieve stress, to dream, read and talk to friends. On this magical balcony is always something to do!
1. The order!
Something lacking in many balconies ... Throw out old things, all the rubbish that is gathering dust on your balcony. If it is no longer - great! Consider that half the work is done.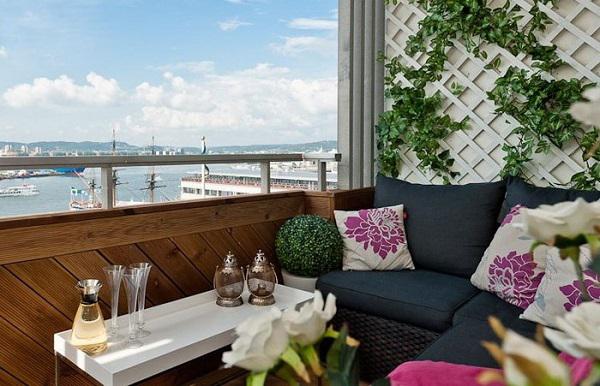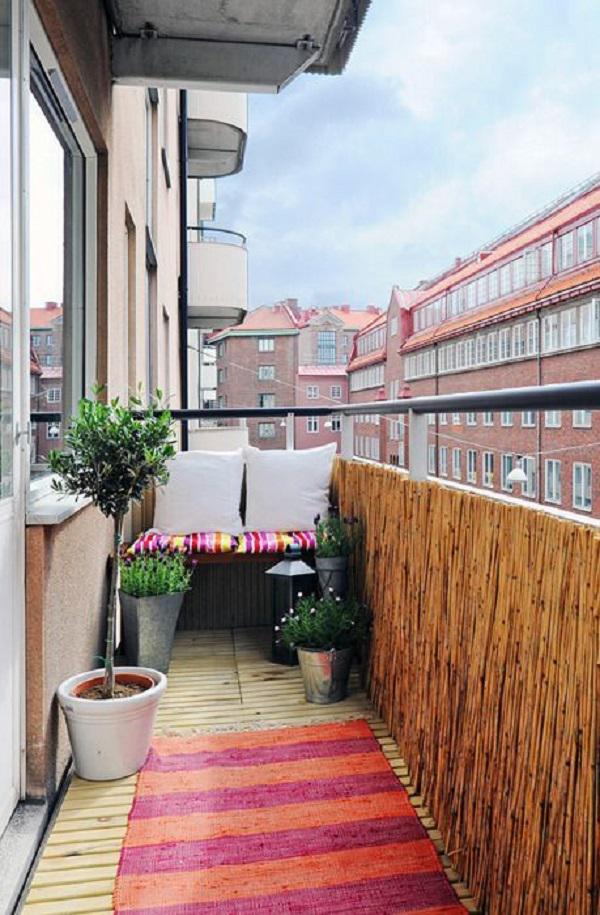 2. Tips for storage
Keep things with style! Carefully loop through everything again and make sure it's exactly the right things. Boxes on Wheels - super-duper idea for organizing things.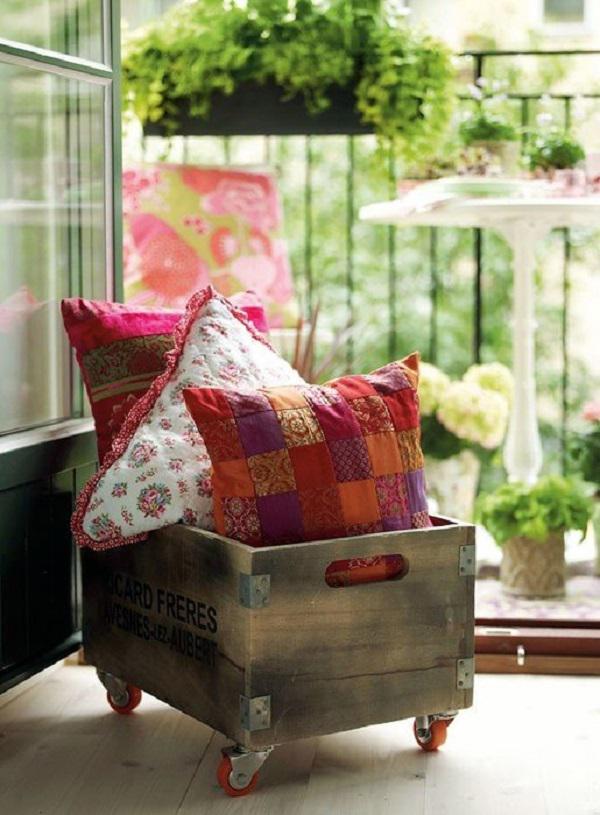 It is very convenient to store something under the seat is an incredible space savings.







Plastic containers, wicker baskets, old chests decorate the terrace and promote order on it.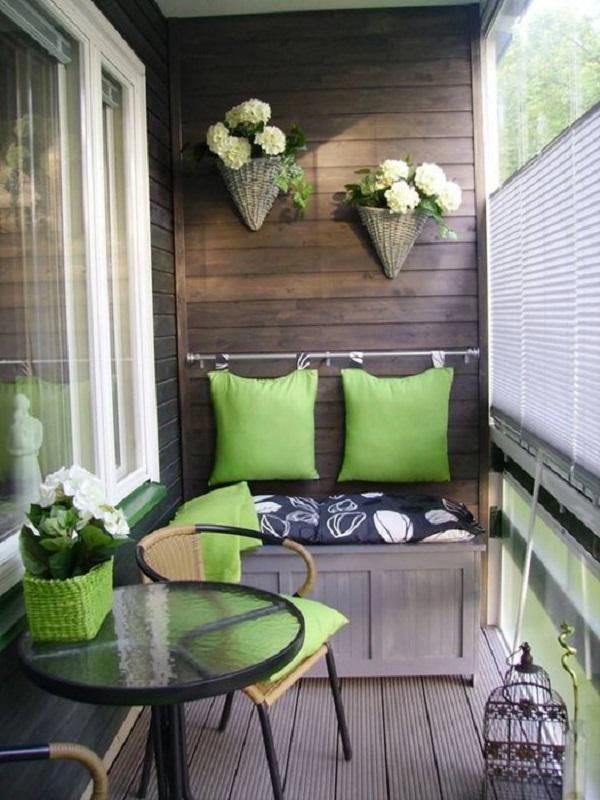 3. Warming of the floor
The wooden floor will solve the problem of cold feet on the balcony. But if you can not do this now, you can get out of a situation in a different way ...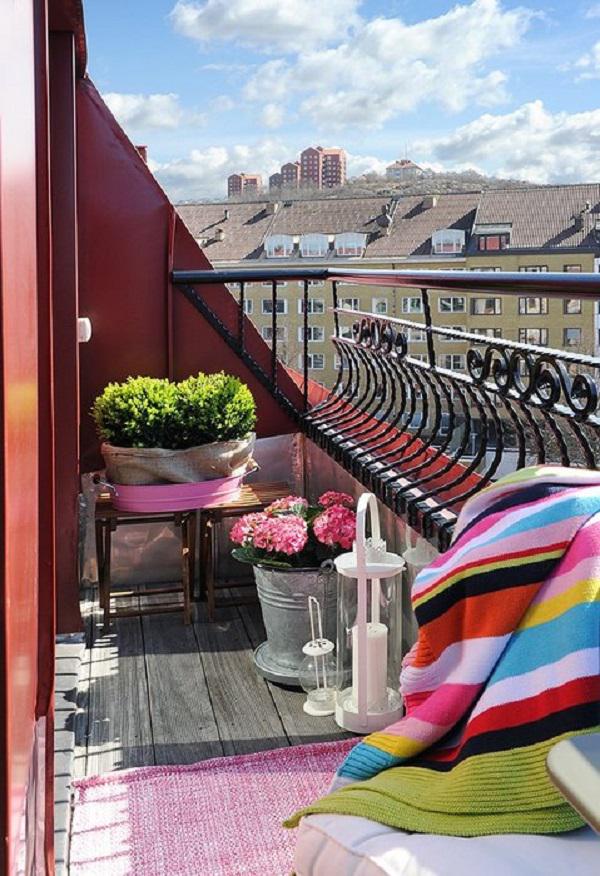 Carpets and rugs - bright variants of warming on the balcony.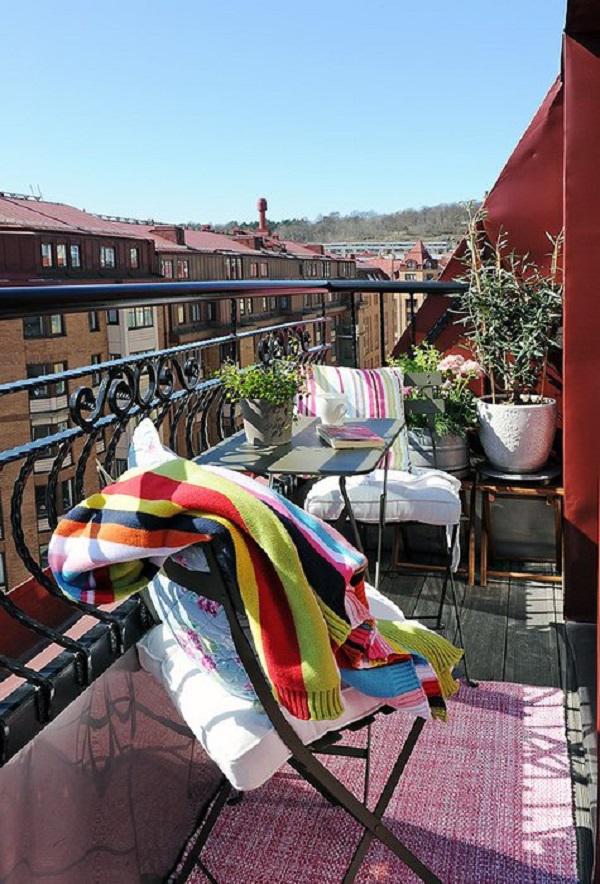 You can lay on top of the additional linoleum floor balcony and spread out mats in several layers.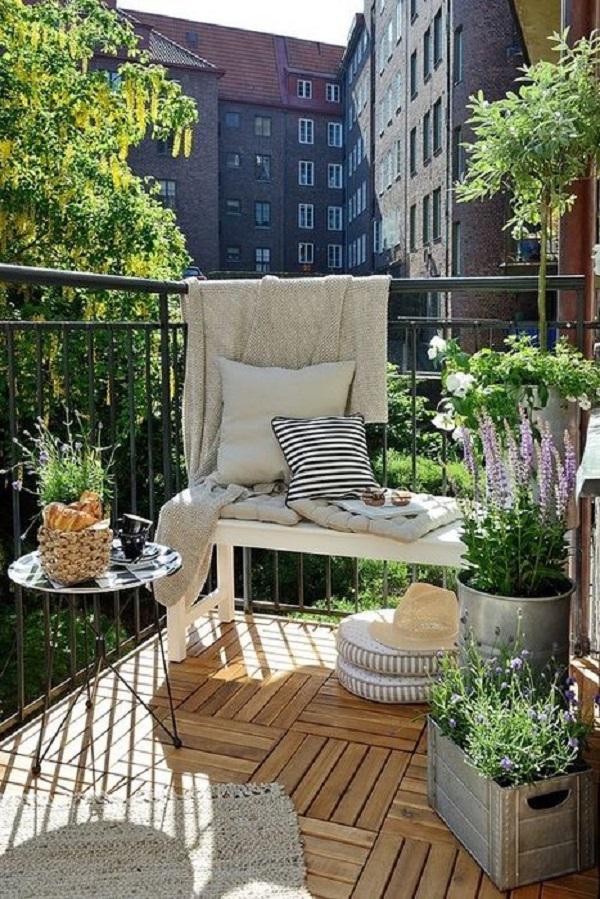 Floor covering, similar to fresh grass! The heat is even a cool summer evening ... And it looks delicious.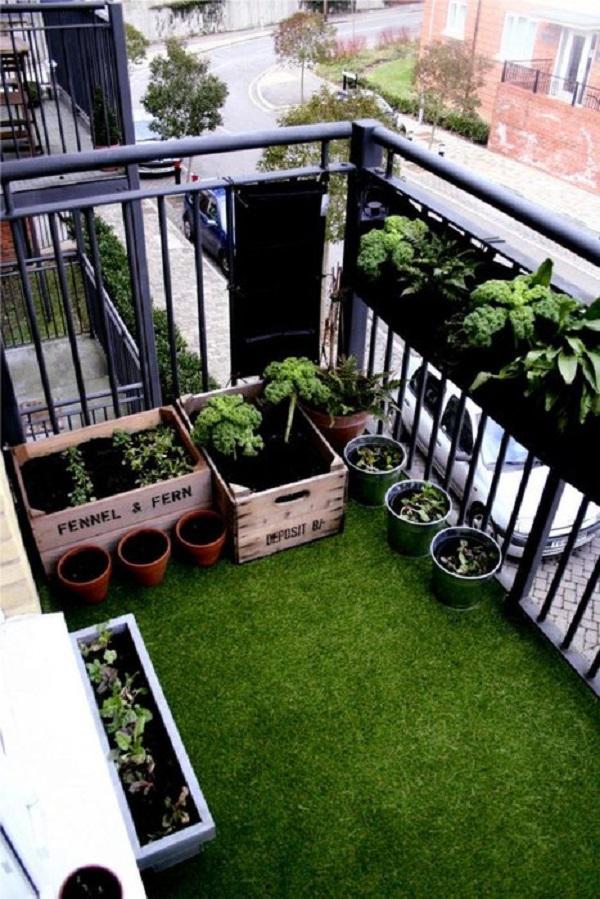 4. Special furniture
Balcony suitable for compact furniture from wear-resistant materials. Suspended table - a miracle!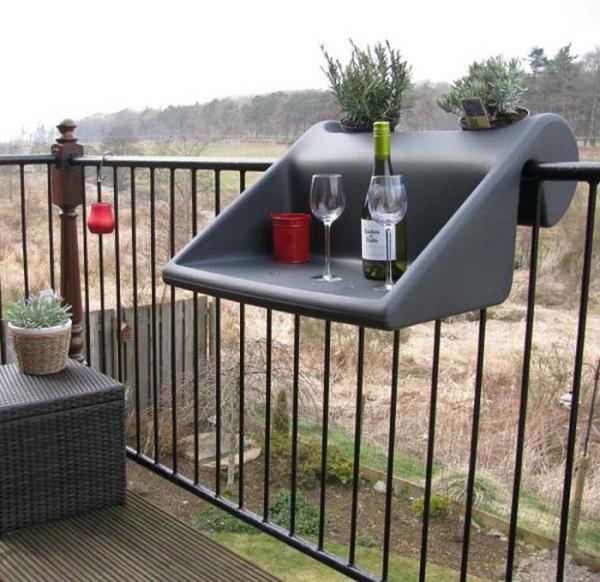 Folding shelves, tables, folding chairs - there are many options of furniture, as if specially created for the balcony.






Coffee table, relevant to the balcony: swings like a table in a train. Wooden furniture always looks atmospheric!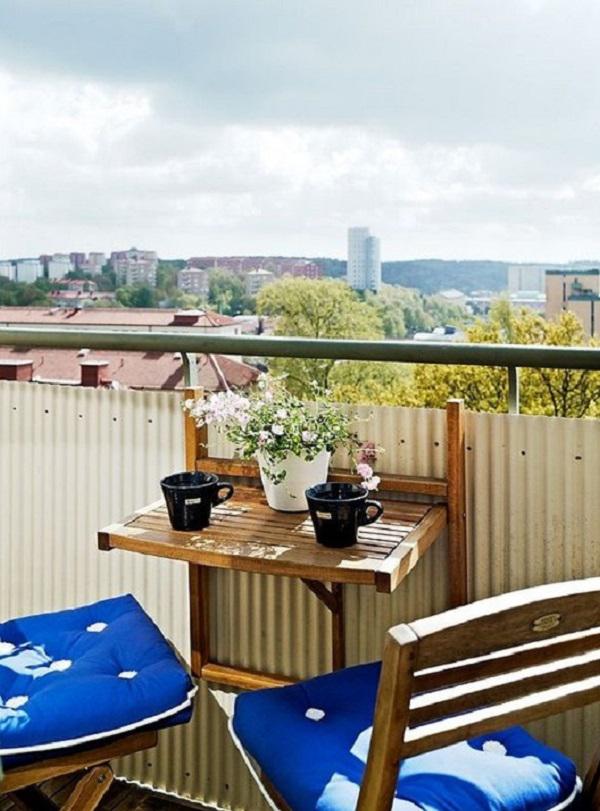 Furniture that you can fold and unfold - the value of every home. Pick up this set, you will solve a lot of problems with guest accommodation. And metal furniture is very durable!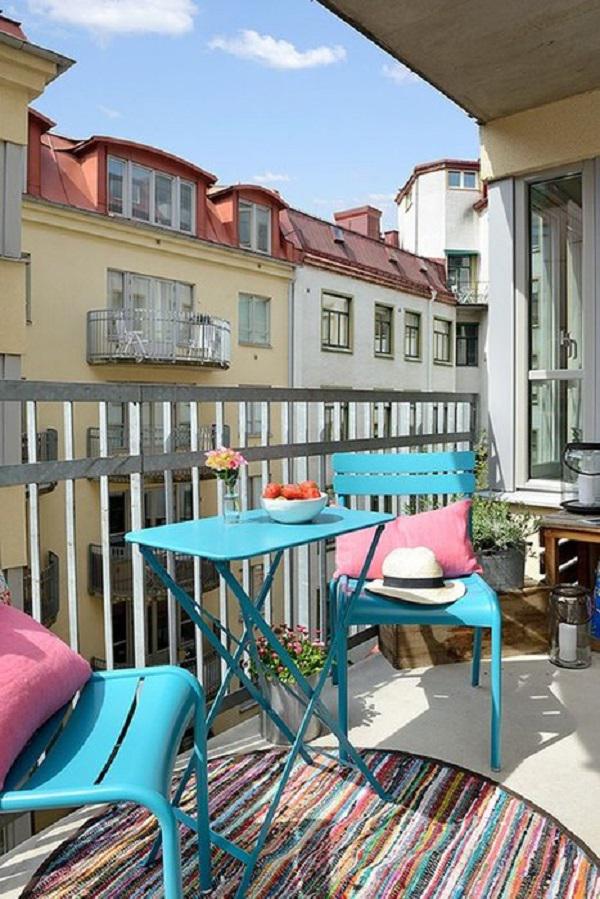 Wicker chair. How about a rocking chair on the balcony?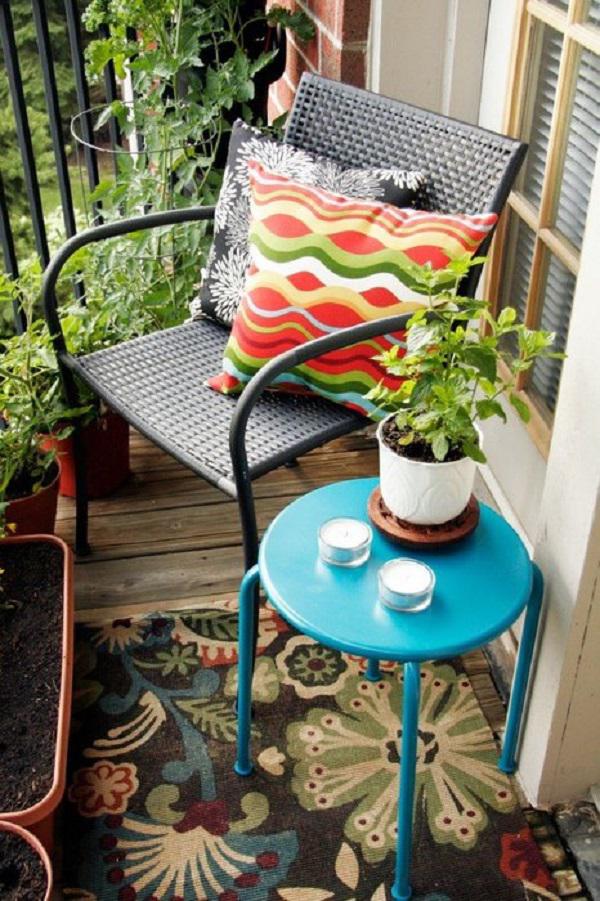 The hammock is so convenient for a vacation! Resist the temptation to hang out there not everyone can. A good idea for a gift to a friend for a housewarming party - the hammock.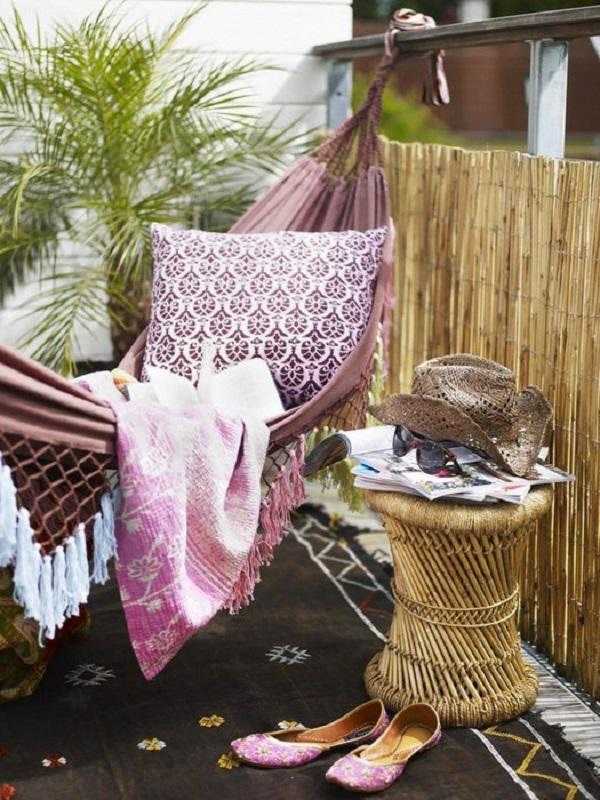 Suspended swing chair on the balcony!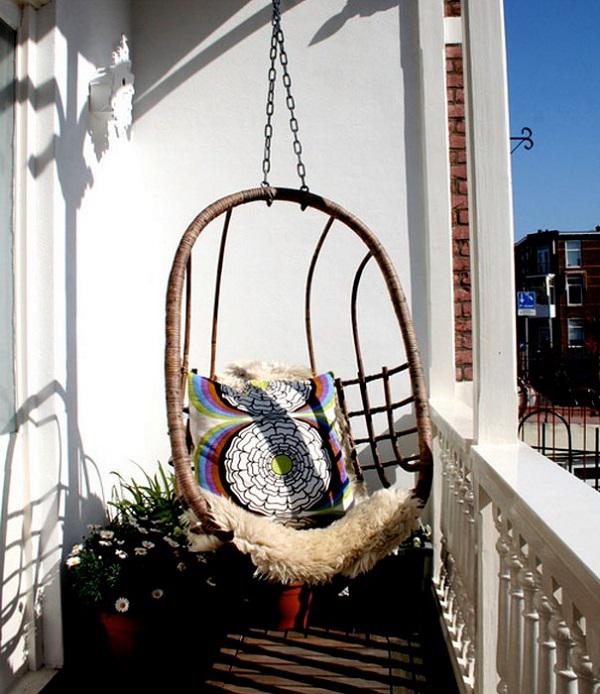 5. Plants
Flowers transform space. Choose plants for your liking, it is desirable - not very demanding weather conditions. Please you on the balcony they will be a long time - from early spring to late fall!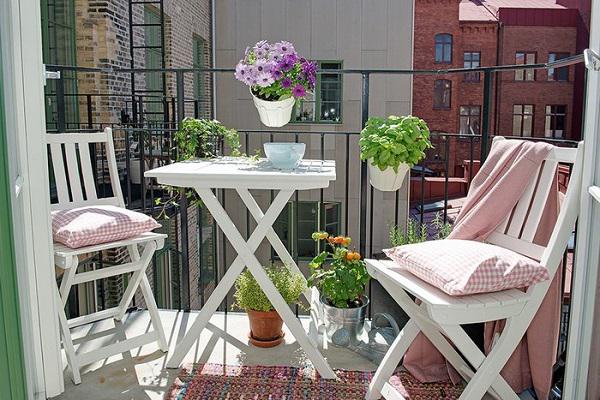 Someone likes to surround himself with a riot of colors ...






And someone - flowers in a minimalist style ...






Multi-colored hanging pots. The main thing that it was in harmony!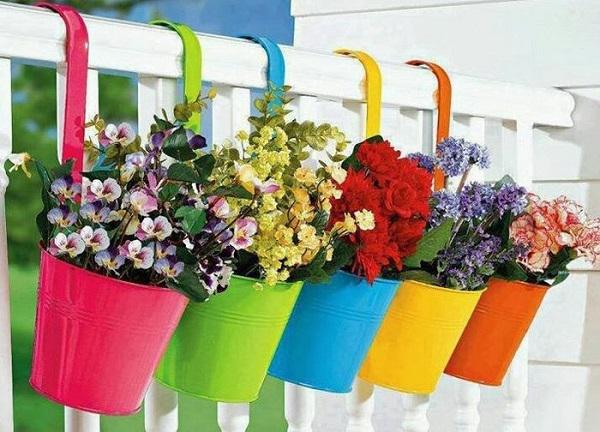 Tin cans as pots for plants.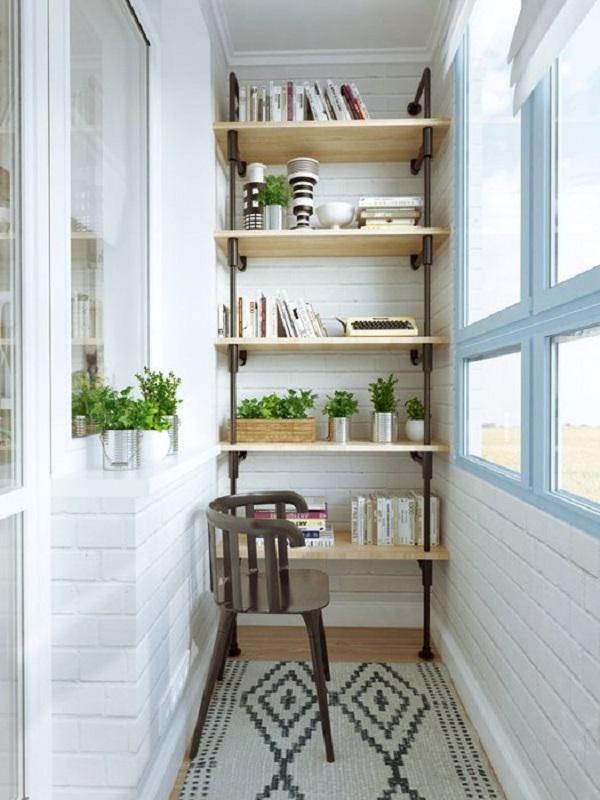 These are wall pots - my dream.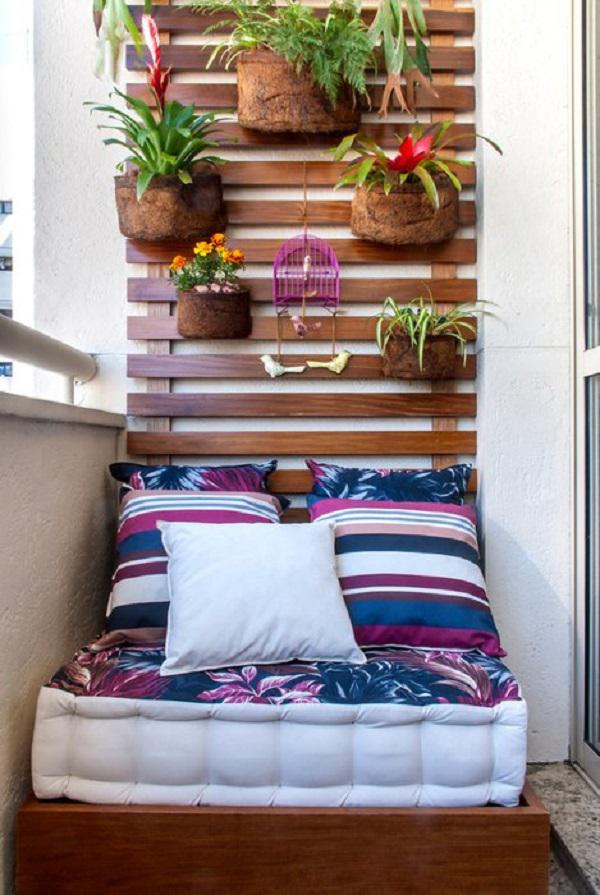 6. More comfort!
Pillows and blankets never enough when it comes to balconies. These cozy details like absolutely everything!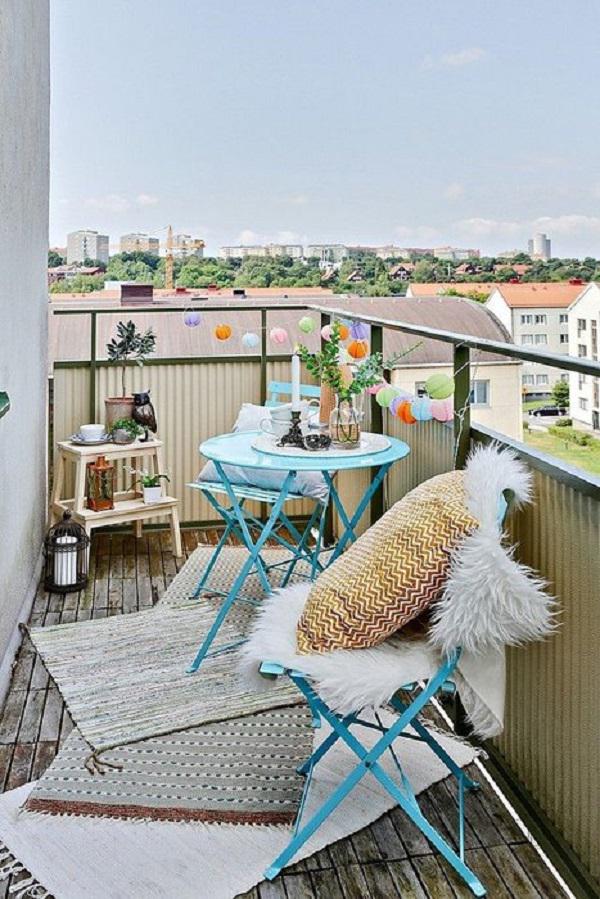 Pillows with dry grass inside - an idea for a comfortable seat on the balcony.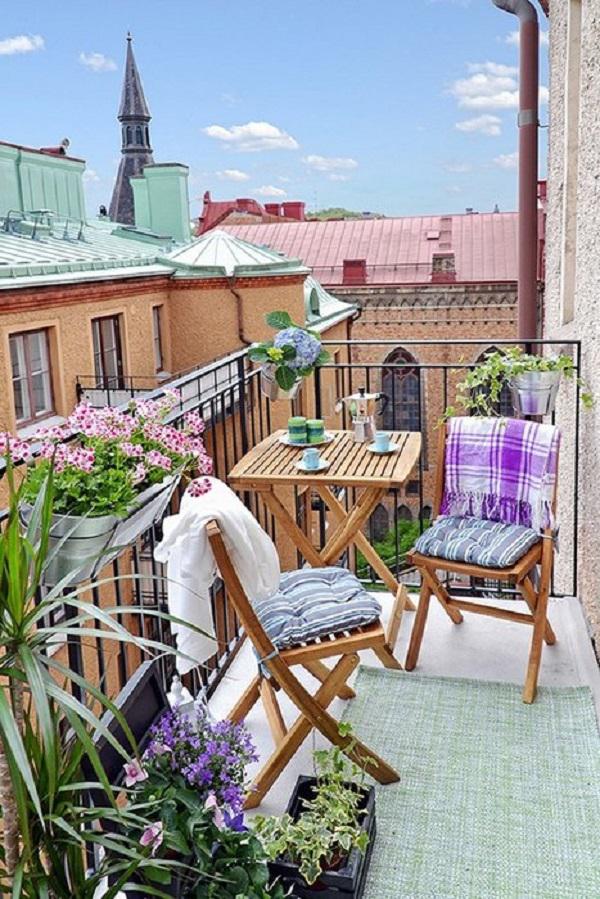 Using silk and other unusual fabrics can completely change the mood of a balcony.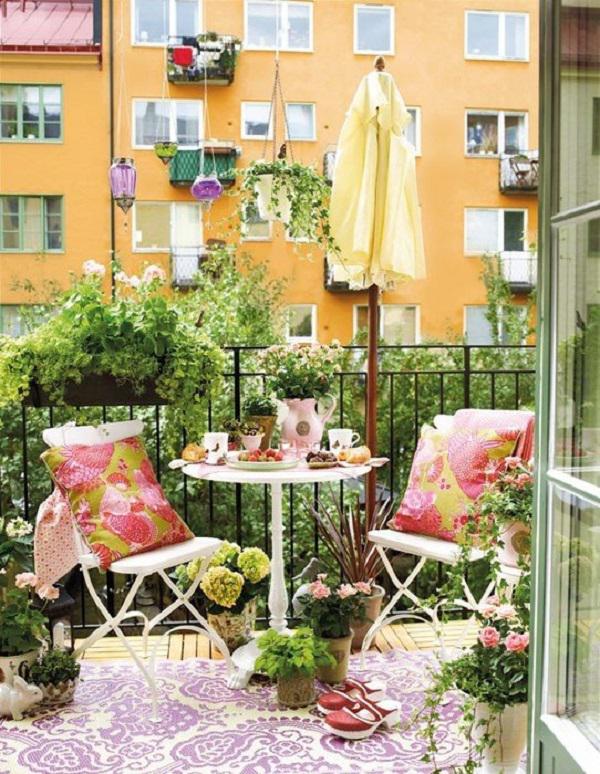 The place for two ...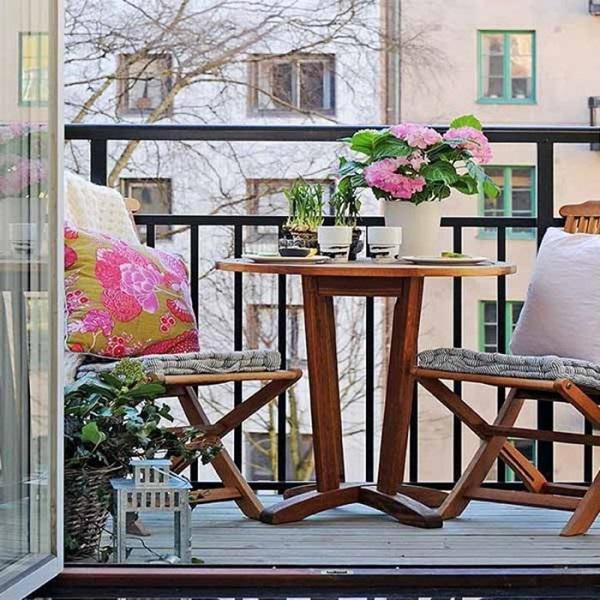 Installation - a powerful tool to make the balcony more interesting. Several items are successfully combined with each other, can be looked as a whole. It looks well thought out and is remembered to anyone who has visited at least once like a balcony. In a place you want to return ...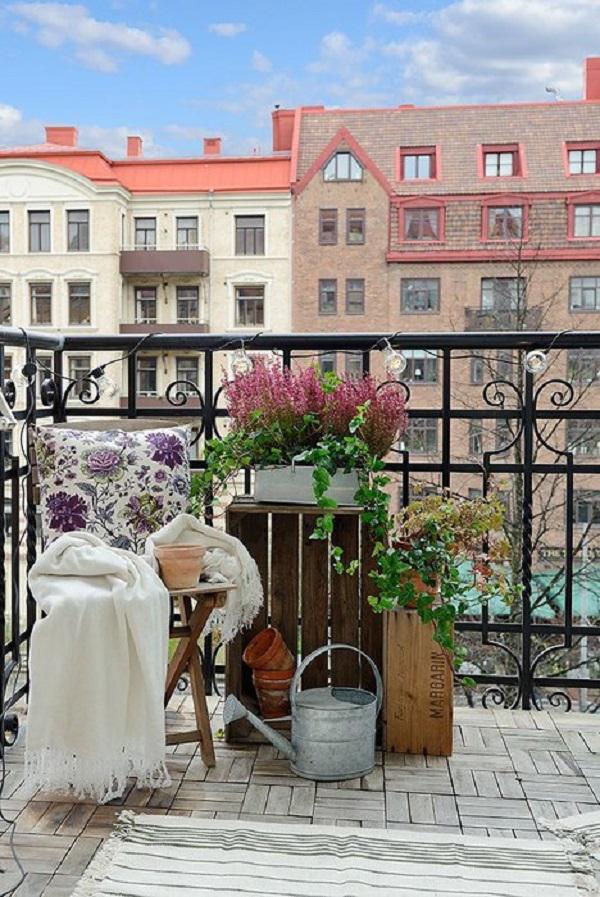 7. Light!
And what about the lighting? Garland - a brilliant solution.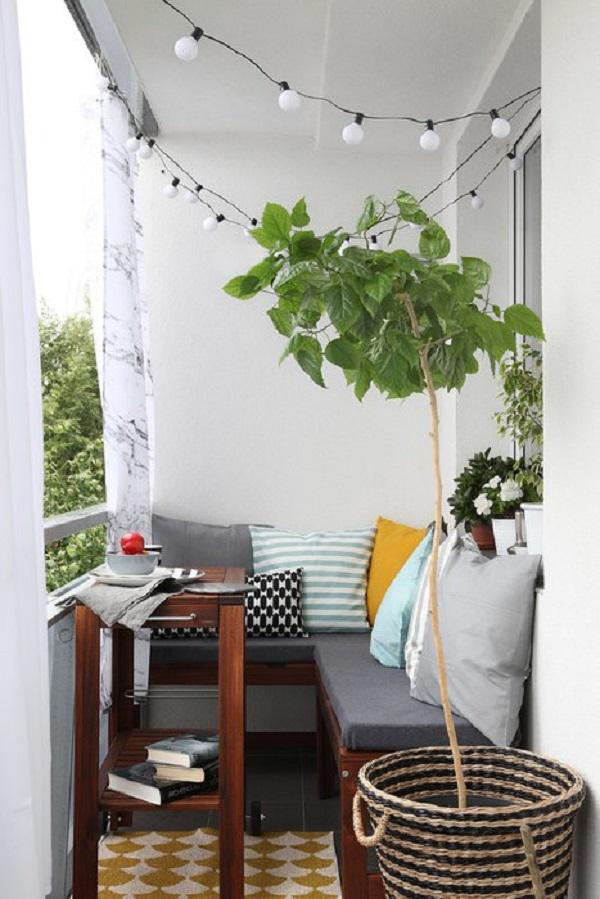 Candles in the intricate candlesticks are very well suited for the balcony. The more, the better!






Overhead lights and white umbrella. How can you not fall to thinking?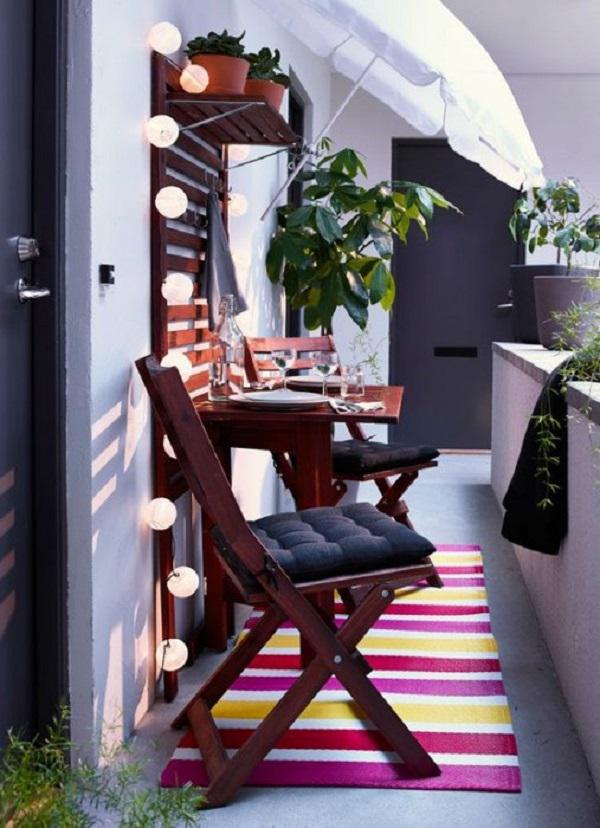 Choose the best ideas for your balcony! A place where you can relax from everyday life and get some fresh air, so well suited for recuperation. Worked on her balcony as it should, and soon friends will compose legends about him!

via takprosto cc