Its small garden is worthy of any home. Though it's not the Royal gardens, and only a small piece of Paradise on your balcony, still better places to relax and unwind, not think.
Here are some ideas that will surely inspire you to create such beauty.Climbing plants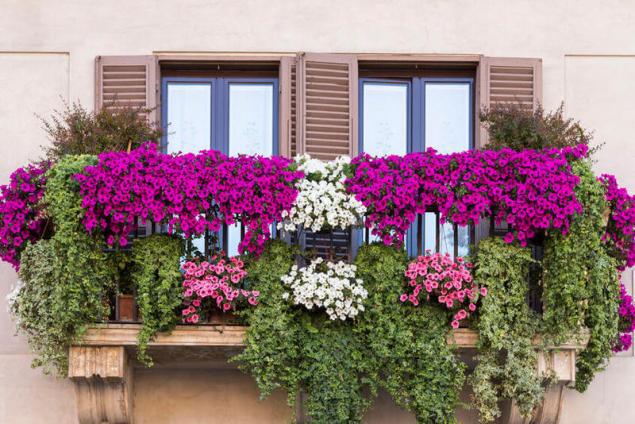 If you want the balcony to look beautiful not only inside, but outside, it is best to choose climbing plants. They will create the impression that you live in the grove somewhere in the South. And passers-by will be pleased, and you.  
Garden in pots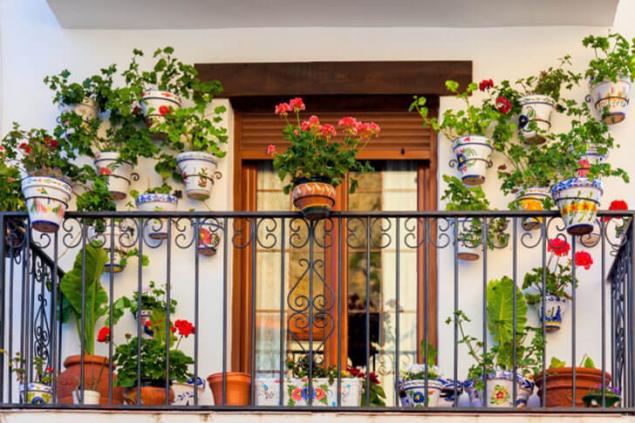 If you have a small balcony and no desire to spend money on the garden beds, ordinary flower pots will help to create a flourishing area. You can rearrange some of the plants from the room to the balcony. You can also grow aromatic and spicy herbs. To attach pots to walls and railings, use special holders and thick wire.  
Window sills with beautiful compositions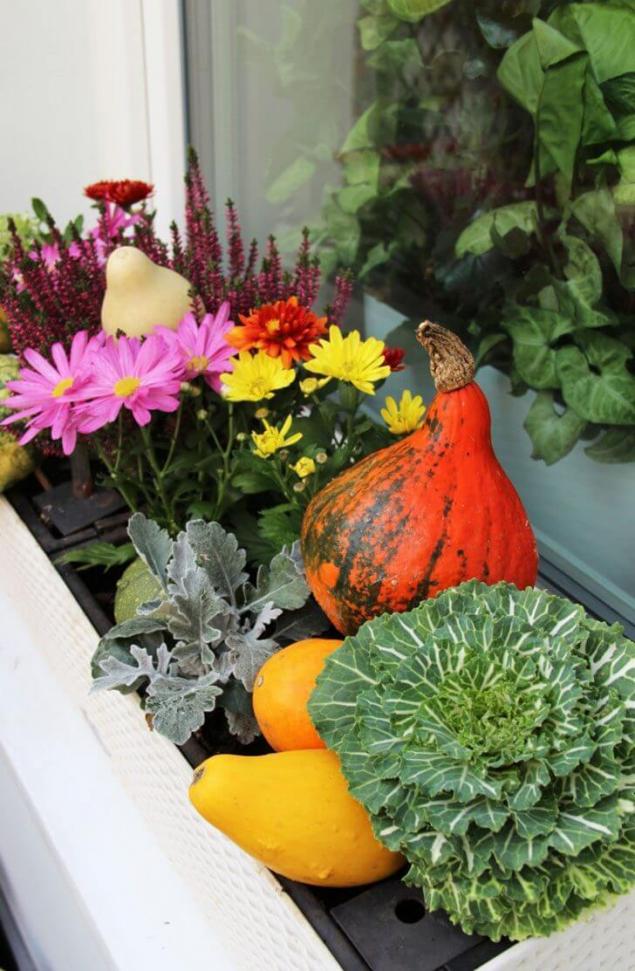 Window sills — a rather convenient place to put complex floral compositions. To make the flowers look more original, add something unusual, such as pumpkin or artificial fruit.  
Pots, reminiscent of a vacation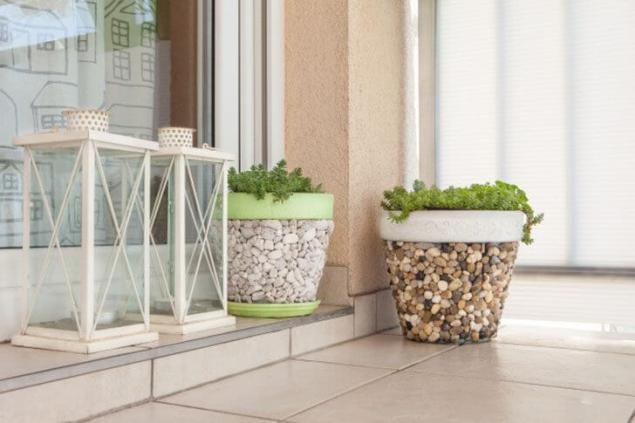 A bit of large pebbles and stones you brought back from vacation, can transform a boring flower pots. Make your balcony a Mediterranean resort!  
Large plants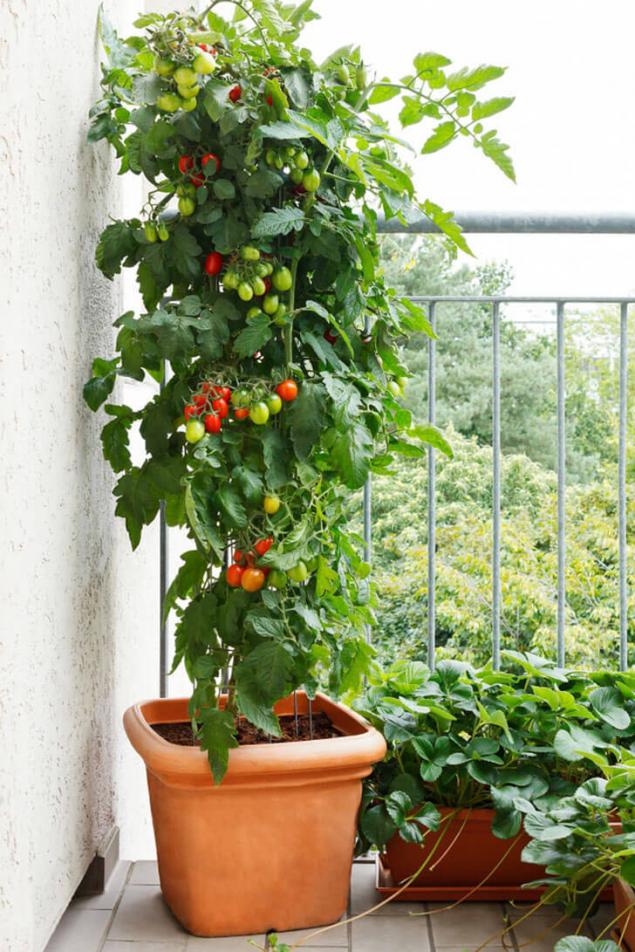 Large plant in a tub on the balcony is a great way to create the feeling of the garden. Even the smallest balcony will be lighter and more comfortable. Choose any plant that can be grown in your temperature conditions. Now under it can be a good idea to get a Cup of tea.  
Floating plants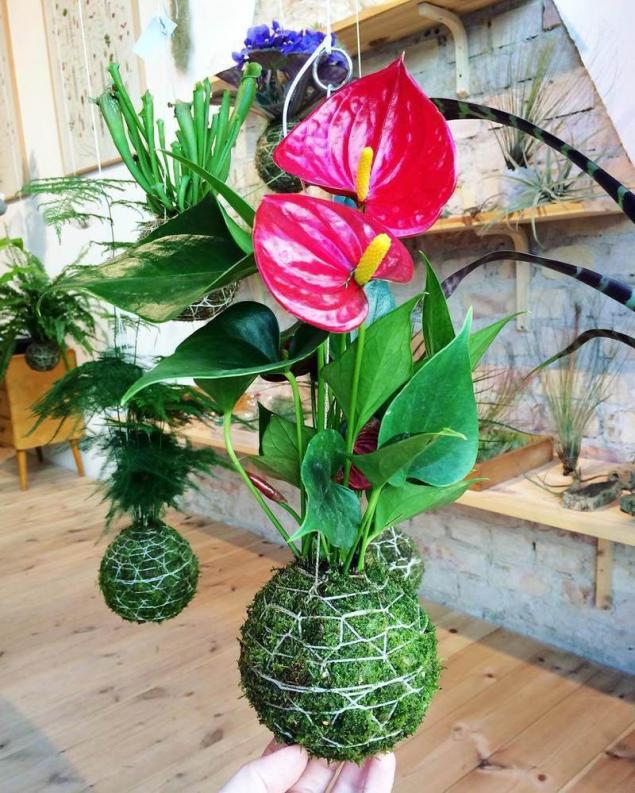 Even plants can fly. To teach them to do it, you can buy special equipment in garden centres. For example, jute and moss that you can use instead of flower pots. They do not release moisture and give the plants all the essential for growth. With this technology it is possible to suspend plants of any size on wall, under ceiling and on the railing of the balcony.  
Wicker baskets
A great way to give your garden the charm of Provence! Wicker baskets and planters of all shapes create a cozy atmosphere. The main thing — that between the dumpster and the soil was a plastic pot or a breathable film.  
Small kitchen garden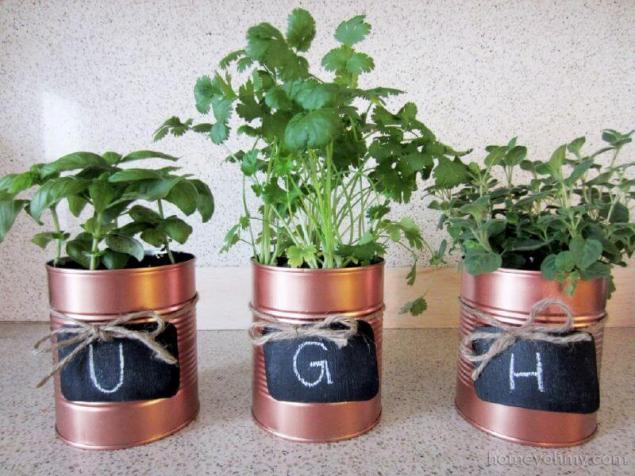 Even if you have a small balcony, there is certainly a place for a mini-garden with edible plants. You can also grow herbs to add to meals or drinks in metal cans. Hang them on the wall or simply place on the floor or on shelves for plants.  
Vertical garden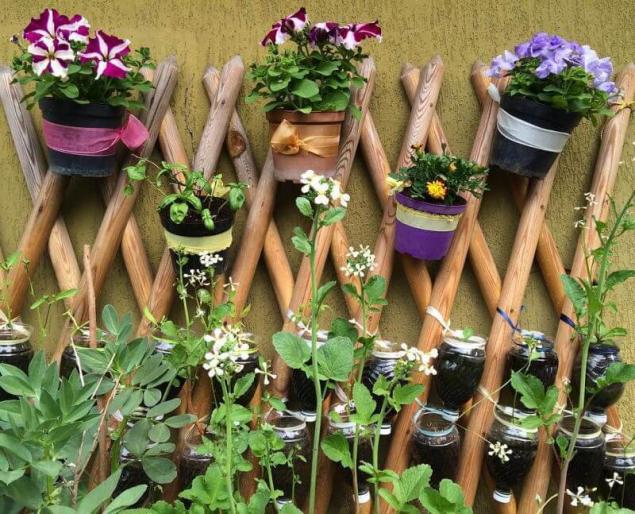 If you try, it is possible to arrange on one wall grid, overgrown plants. Use slats or bamboo sticks to hang the plants are planted in high pots or even plastic bottles.  
The tureen is not only for soup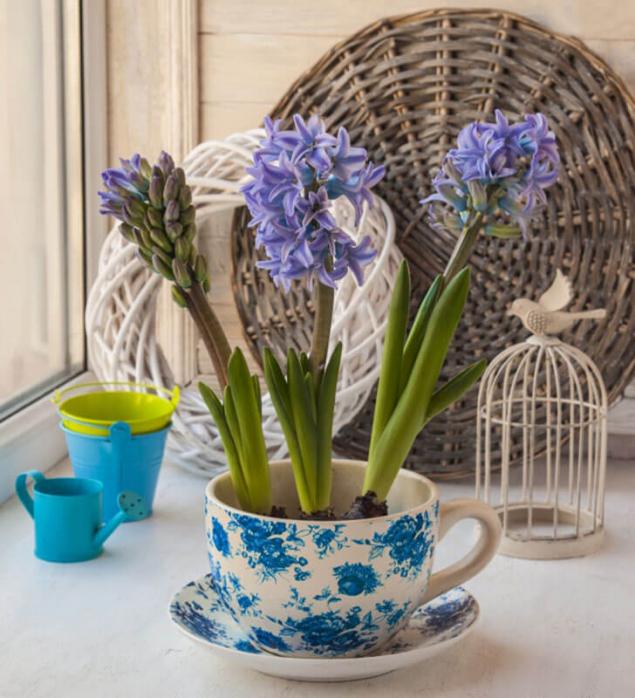 A regular bowl of soup can be useful in your little garden project. Violets and other small plants and grass will look great.  
Living area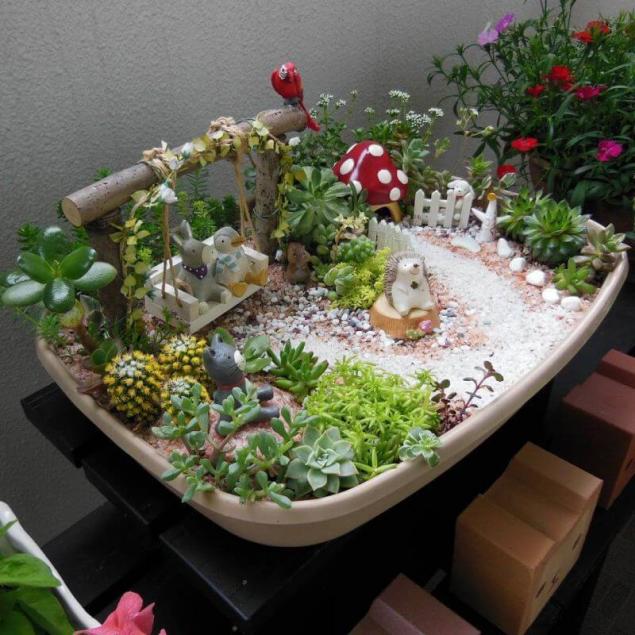 For those who don't like ordinary plants, but like green balconies, such installations are ideal. A simple plastic box, and unassuming cactus can become a beautiful composition for a mini-garden. Figures and stones will add to the charm.  
Old furniture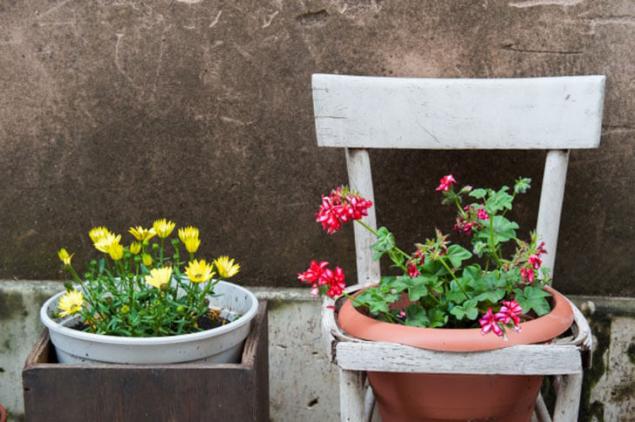 Do not rush to throw away old furniture, if you have a balcony. Broken shelves, old dresser, and even a rickety chair can be a great supports for plants in your mini garden.  
Tin pail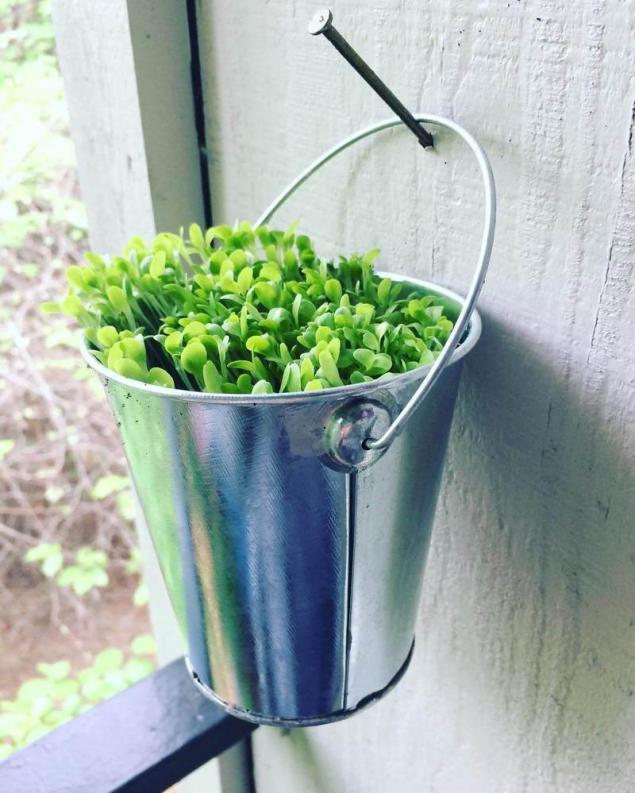 A simple tin bucket can become a pot for climbing plants and add to your garden a bit of originality.  
Rubber boots for your favorite Petunia
These old rubber boots — the perfect place for planting plants that like moisture. This pot will not release moisture and at the same time, it would be nice to get some air. In addition, it looks beautiful and unusual.  
Kettle — not just for tea parties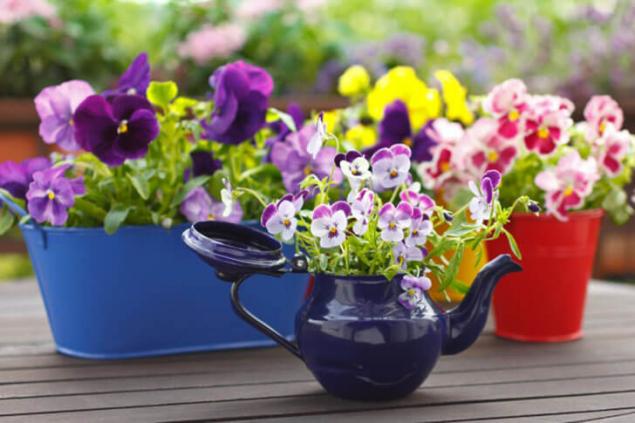 In the house often accumulated an unimaginable number of kettles of different shapes and sizes, which are not used for its intended purpose. It's time to make them flower pots!  
Stand from the wooden pallet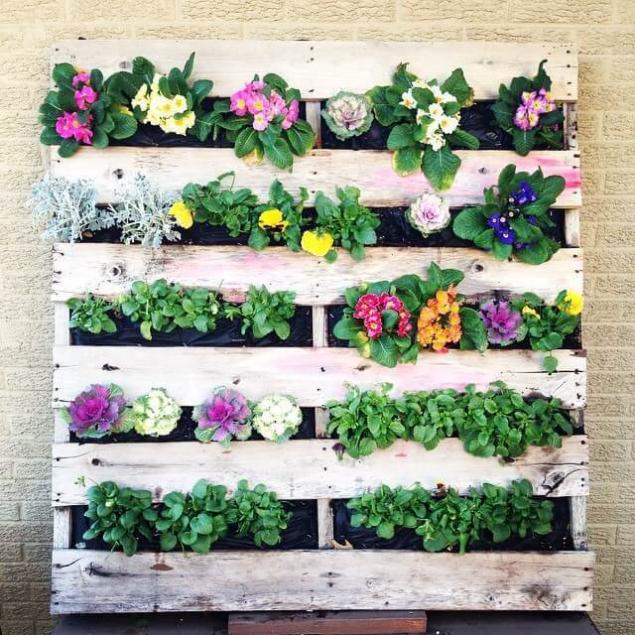 Now pallets are widely used in garden design. On the balcony one can build a tiered stand for small plants and herbs. Original, simple and cheap.  
Almost a real grass beneath your feet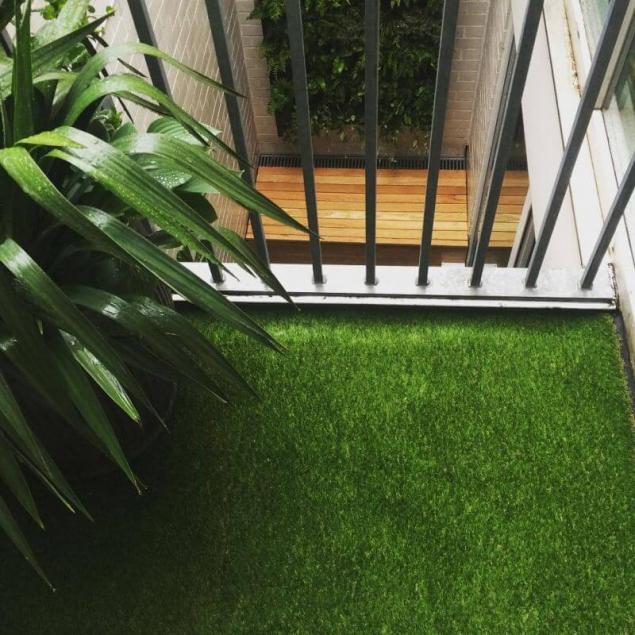 If you want your small garden looked like a real rural idyll, you can cover the floor with artificial turf. Depending on the glazed balcony you have or not, you can choose plastic or textile lawn.  
Also interesting: How to settle in a rented apartment: 10 tips How to care for pandanus in the home
Best decoration for garden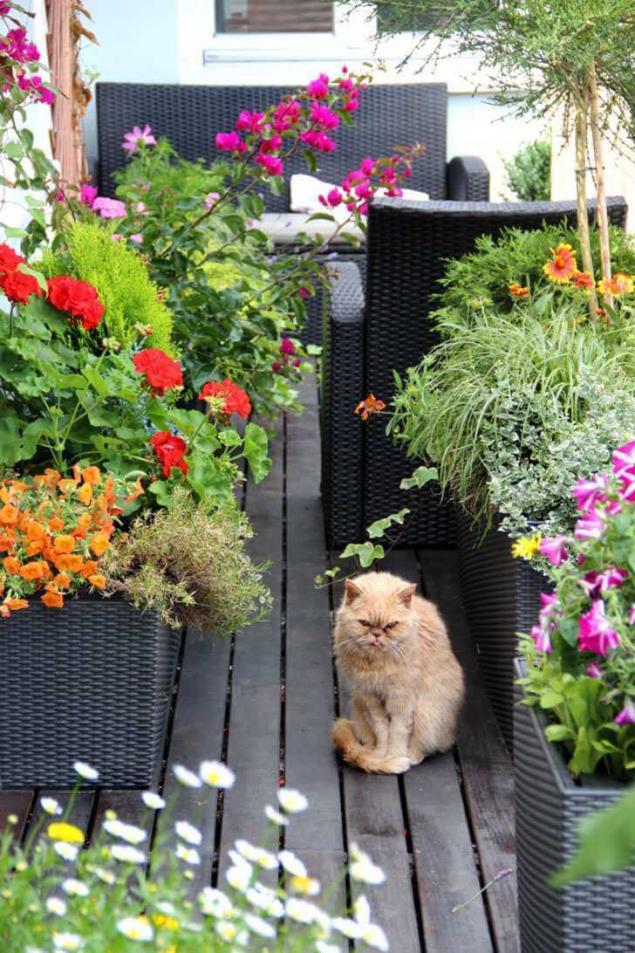 Can you imagine the garden on the balcony without your beloved pet? Cats just love the beauty of flowers and butterflies. The main thing — not to allow the pet to turn the garden into a place for active play.published  
P. S. And remember, only by changing their consumption — together we change the world! ©
Source: bigpicture.ru/?p=777719