Today, August 16, in honor of the World Day for the protection of stray animals presents a selection of the most heartbreaking stories of rescue stray dogs that touched you deeply.
Millions of volunteers from shelters and protection of animals around the world every day are making a lot of effort to help the homeless, hurt fate chetverolapym find a home and loving owners. Many of those living on the street earlier, the dogs had to endure not a little grief. This day is an opportunity to go to the nearest animal shelter and get yourself a new furry friend, who is so in need of your love and care.
Rasta ​​b>
This poor guy was found on the streets of Montreal. He looked so hideous that it is difficult to understand if it was a dog or a dirty, useless lump of fur. Because of matted hair, he could barely move. But look what he is now a charming. Just do not take the eye!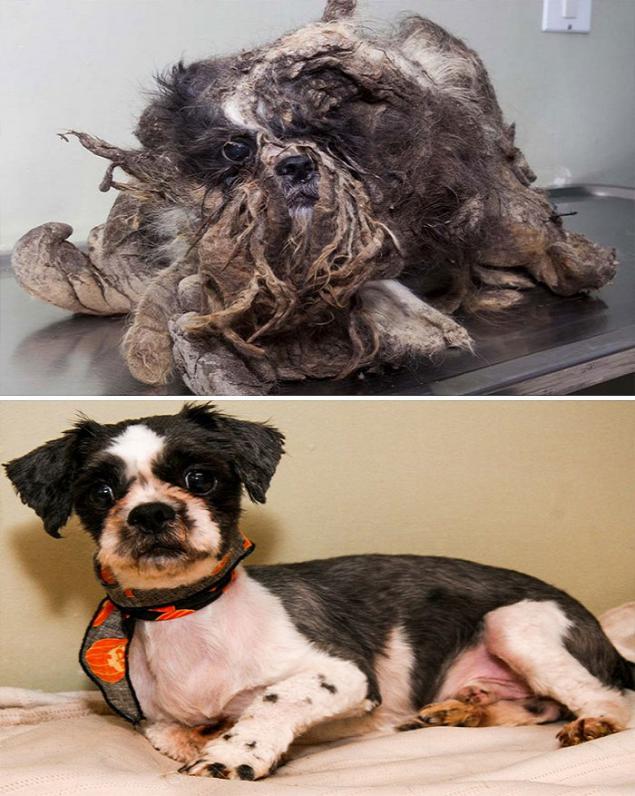 Photo: Quebec Society for Protection Of Animals

Miley
Earlier Miley lived near landfills, besides, the dog was badly injured and could barely move. Now Miley is healthy and happy. She lives in a new home with her new loving family.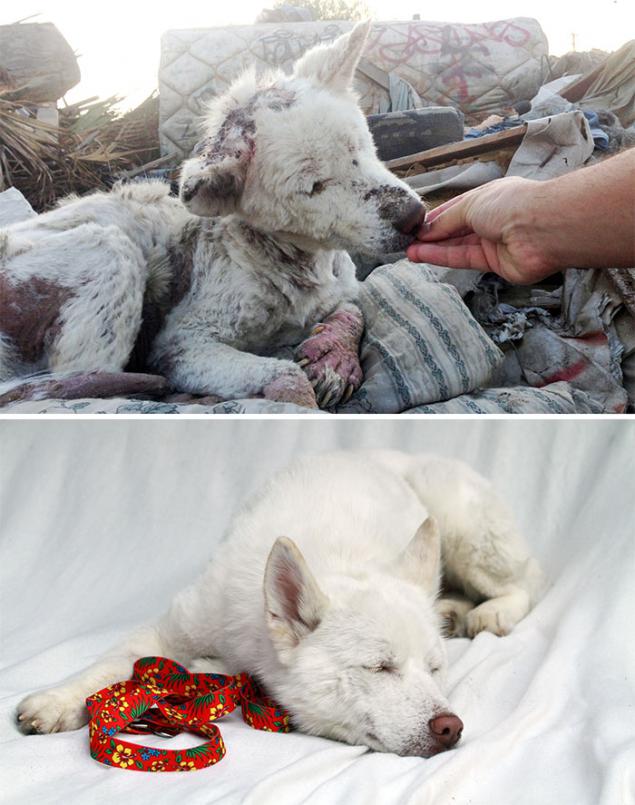 Photo: Frank Bruynbroek

Kenzie
This Cocker came out in one of the shelters in San Antonio. Its former owners charged with cruelty to animals. Now Kensi looks quite different. This proves once again that the love, care and a warm bath can work wonders!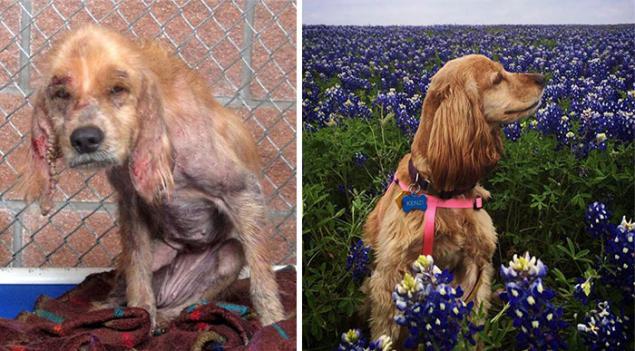 Photo: One Picture Saves a Life

Ellen
Volunteers from the organization providing assistance to stray animals, discovered the creature, resembling a small dog in one of the public shelters. The coat of the dog was so confused and heavy, that the roots have begun to form a wound. Fortunately, the workers managed to transform the animal shelter. They saved the dog from her excessive burden - sostrigla all tangled with the wool mats. Now the 2-year-old girl is completely ready for the new life.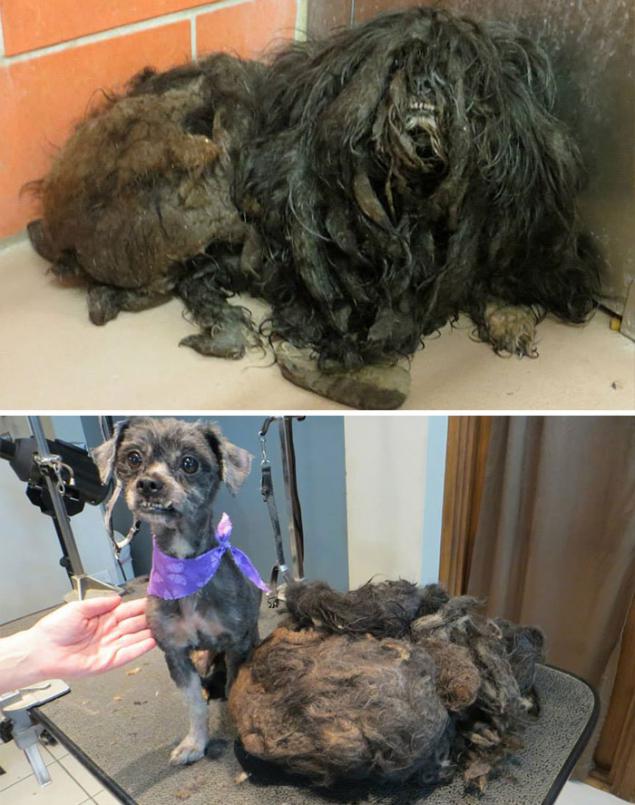 Photo: Trio Animal Foundation

Dolly
One woman saw that little poodle that ate out of garbage cans in Los Angeles. She was taken to a center called 'Hope for Chetyrehlapyh. " With the love and care of those who care, this baby was again nice and fluffy.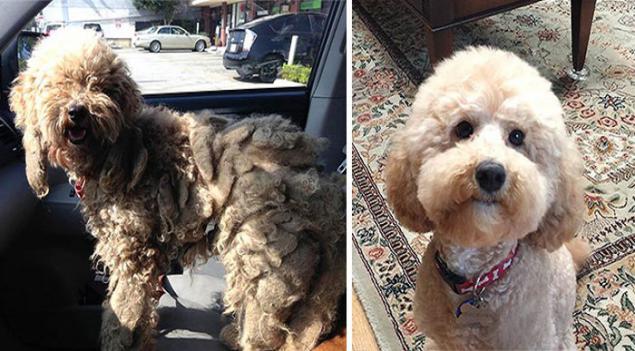 Photo: One Picture Saves a Life

Theo
The former owners, Theo just left him to live on the street, where he spent about a year until the volunteers center "Hope for Chetyrehlapyh" not found and rescued him.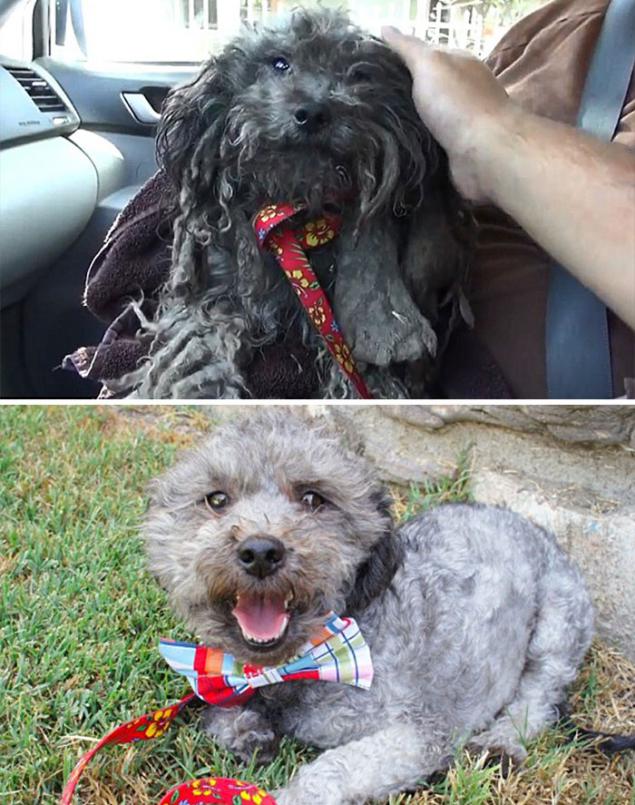 Photo: Annie Hart

Little Betty
Little Betty was also ejected the former owners on the street. Concerned rescued the poor thing. Changed, it is now completely ready to look for new loving owners.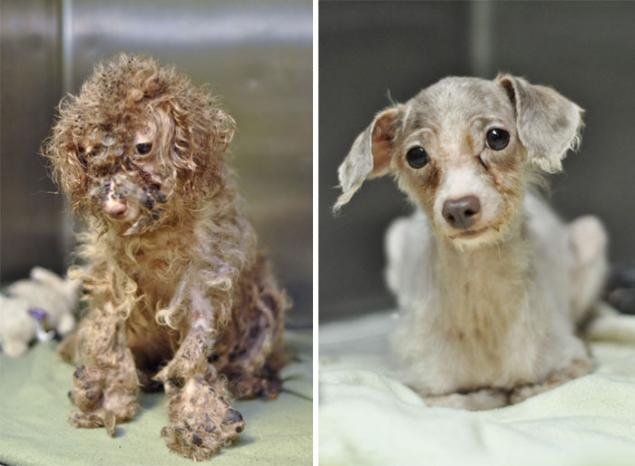 Photo: One Picture Saves a Life

Woody
Woody left on the street after his master died. The dog was scared. He hid and did not admit to himself one in a few months. Rescuers, who found the dog, found that the dog was blind in one eye. In spite of the fear, he still gave up a good lifeguard.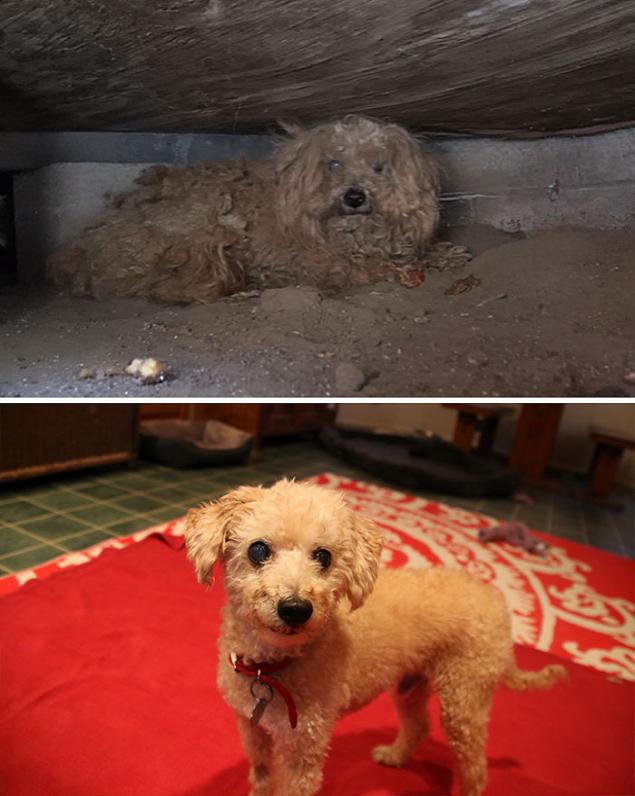 Photo: Hope For Paws)

Treasure
Treasure, 2-year-old purebred miniature poodle-girl, lived a long time on the sidelines and not once fell under the wheels of cars. But once a good driver who just could not pass by, took her to a nearby animal protection center. Caring vets out of her, and now this treasure can shine again and bring joy to the new owners.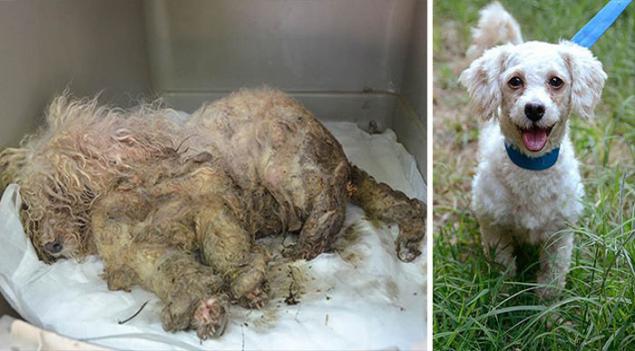 Photo: One Picture Saves a Life

Alan
When Alan came to the shelter, the first thing vets shaved off her hair tangled and dirty. After the haircut could hardly assume that it was the same dog. It turned out that Alan was much younger than the first elements predpolagalt shelter workers. Dog rescue failed to find a permanent home.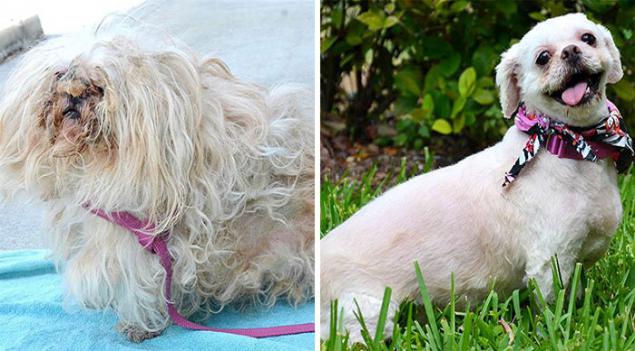 Photo: One Picture Saves a Life

Boo
Wool Boo, who has long lived in the landfill, was completely soaked with urine and feces. After he was taken to the center of rescue stray animals in Florida, the state of the baby has improved: it weighs 2 kg and 8 looks delicious!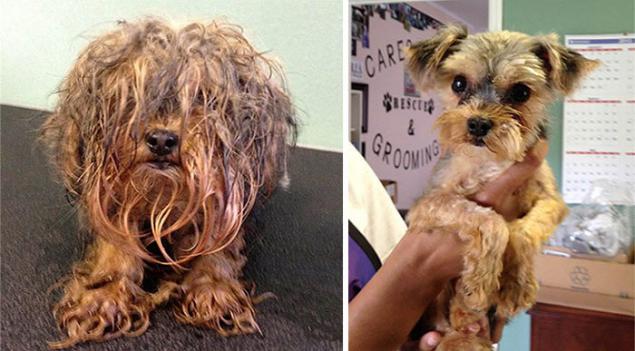 Photo: One Picture Saves a Life

Iggy
This poor man found half dead in Mexico. He had a severe eye infection. Someone caring posted photos and stories of Iggy on Facebook. People were touched, and many donated money for the transportation of dogs in the United States for medical treatment. Now it's hard to believe, but Iggy is alive and well. You can hardly find in this playful PSE former Iggy.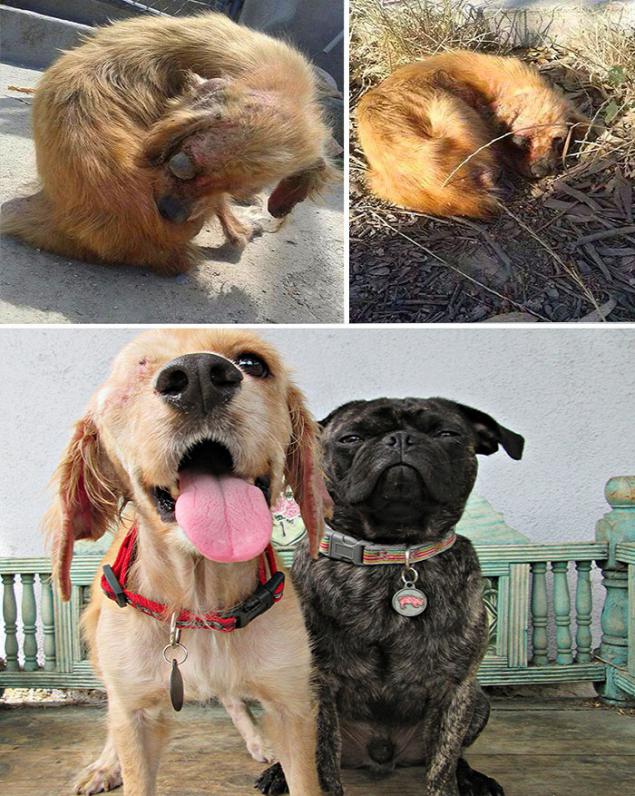 Photo: Eldad Hagar

Vita ​​b>
Die of hunger Vita found in a landfill in an area of ​​Los Angeles. Volunteers needed a month to help with nursing care and nutrition, give the dog noavyu life.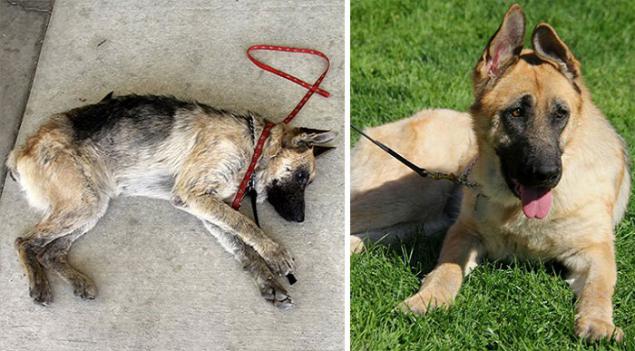 Photo: One Picture Saves a Life

Cedar
Cedar was named to honor the golf course, where he was waiting for a potential host. The dog has long lived on the street. From suffering stress from Cedar climbed sherst.Iz He left the hide and bones. But now the dog has found a new caring family and lives a happy and carefree life.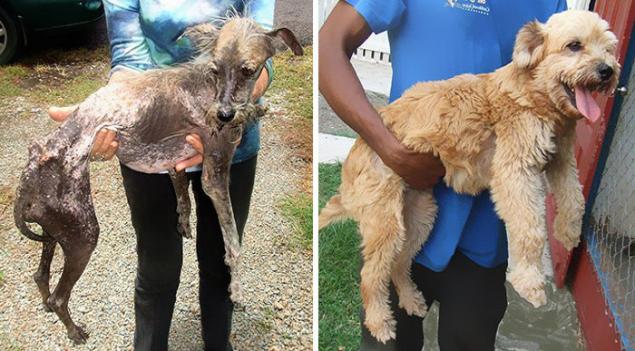 Photo: Paaws Antigua

Olivia
This is a photo of Olivia in the day when she was taken from the shelter to its new owner. And it is a year after the rescue. The incredible transformation !.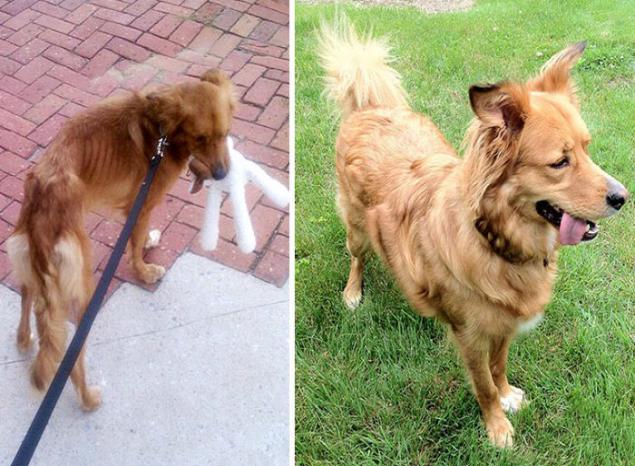 Photo: Imgur

Shrek
Shrek was found barely alive. His feet were covered with sores, and hair was plastered with mud. No one could see what kind of dog. After a wonderful transformation turned out to be a 6-year maltipu. Shrek soon found a loving home.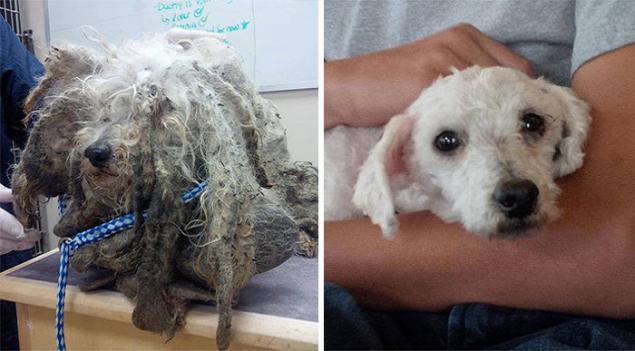 Photo: Park Road Veterinary Clinic

Incredibly, only love can heal and care for those wronged by fate dogs. Miraculous transformation! Share these touch the heart and soul stories with friends.

www.boredpanda.com/before-and-after-rescued-dogs/