It ended in the summer and the kids went to school. I do not envy them, because the first training days are always complicated for children. More recently, they enjoyed every minute of your favorite pores, and now have to study, study and study again. Well, if the students have received only positive emotions from their planned vacations. Otherwise, it gnaws granite science they will be more reluctant.
And share your emotions will help them first standard reference at the beginning of the school year - to write an essay on the topic "How I spent my summer vacation." This test not only for children but also for teachers, who have to check by "masterpieces". I would like to see the reaction of the teachers, check the following creations.
1.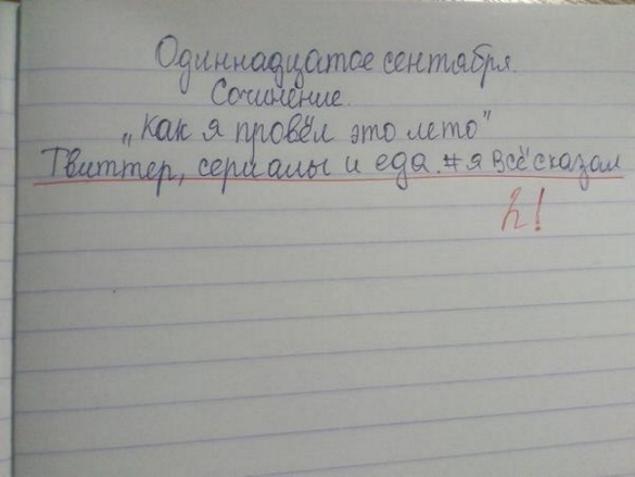 2.
«We have finished studying in May and began a vacation. So began the summer. I do not understand why everyone is talking about that summer begins only on 1 June, as is already hot. Young aunt dress themselves very little clothing to uncles, my dad, it was interesting to look at them. June 1 - Children's Day celebration. On this day, my mother baked tasty pies I, but I ate two of ice cream. I have a sore throat, so the cakes I have not liked. I ate only one. They have a lot of fun joking and laughing in the kitchen while I was watching television with his mother, but then my mother said that she got sick. She, too, went to the kitchen, where he first joked and laughed with everyone and then suddenly started screaming at Dad. And they quarreled again and drove guests. The next day, Dad went to work somewhere. I do not really understand why, because he has always worked in the same place, and my mother said that it will not take anywhere else. And pies I also did not get, they ate them all in the evening ... Then came August was colder. He began to rain, and often felt sad ... We went to the Black Sea city of Cochi, in a holiday home. There we first drank juice and bathed. And then my mother with her when we went to the beach, met some fun people. And once the pope agreed to go to the beach with Aunt Tanya. She was also very funny and also lived in a rest home, Dad was very friendly with her, but somehow hide it from my mother. Mom said she wanted to take a walk with my dad, too, and then Dad sent me to tell Aunt Tanya, that he could not walk with her. Strange, because if they had walked three, it would be less swearing. I went to her, but she did not open for a long time, and when the door opened, it was not Aunt Tanya, and his uncle Glory, each Pope with whom he also met at the rest house and drank wine with him. When I told about this strange case of the Pope, he said that his uncle Slava goat and is no longer friends with him. And then the summer was coming to an end and I was sad that will soon have to go into town and go to school there. The school is very boring and have to get there early. And all began to tell me that summer is over and I have to go to school, but why? They must have teased me since have seen that I have spoiled the mood of their words. And then we went home. Dad bought a train in three delicious ice cream. One for me and one for my mother, and the third for themselves, but they again began to swear, so I ate all three. So I became ill with angina. » I>

3.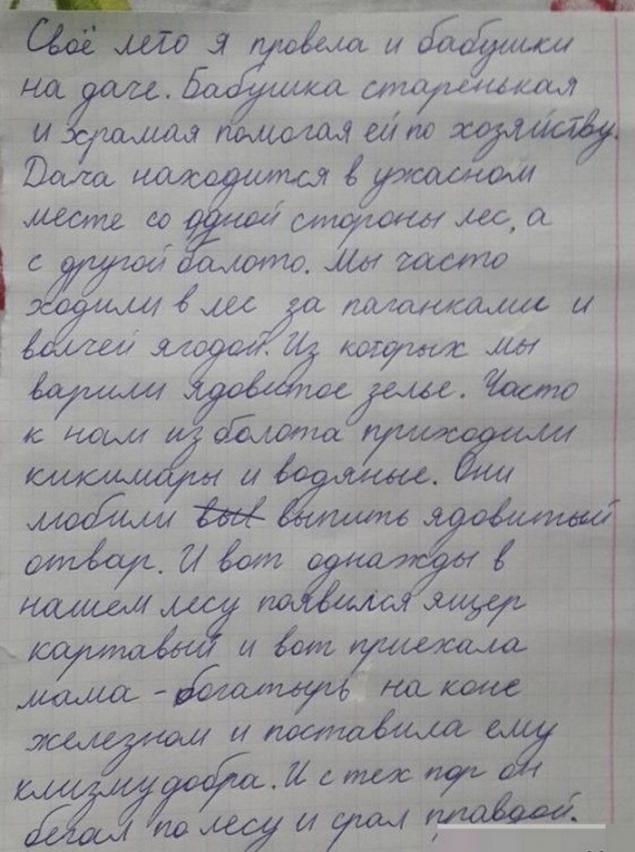 4. «This year, 2014, my parents decided to have a rest. From me. And they sent me for three months in a sanatorium "Pioneer". In the three months! If I knew it! I have never been alone for so long, for himself did not answer. And referred me where and Lermontov. General we have with him only a patronymic - Yu, he was passing in the Lazarev, adults, talented. I - stuck, child, and the most common. The 3,000 km from home, but three hundred meters from the sea, three hundred children, one hundred adults. I saw the sea twice a month, the children there basically inadequate, or I'm not well educated. Circles do not. Boring. All of the children are sitting in the mainly tablets, phones. Detachment "Romantic" We were forty people. For the "herd" of one punished the entire squad. We went to a mountain stream, it's so cold! And the sea is warm, all jellyfish, but you can swim. The heat, the stuffiness, but there were thunderstorms. Even in the resort got a lightning. And when it's time to go home and do the rains began. In the train I sat wet. Century will be remembered what it means to a sanatorium for three months! God forbid! » I>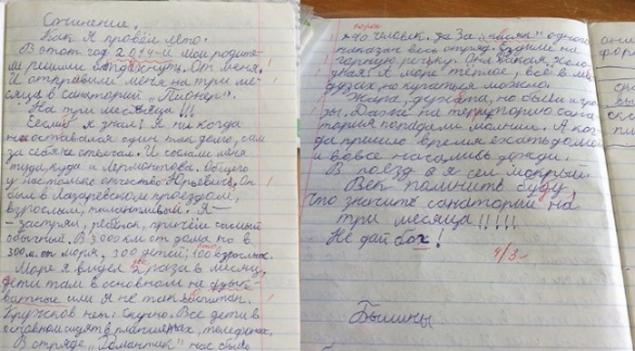 5. At the All-Russian competition of works "How I Spent My Summer" won the boy from Vorkuta. His work consisted of two words: "In the snow».

6.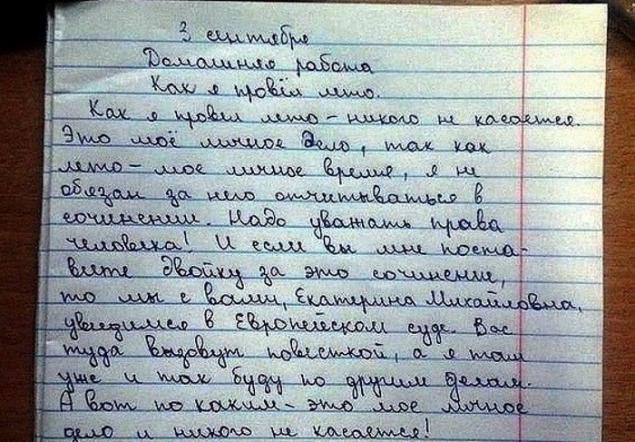 7. And still wanted to recall an episode in the theme of "Jumble»:



We wish the students and their parents a lot of effort and patience. Do not worry, not yet one summer ahead! The next year, I believe, will remember and what to write. Cheer their friends by sharing a selection of works of the summer - even if they nostalgically recall his childhood love for the holidays!

via ofigenno cc