You do not know what else to surprise your child, because he seems to have seen it? With such a problem, in fact, it is facing a lot of parents worldwide. Moreover, every mother wants the games were not only interesting and exciting, but also to develop and, of course, safe. Amazing discoveries made Asiana Citro, who came up for the children of a number of incredible entertainment ... improvised. They are so liking kids, the woman immediately set up a blog to share his experiments with other parents. The result is simply stunning!
Secure edible luminous water bath.
Through numerous experiments failed to find well just the same eye-popping prescription glowing water! It will be enough to buy at the pharmacy a few jars of vitamin B, grind it into a powder and add warm water. The main thing - stick to proportions! To see the "glow", it would be better to turn off the light in the bathroom and turn on a fluorescent lamp (the type such as those used in nightclubs). Moreover, even the most caring moms can rest assured: this "water-firefly" is absolutely harmless to the health of your baby! Your child will love - so much fun he had never bathed!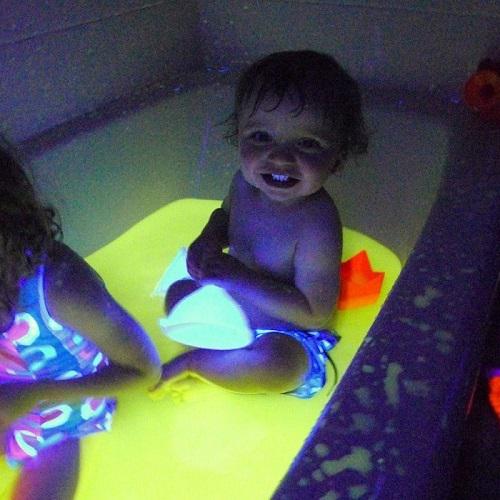 Magic foam snowman.
Now your child can make snowmen not only on the street and not only in winter, but all year round, right ... in the bathroom! To create this miracle dearest you need ingredients that are always at hand at any housewife: common baking soda, dishwashing liquid, salt and vinegar. To decorate snegovichka can be taken as a "classic" accessories (carrot, nose, twigs pens) and include fantasy. The main thing is that they are waterproof!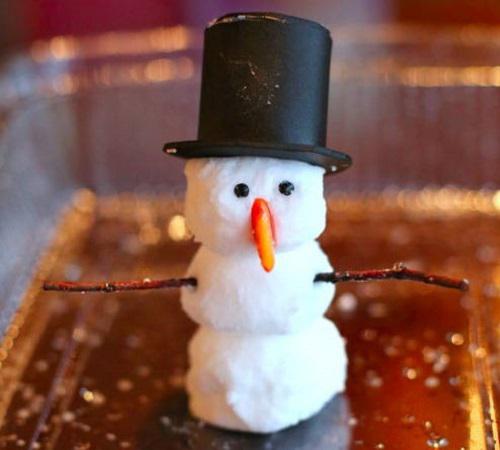 Multi-colored edible bulbs.
These colorful balloons - a real find for any kid. Parents can not worry - this invention poses no threat to health. And what's more: you can even eat! Recipe for a "miracle beads" is simple: 1 tbsp. Spoon special seed basil, 300 ml of water and natural food colorings. Immediately before the game need to add more water in a container to move freely and the beads from sticking to each other. With this invention, the child will feel like a real artist!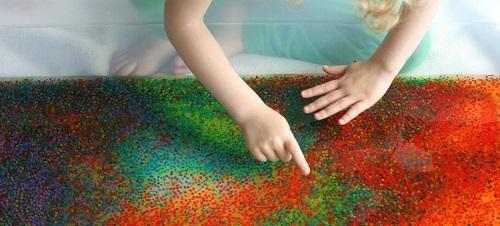 Rainbow lather.
Forget about the fact that one can only see the rainbow after the rain. Now it's even possible at your house! The correct proportions of the mixed liquid dishwashing, food coloring and warm water, you'll get here is a "little flowers-semitsvetik." Believe me, in the next couple of hours your child will not remember even about cartoons!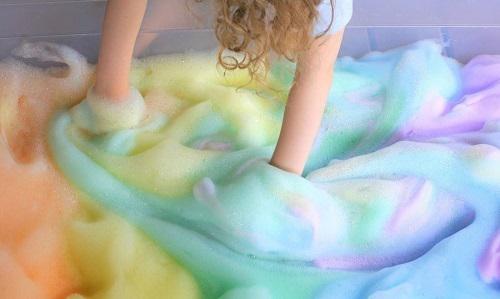 Giant toothpaste.
Wow: toothpaste ... growing right before your eyes! To do this, you will need dry yeast, warm water, 6% cent hydrogen peroxide, liquid soap (only in any case not antibacterial!), A funnel, a bottle with a narrow neck, food colors, glitter (optional) and protective goggles child . And do not forget: It's under the watchful supervision of an adult!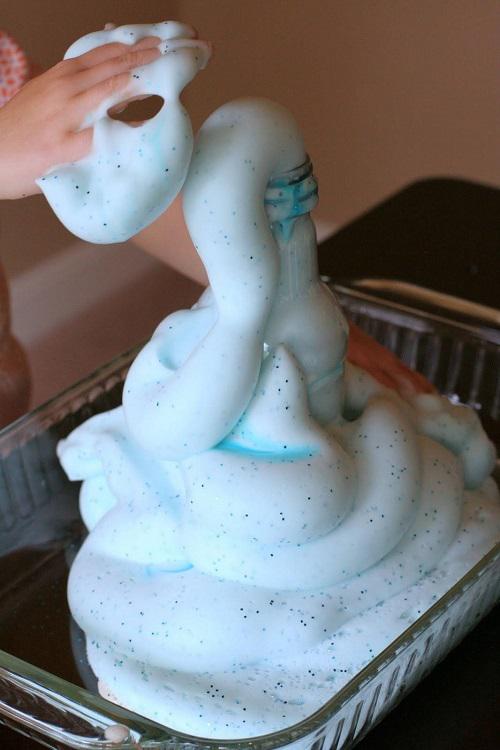 Rainbow foam dough.
Helping mom to sculpt something from the dough - a favorite occupation of many kids. Furthermore, it is also very useful: thus actively developing motility child. You will be surprised when you find that the dough can be created ... from foam. Add a little color - and your child will forget about other entertainment for a long time!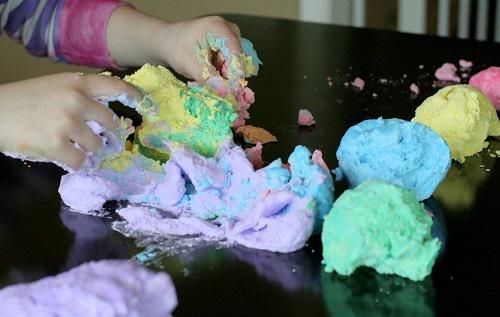 «Multi-colored goo».
New incredible for your kid: the mucus, which can stretch, pull, tear into small pieces and assemble again. Mothers can not worry: these games are completely safe and harmless, moreover, does not apply and leaves no trace! Here's what you can dream up, using regular school glue, liquid starch and multicolored pompoms.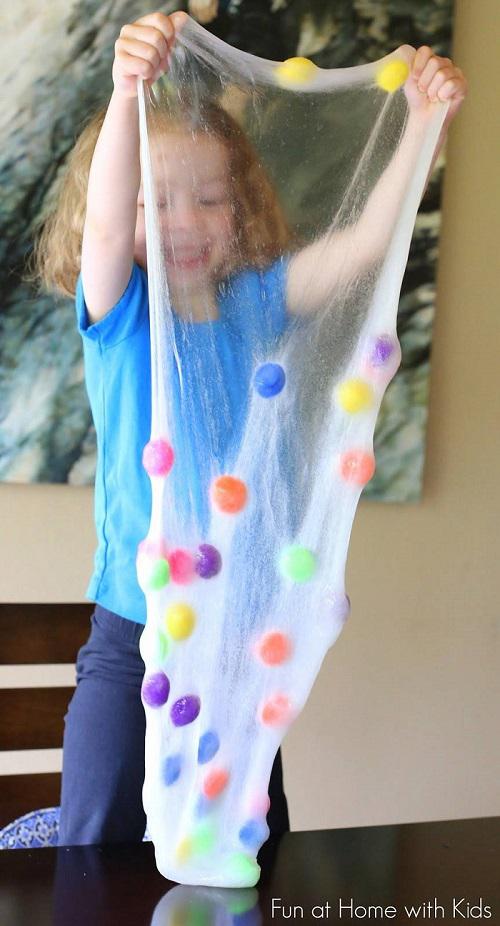 Glowing game test.
What did not invent now adults to somehow impress today's children. Now even dough games ... can glow! Use the test as you take in head: Cut a star, "bake" glowing muffins or treat all unusual spaghetti. Imagination has no limits!


Rainbow ice tower.
Who of us in childhood after reading tales never dreamed to build a tower of ice. And now it has become affordable even at home! This session will take a surprising miracle your child for at least a week. And all that is required, it is colored (rainbow) accessories, water and high vase or container.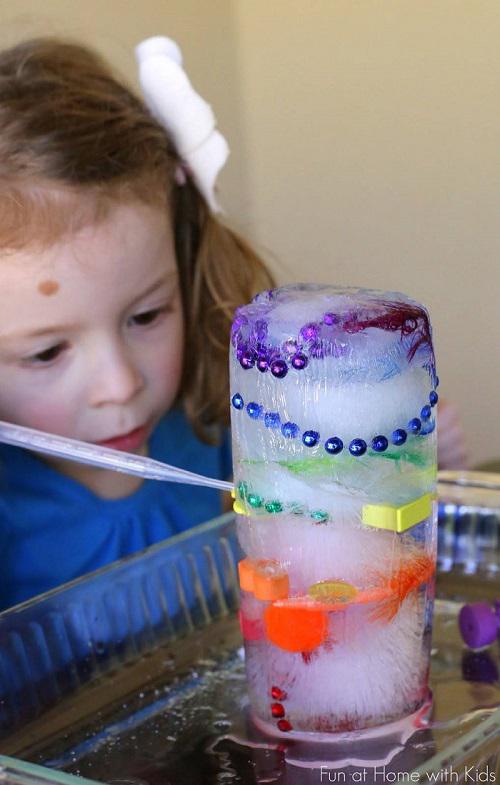 Fluffy "home" snow.
Sculpt snowballs at any time of year, even without leaving your home - perhaps! It is not worth asking about the superpowers Santa Claus. For this will be enough to have baking powder, shampoo, liquid watercolors or food coloring, citric acid and, of course, a little patience and desire.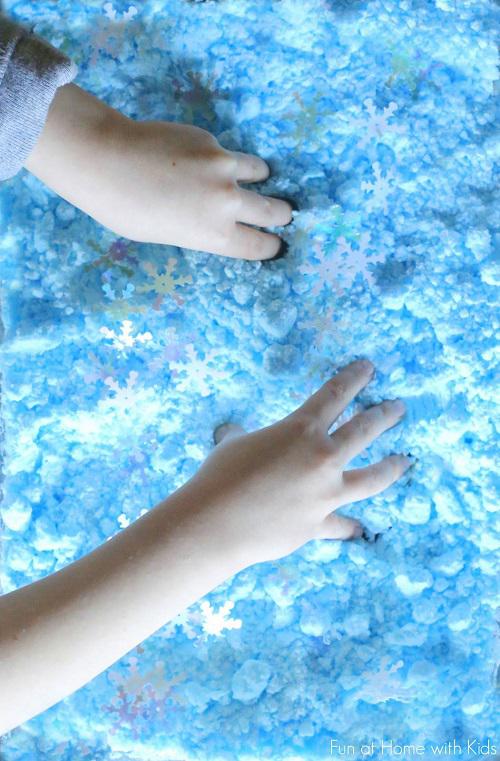 Colorful sculptures made of salt.
Your child loves to build a "fortress" out of the sand mold and mud pies out of mud? Now you do not need to pull the baby out and wash after half a day of "procedures": all of this is easily done at home. After all, you can easily show the child of those lovely sculptures out of the ordinary ... salt! In addition, these creations can always paint to your liking. Is not it a paradise?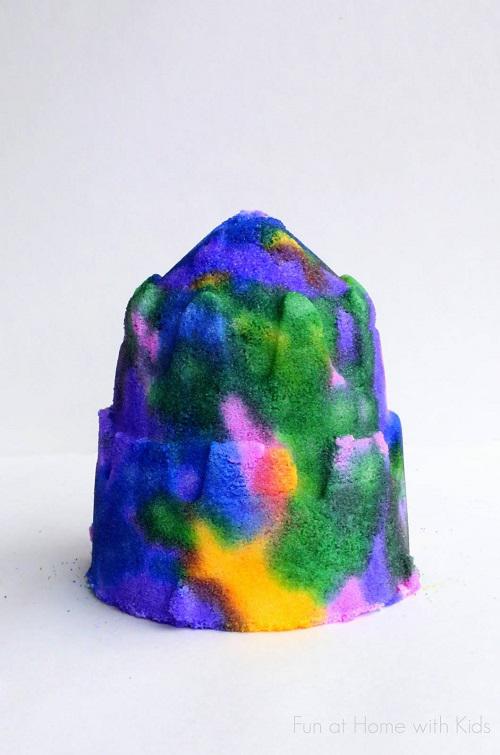 game Rainbow beans.
Even regular beans can become a fun game for children, if you add to it ... a drop of food coloring. When painting, do not forget a good shake a beanbag somewhere in the 15-20 seconds that all fasolinki stained uniform.




Hard to believe that is the time when kids can mold snowballs and snowmen, build fortresses and even make a rainbow ... right in your bathroom. Now the kids will not be bored a single day, and parents, in turn, will always be able to show imagination to the fullest. That's entertainment from the comfort of home! But we have such a child does not come up ...

via ofigenno ru