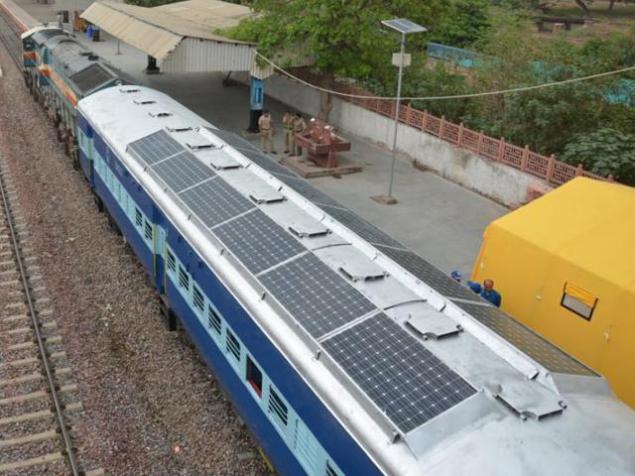 The Cabinet of Ministers of the Government of India, headed by the prime minister Narendra Modi are working on the active implementation of solar energy. For India, it is the natural course - the average country, located near the equator, it receives at least 300 sunny days a year. Among the first initiatives was selected
использование solar panels on the roofs of freight trains
.
Solar energy, which provides production and households are actively part of our lives. But vehicles enjoying photovoltaics - this is exotic. We have seen
plane
,
ships
and even
car
, using solar panels. Now is the time and trains. Minister of Science and Technology Harsh vardhana explained that the idea of ​​installing panels on the train came to him just after he learned about the project
Solar Impulse a >.

However, while these panels can provide only 15% of the total energy required for the train. But, during a train stop will give the energy received from the sun to the grid, thus becoming, mobile solar power plant. In addition, the placement of the panels on a moving train will lead to the fact that they will be less dust to settle.

In case of successful operation of freight trains with solar panels the government plans to transfer this experience and passenger trains. Overall, worked out by the Indian government program for renewable energy suggests that in the next 8 years, the amount of energy received from the sun, is expected to increase five-fold and reach capacity of 100 GW.
Investments in the development of solar energy should reach $ 100 billion. Among the projects - solar power capacity of 750 MW in the state of Madhya Pradesh, which is to be commissioned in 2016 and will be the largest in the world.
Source:
geektimes.ru/post/253090/