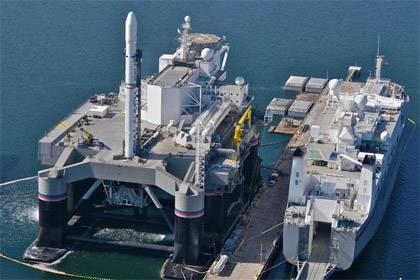 became known today
, the United Arab Emirates (UAE) has for some time have an interest in international project & quot;
Морской Start
& quot ;. Among other things, the project includes a floating launch platform for launching rockets "Zenit". A source from the space industry said that on the acquisition of the project has already had several meetings with representatives of the United Arab Emirates.
Consortium "Sea Launch" was created in 1995 in cooperation with the US, Russia, Ukraine and Norway. The concept of the project involved the organization of space launches missiles from the equator, which in theory allows the best use of the Earth's rotation to accelerate the rocket. In 2009, at the initiative of the US project was declared bankrupt, and the reorganization of the management was transferred to RSC "Energy", with the result that the project was owned by him at 95%.
August 22, 2014 against the backdrop of fighting in the east of Ukraine, it was announced that the "Sea Launch" suspend the activity
until mid-2015
. And at the end of the year, Dmitry Rogozin, has announced plans to replace
project launch
«Zenit» on Russian "Angara».
About creating your own space agency in the UAE
was announced in July 2014. Sheikh Mohammed bin Rashid Al Maktoum (Prime Minister and Vice President of the UAE)
on his page on Facebook
also told plans to send a mission to Mars by 2021. Sheikh named the region "the cradle of the great civilizations" and promised that the Arab world will soon again be making a scientific contribution to the development of mankind. Ancient Arab scholars known for their contribution to the development of mathematics, medicine and astronomy.
Russia leads a long successful trade relations with the UAE. In 2008, turnover amounted to
846, $ 4 million in 2009-670 6 million US dollars. Guided tours in the UAE also enjoy the Russians in great demand. Set of labels and signs in the country dubbed in Russian, in the tourist centers, hotels and shops staff speaks in Russian.
One of the main sources of income in the UAE - oil exports. The share of profits from the export of the country's GDP in 2012 amounted to 22% (
to compare
, the oil share in GDP of Russia - 14% , Angola - 42% of Iraq - 45%, Libya - 52%, Kuwait - 54%, Congo - 71%).
Source:
geektimes.ru/post/247762/