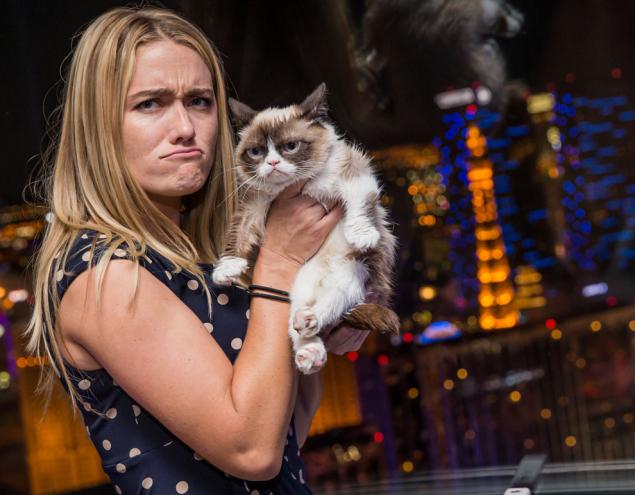 It all started with a picture, which his brother mistress kitty shared in social networks. One guy came to visit her sister, who worked as a waitress in Arizona. And pay attention to her pet. Angry cat muzzle expression (or rather, cats because tartar sauce - a girl) so amused him that the man posted a photo of the animal on his page. And away we go: now kotyara over 300,000 fans on the official page in Facebook. Social networks made of cream of tartar real star. And no wonder - well, who does not like "laykat" seals?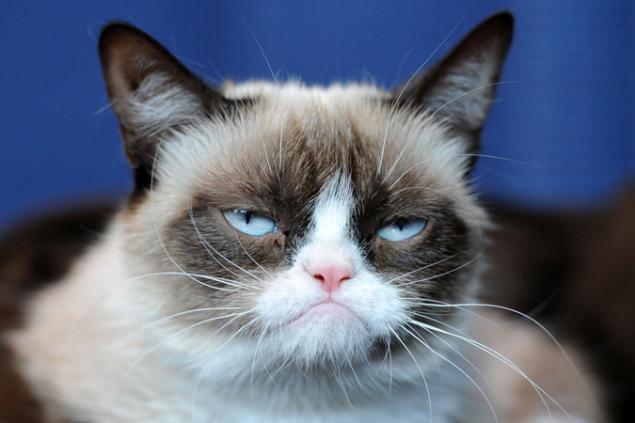 Grumpy Cat now - a real celebrity. He was invited to Hollywood parties, exhibitions and shows. Why are there - this year tartar sauce (so his name is translated) was a special guest of the award "Oscar" and the ceremony MTV Movie Awards. What is the secret seal resounding success, suddenly became Internet sensation? This was his mistress Bandesen Tabata said in an interview «The Express».
Another powerful source of promoting the future stars of the Internet has become YouTube. Housed two years ago clip looked 15,700,000 people! This glory is not even dreamed of Justin Bieber.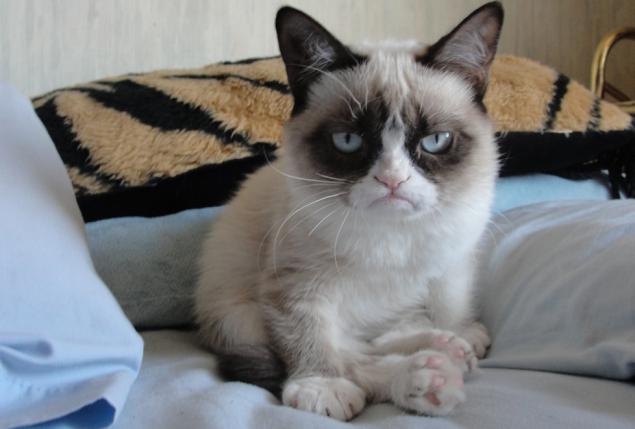 "I was able to leave his job as a waitress in a few days after the image of my cat appeared in social networks - says Tabata - My phone just did not stop - I incessantly ringing with offers." Grumpy Cat born with malocclusion - and this deviation and provided a firm scowl his face. So the nature of the defect turned to seal worldwide fame.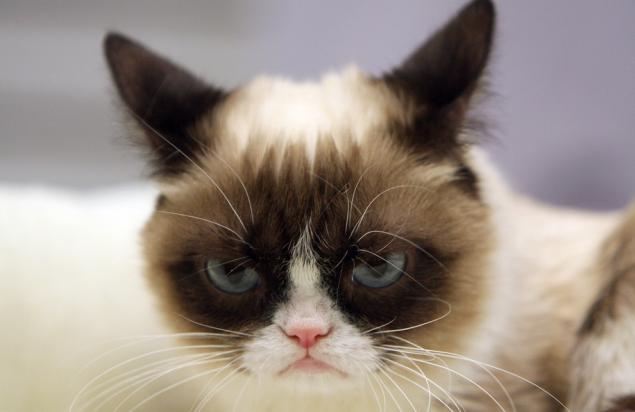 Pictures grimly cat liked so Internet users, he instantly became the hero of the popular memes. Memes were another step towards success and financial well-being kitty. Some quotes, for example, now adorn t-shirts, the issue of which, together with its business partners, has developed an enterprising mistress animal. The most popular phrases that attribute sullen cat:
 - I once tried to purr. It was awful.
 - I love long walks. Especially when they are committed by people who annoy me.
 - This herb ... I would like to bury you under it.
 - There are two types of people ... And I do not like both.
 - Once I had fun. It was awful.
 - I hate cat memes!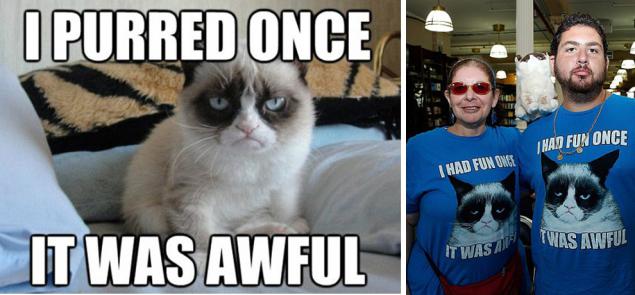 A year ago, the cat released his first book. «A Grumpy Book» became a guide to the "real irritability." In it, for example, tailed star reminds us that "one kiss contains more germs than toilet seats hundred."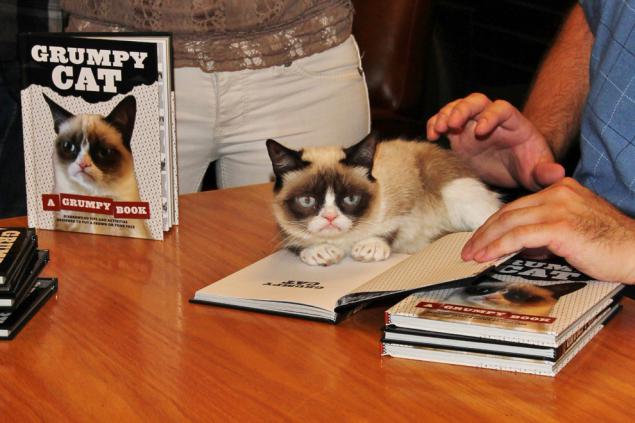 Grumpy Cat signed a lucrative contract with the manufacturer of cat food and now advertises the brand «Friskies». Just seal emblazoned on bottled coffee beverage «Grumppuccino», the release of which has established his mistress.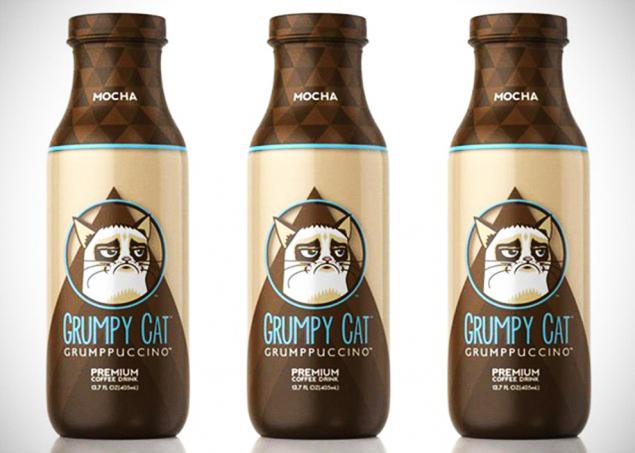 Every year on Christmas Eve in Christmas windows Macy's department store on Union Square in San Francisco, there are live cats and dogs - so the retailer is trying to find homes for stray animals and to raise funds for the benefit of the Society for the Prevention of Cruelty to Animals. This year's grand opening was held with the participation of windows grimly cat.
First Hollywood debut Grumpy Cat will be held soon in September of this year, pussy got a role in the film "The worst Christmas Gloom cat." The tape tells about a cat from a pet store, which no one pays attention to, as long as it does not fall in love 12-year-old girl. Between a cat and a teenager there is friendship that can melt the heart of eternally gloomy animal.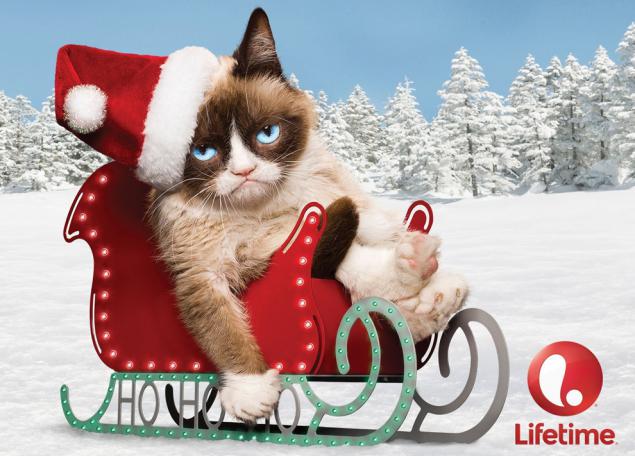 Soft toys in the form of a cat grimly bought like hot cakes. Children absolutely love them!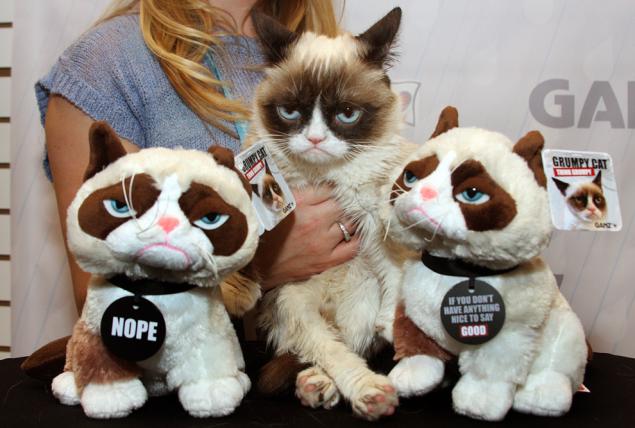 Surly cat love star: his grimace parodied Jennifer Lopez and Jim Carrey.